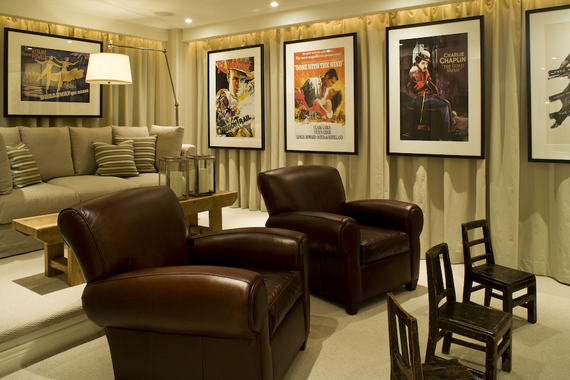 With the wintertime coming, many of you reading this have probably already covered up the BBQ, put away the patio furniture, or closed up the balcony doors. With your living space already feeling that much smaller, you'll want to make use of every square inch of the indoors. To help make your basement (or any other chilly and under-utilized space) look and feel warmer, here are my tips for designing your way to a cozy interior environment.
1. Lighting: Although we may think of lighting as important just for brightening a space, a beautiful rich glow also adds a sense of warmth, even when dimmed at night (especially important where daylight is scarce or virtually non-existent, such as in basement spaces). Make sure to add multiple light sources and types, so light comes from various directions. The glow from potlights spread out on the ceiling, 4' to 6' apart, helps make the ceiling float away.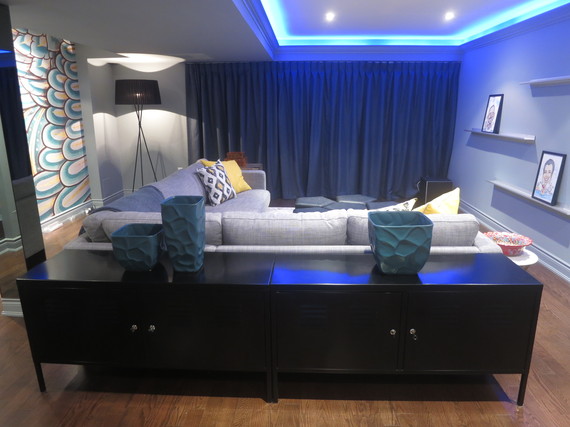 2. Windows: Now that you have lots of light already, cover the windows with rich drapery -- run it floor to ceiling, hiding any awkward sizes or positioning. In a client's recent basement makeover, I draped a large section of wall to also hide a projector screen -- all of this extra lush material will both physically hold in heat and create a more warmly-textured look.
3. Furnishings: Continuing the use of cozy materials, look to wood and upholstery for your furnishings. When I featured these tips on Cityline, I borrowed a sleek sectional sofa from In the Know, because it could be split into two pieces, making it much easier to get into the studio, but also down basement stairs or up an elevator. You can then assemble them into one long plush sofa, or do what I did and use each half like a love seat. The wood in the side tables, mirror frame, vases and tripod lamps from Target's Beaver Canoe home collection, along with the fireplace accent wall from Finium (in their Urban Echo palette) add a cabin vibe that brings even more visual warmth.
Tip: My twitter Tip of the Week is perfect here: you can use a cowhide rug for any shaped seating area, and the organic form will add an inviting air. For more of these tips and plenty of inspiration follow me at @yanicsimard.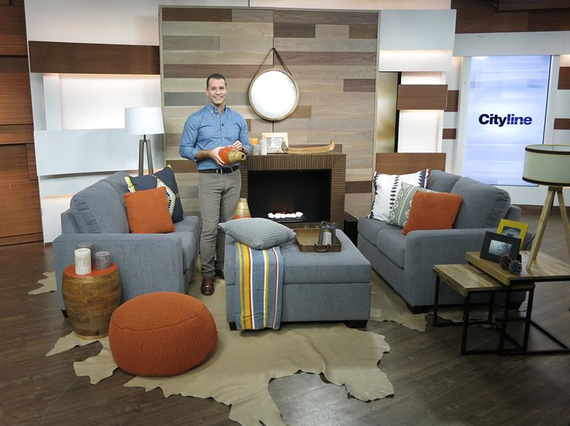 4. Colour: It may seem obvious to use hot colours (reds, oranges, and yellows) to warm up a space, but it's also important to apply them the right way. For example, in the basement I redesigned for that client, the walls started out a dark, depressing brown. Working with a voluptuous mid-tone grey for the walls and upholstery, I then added hot punches in pillows, accessories, and in a custom mural by Media Marksmen. You want a sense of energy, but not to feel like you're in a cave or funhouse.
Get the Look: For my client's basement I chose Benjamin Moore's #2121-30 Pewter -- it's a very neutral shade, free of clashing undertones. To go even warmer, try B.M.'s #OC-15 Baby Fawn.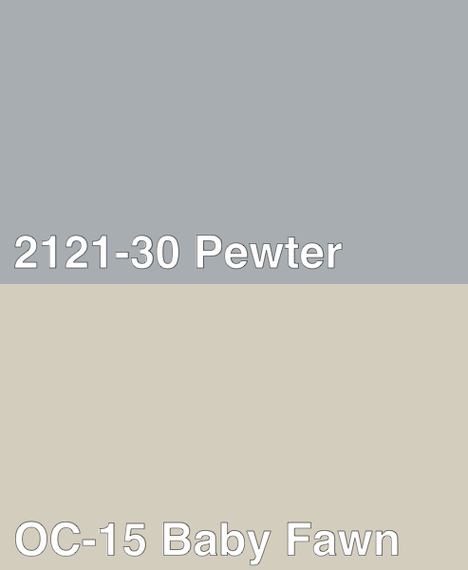 5. Heat: If your space needs true heat for that ultimate cozy feeling, here are two ways to get it. First, during a renovation consider having a Nuheat in-floor heating system installed before laying down beautiful new floating laminate. Then, give yourself that spot to really curl up by adding a Dimplex "Amsden" mantel, which uses a very convincing mist and lighting combination to simulate a real, warming fire without the danger of true open flames.
These tips should be all you need to take an underused space and make it your new favourite winter getaway -- right in your own home. If your basement space does need a little more construction work before the finishing touches, look for my material tips in the Keep Up with Yanic Blog. And as always, you can catch the Cityline episode for even more ideas.
Also on HuffPost: