Just this past week I returned to beautiful Vancouver, both to work on developing my coming accessory collection, and for a little break from Toronto's winter chill. While on the west coast I stayed at the exquisite Shangri-La Hotel Vancouver, the tallest building in the city (standing at over 200m) with breathtaking views both outside and inside. I was inspired by the ways they pull their modern spaces together, creating new experiences at every turn while maintaining a sense of harmony throughout that makes you feel at ease.
To help you get your own little slice of decor heaven at home, here's my top design tips inspired by Shangri-La Vancouver: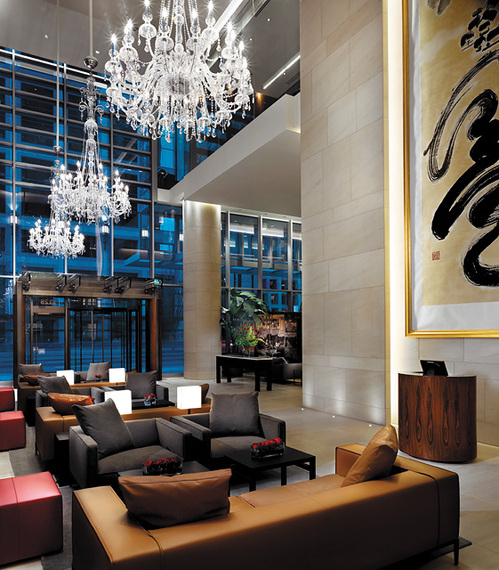 1. Repeat Yourself
After stepping into the hotel's stunning, eclectic lobby and being awed by the multiple-stories-high ceiling with its eye-catching series of chandeliers (custom made in Italy), you can begin to notice one of the ways the hotel creates such a feeling of grandeur: repeating elements to maximum effect. Whether you have space for five sparkling light fixtures or a compact cluster of simple stools (forming a cool coffee table), grouping a few copies together takes a simpler piece and makes it spectacular.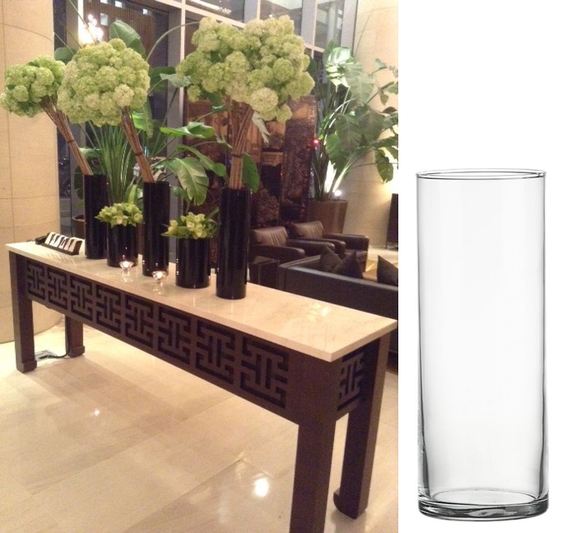 Get the Look: The hotel also clusters smaller objects like vases, often in every designer's favourite number: three. For an easy DIY, take a minimal, inexpensive piece (such as this glass cylinder from Crate and Barrel) and fill three-seven of them with the same greenery to create an instant statement.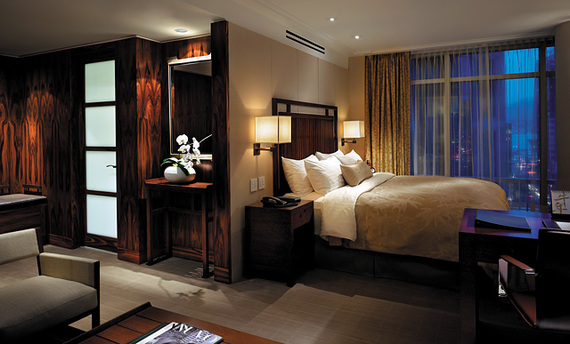 2. Healthy Grains
A huge trend in recent years is to embrace wood not just as a quiet neutral backdrop, but as a feature in itself: when cut to show the grain, wood makes a bold and always unique treatment for walls, furnishings and accessories. The hotel uses durable and stunning rosewood panelling throughout, carefully "bookmatched" for a chic symmetrical appearance -- rich woods like this carry a natural warmth that adds an inviting air, balancing out the crispness of sleek modern interiors.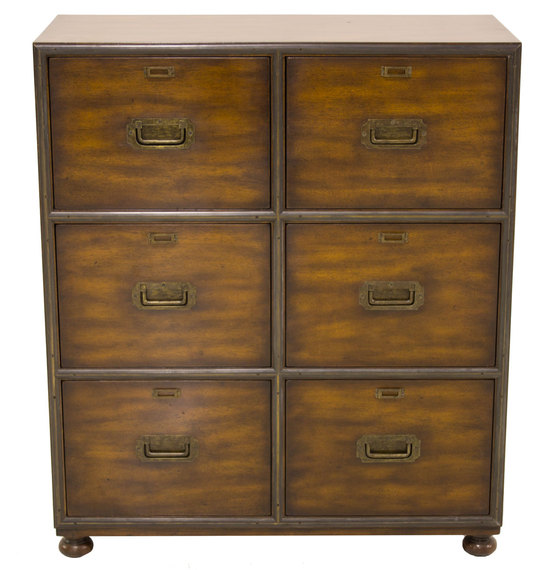 Get the Look: When renovating, forget your associations with "wood panelling" and investigate modern options (which have come so far since the '70s) to get a luxe, custom look. For a quick addition, try a wood-faced chest like this one available from Elte.com.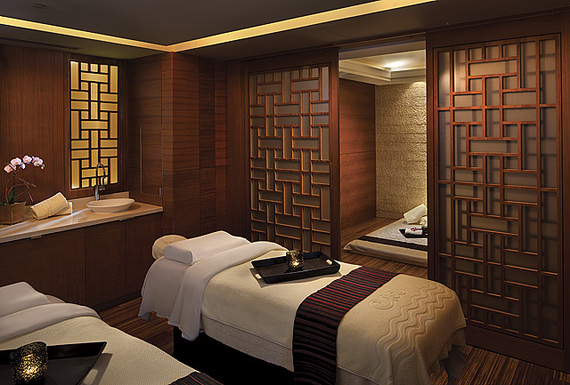 3. Finding a Theme
A sophisticated design includes ideas that subtly repeat throughout to create a sense that every room is connected -- this doesn't mean that every room should look the same, but that familiar features can be found in surprising new ways. One of Shangri-La's signature design elements is the use of Asian-inspired fretwork, which begins in the treatment of wood (giving it a whole new element of texture and pattern), but which can also be found in items such as patterned carpets, geometric headboards and the legs of cabinets.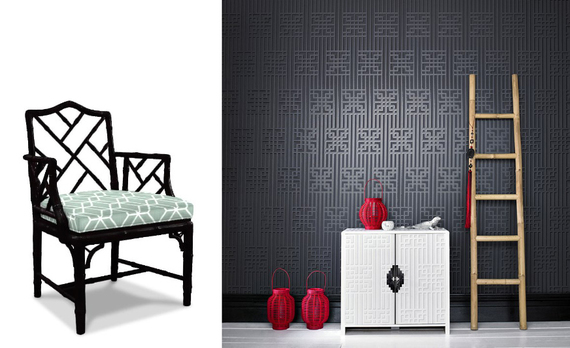 Get the Look: Choose a character-filled piece you already love and find an aspect of it you can copy elsewhere. For example you could take inspiration from this Jonathan Adler "Chippendale" chair and pick up the pattern (even in another room) with this Graham & Brown "Bao" wallpaper.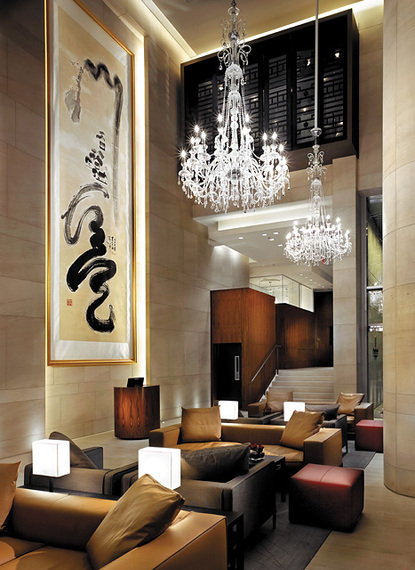 4. Go Big
Since the Shangri-La lobby has such dramatically high ceilings, there are naturally some very tall walls to fill. Their use of spectacular, yet simple, statement artworks celebrates the size and doesn't make the space feel cluttered. Whether you have a tall ceiling or a very compact space of your own, oversized art can actually help your space feel larger, and creates a more impactful display than leaving empty wall.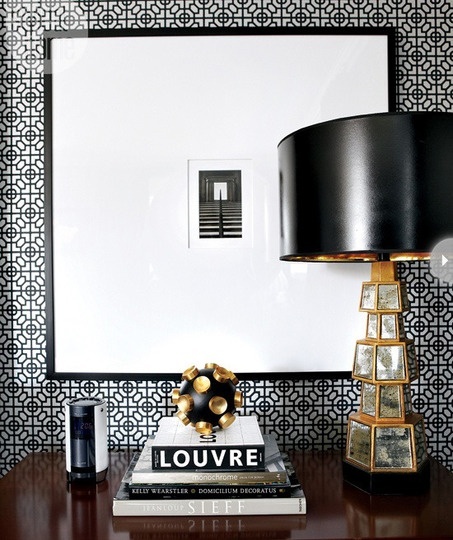 Get the Look: Art (or prized photos) of any size can always be set into a much larger frame -- the extra matting will only make the piece itself look even more prized. Also consider purchasing a large framed canvas from an art supply store and painting it in stripes (created easily with masking tape and left over colours from other rooms) to create personalized art without much investment.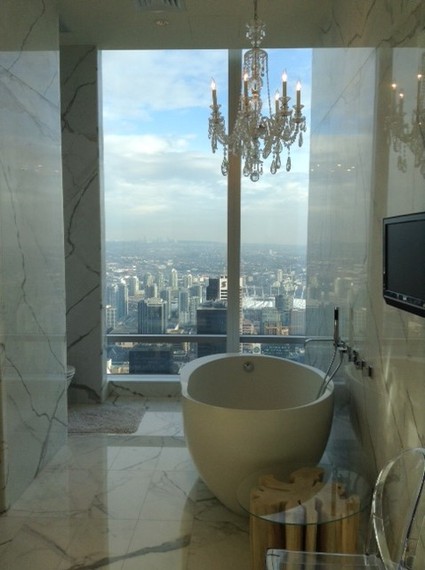 5. Plane of Existence
The original Shangri-La has been described as "a mystical, harmonious valley -- a permanently happy land, isolated from the outside world." The modern Shangri-La Hotel, then, is all about creating a peaceful atmosphere, and another way of creating this sense of calm and order is by continuing singular materials across multiple surfaces. I visited their jaw-dropping penthouse suite, which was a perfect example of this (and of a place you could spend days luxuriating in). The kitchen cabinets, floors and island base were all an endless plane of one wood tone, allowing the few hits of stone in the counters and blacksplash (also visually seamless) to pop, while the bathroom saw head to toe marble framing the vistas onto the city below. In each case the room reads as a very clean and calm oasis, free of clutter but not short on visual appeal.
Get the Look: Creating this seamless effect is not easy without conducting at least a partial renovation. When choosing finishes to dress your surfaces, pick an absolute ageless favourite and apply it across as much of a space as possible, and you'll have a bespoke look that speaks directly to your unique personality. Otherwise, if you want just a little slice of design heaven, you can always visit Vancouver, and stay in Shangri-La!
For even more design inspiration, visit my blog at tidg.ca/keepupwithyanic
ALSO ON HUFFPOST:
Bloomingdale's Book Of Home Decorating