Everyone likes to go to someone they trust for advice, especially when making a big decision. Being a designer, my friends often come to me with little questions -- it's like being friends with a doctor, only I'm a doctor for your home! When Alice came to me looking for help with a total kitchen overhaul, it meant a big list of questions, but she's like a sister to me and I was happy to help however I could.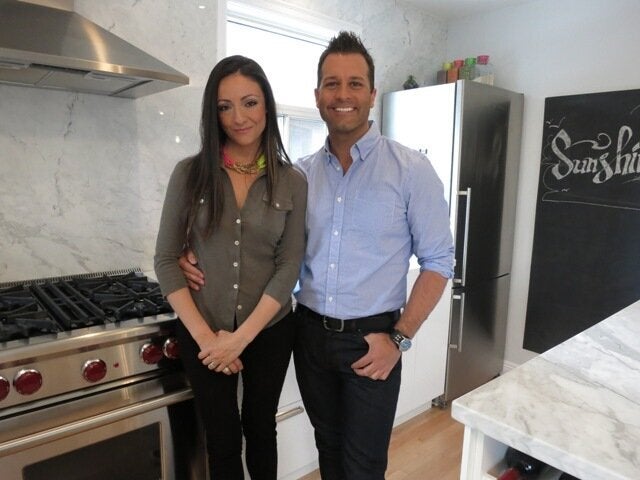 First though, Alice needed a quick dose of reality. Her initial planned budget was $8,000. Television shows may make it seem like a budget this size can get you a whole new room (even a whole new home), but with trades to hire (especially since Alice took down multiple walls to begin -- a cost many overlook), on top of beautiful materials and all the finishing touches, this budget just wasn't plausible. A more realistic estimate for her space would be more than four times as much, about what the project eventually cost, even after some clever saving techniques. (Of course this budget may have helped sell the project to her husband -- sometimes a necessary technique for getting things rolling!)
Here's how Alice, with a little help from yours truly, gave her old house a fantastic new kitchen.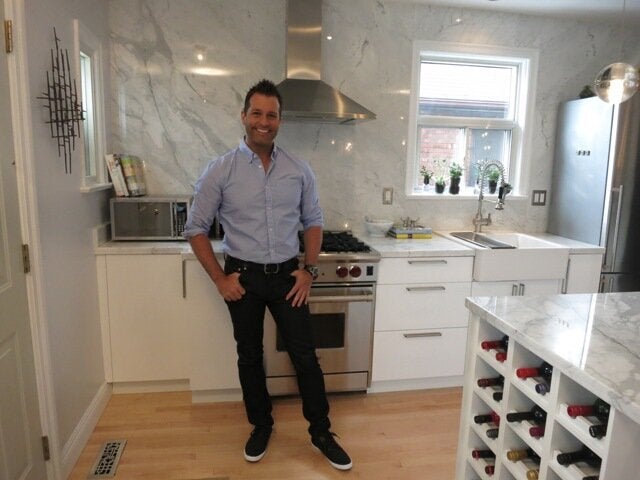 You know what the French say: K.I.S.S. Keep It Simple (and save). By opting for sleek but simple ready-made IKEA cabinets, room was left in the budget to splurge on quality appliances and amazing surfaces.
-Alice's counter and backsplash are each a slab of the same material for a continuous, oversized statement -- a huge kitchen trend. The backsplash was originally meant to be much shorter, but after all that saving she splurged in a big way, taking the beautiful material all the way up to create a stunning feature.
-The other walls in the open plan space were simply painted a pale grey echoing the marble veining (Benjamin Moore's #2120-70 Stone White), to let this investment take centre stage.
-In a compact kitchen, a centre island is still a useful workspace and an essential gathering spot when entertaining. To make it more space efficient, get inspired by Alice's floorplan and let the island connect back to one wall (forming a "peninsula"). You lose one path into the kitchen, but gain back essential storage for large pots and small appliances.
-More and more homeowners are opting to skip the upper cabinets for an open look. It may sound crazy to remove this storage space, but a large island can more than make up for it. Open faced wine cubbies on the end of the peninsula provide attractive storage for bottles - this was one of Alice's husband's few requests, but it wasn't a hard compromise: it works beautifully! If you absolutely need storage, consider using open shelves as uppers and displaying dishes and glassware.
-As Tracy and I discussed when I showed the kitchen on Cityline (August 15th episode on Cityline.ca if you missed it!), keep in mind the all-important "bum test". Even a small kitchen should keep enough space between the island and main counter that two people working together won't bump their bums as they pass each other (generally 42"-48").
-Every kitchen has some essential appliances that must be fit in. I often recommend European sized options (generally slim and counter depth, like Alice's Blomberg BRFB1450SS fridge), as they provide all the food storage and prep space most of us need while freeing up counter space. Alice's sleek stainless steel fridge and chimney stove hood also act as dramatic accents, bringing depth and glamorous metallic sparkle to the palette. Investing in quality appliances is the best choice for both long-term durability and instant visual gratification.
-Continuing the industrial vibe of the appliances Alice's restaurant style faucet visually fills the space in front of her window and functions like a professional pot filler or rinser. (For more on choosing the right faucet for you, watch my upcoming segment on Cityline September 19 at 9:00am.)
-Alice had to have the Bocci pendant lights hanging over her island, and they add a jewelry-like accent while also providing task lighting for food prep. Petite pendants like these are great way to enrich your decor without crowding the space.
-I felt the best solution for Alice's sink would be a minimal undermount -- a clean and simple option that doesn't interrupt any lines. In the end, when I saw the finished product I realized she had secretly ordered a farmhouse sink behind my back! Whether working with a friend or brand new client, I always know that every person has things they love, and ultimately the homeowner's taste has to come #1.
I have to hand it to Alice: taking on and managing a kitchen renovation by herself (even with some helpful advice) was a big undertaking that not everyone can pull through so gracefully, but she made it look TV-easy and the results were totally camera-ready: I definitely give it my designer seal of approval. She may not have quite hit her fantasy budget, but she definitely got the kitchen of her dreams.