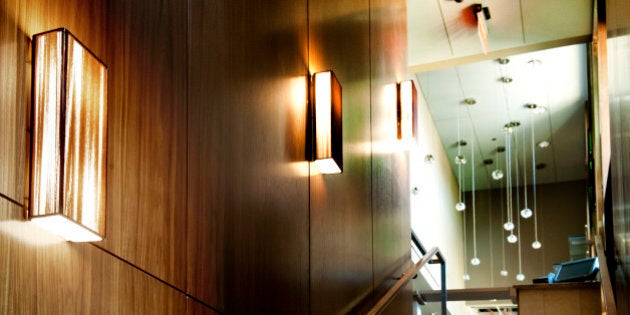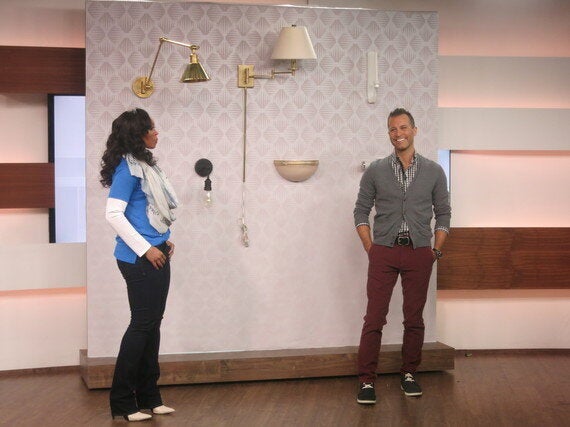 Yanic Simard talking sconces on the Cityline set
Does wintertime leave your days stuck indoors feeling a little dull? Has the spark gone out of your love... for your decor? Without the radiance of summer sun, your interior might be suffering from SAD: Seasonally Affected Design! To help your space feel brighter and livelier any time of year, here's my guide to one of design's underused fix-everything tools: the simple sconce.
One of the keys to making a space appear bright and well lit is to light the walls, as this better simulates daylight than having light emanate solely from the centre of the room. This is why a campfire at night, no matter how big, won't feel like a sunny day -- when the periphery is dark, the space feels dark.
Candle sconce: Whether using a true burning candle, a simulated one, or simply an exposed bulb, a small hint of warm light is an excellent way to add a natural, inviting glow to a space like a bedroom or dining room. Choose a fixture with a golden reflector dish to push more warm light back out into the space.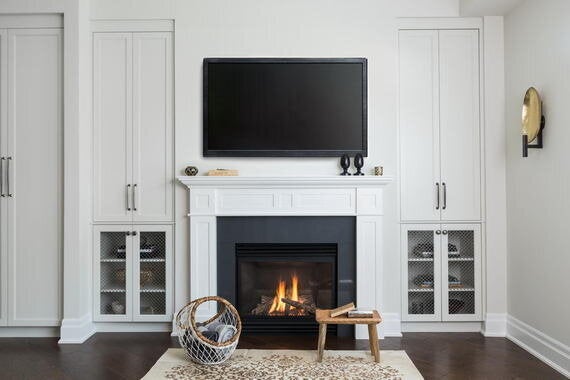 Wallwasher: A sconce that aims its rays directly up onto the wall, a wallwasher helps accentuate features like brick or stone, a textured wallcovering, or any other tactile surface. Plus, in any space it can help brighten the room without making it feel too perfectly even. Space these 6' to 8', but choose a lower-watt bulb that won't shine too harshly.
Picture Light: Not just for priceless museum showpieces, a picture light can simultaneously accent a piece of art or framed photo and help brighten the feel of a room. Just make sure to space the light far enough from any artwork to avoid heat damage. Tip: place your hand on the nearest object to any bulb to make sure the heat radiating from it isn't reaching.
Downlight: Simply a sconce with the light aimed downward, a modern downlight with an exposed bulb is a great way to flank a furniture piece (such as a sofa) or architectural feature (like a front door or spectacular window), drawing some attention and providing extra radiance. Whether covered or exposed, try a warm Edison bulb or dimmable fixture so the light isn't too bright when you catch it directly.
Sconces can also be a great tool for lighting specific tasks or trouble spots without taking up valuable table space, or relying on distant potlights to reach all the way down from the ceiling.
Swing Arm Sconce: Perfect as a reading light, a swing-arm sconce projects far enough from the wall to land over a specific surface (such as a desk), while also swinging into position for extra functionality (such as over your book while reading in bed, and then back out of the way after.)
Uplight: An uplight sconce is actually not generally used to light the walls, but instead to wash across the ceiling, making it feel loftier and eliminating dark spots around the edges left by a central fixture. Try placing these 6' to 8' apart for an even effect, especially in a tight space like a hallway to play up the height.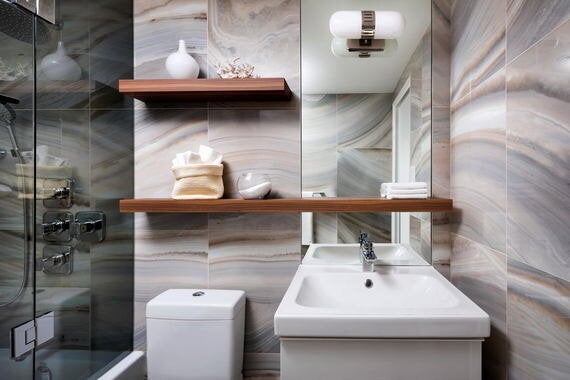 Bathroom Sconce: Although many forms of sconce can suit a bathroom, around a vanity a two-bulb sconce is a smart choice as it provides more even lighting for your face as you go about your daily routine. Place one in a horizontal orientation, centred above a mirror in a slim space. If you have room, one on each side of a mirror (with an extra one in the centre for a double vanity), oriented vertically, will give the most even light.
In a tight bathroom, layering a sconce over a tall mirror provides great even lighting and the largest look.
Think you can't add a bright and beautiful sconce without expensive wiring work? Think again! During a renovation, rewiring to add sconces can cost as little as around $100 per fixture -- more than worth it for addition that lasts and lasts. However, to make things even simpler, check out the awesome power of the plug-in sconce. All you need is a screw or two and you've got instant style!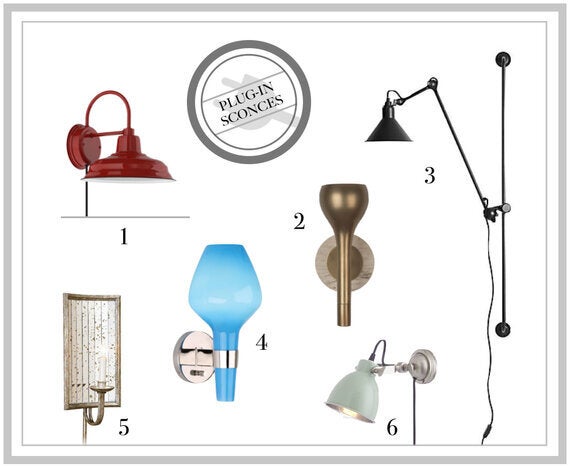 1. Wheeler Bomber Sconce (Barn Light Electric)
2. Axis Sconce w optional cord cover (Jonathan Adler)
3. Lampe Gras Model 214 Wall Lamp (Design Within Reach)
4. Capri Sconce w optional cord cover (Universal Lamp)
5. Twilight Sconce (Lamps Plus)
6. Knox Mint Sconce (Crate and Barrel)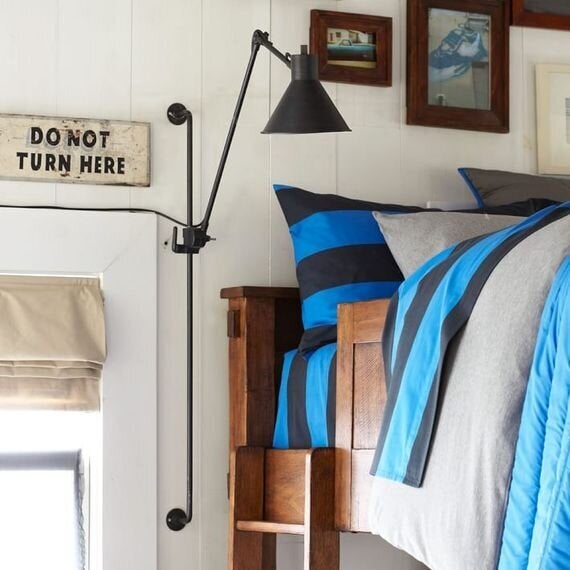 A sconce makes an excellent bedside lamp - especially for bunk beds
For more on how to use sconces in any situation, catch my segment on Cityline here.