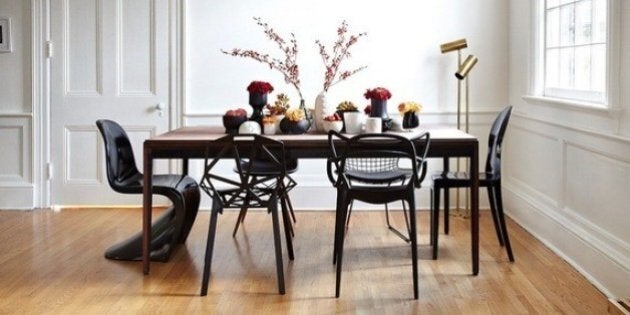 In a busy world always hungry for "home-made meals in 30 minutes or less" and other time-saving tips, I understand why many of you don't have the hours for mulling over your dining chair choices. To help you find the perfect seat without all the searching and simmering, here's my recipe for dining design, in just three easy steps!
If you're reading this choose-your-chair choose-your-own-adventure and working with a round or square table, you can skip straight to tip #2.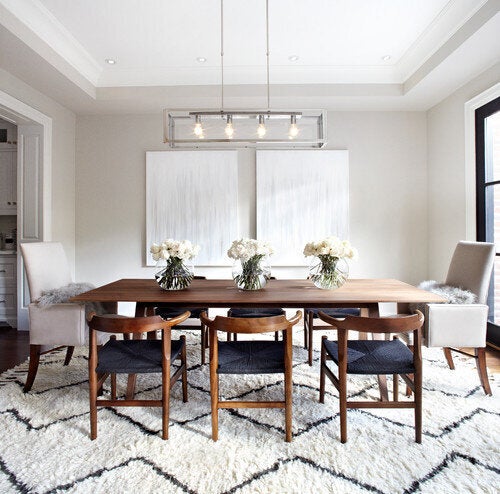 Okay, I have to admit, before I make your selection process easier -- I'm going to make it a little more difficult! Why? Because choosing the best possible dining chair usually doesn't mean picking just one chair, but really two! (Twice the work, I know.) However, the work pays off later, in double the functionality. By selecting larger, plusher, end chairs and simpler, more compact side chairs, you allow yourself to seat the maximum number of guests even with a limited space and budget, while still providing comfortable seating for everyday use and making a unique style statement.
-End chairs are a great place to play with pattern and colour. However, it's also smart to relate these to your living room furniture so they can be pulled to seat guests who stay after dinner, so consider pulling colour inspiration from this space and embracing a wild print or bold shade.
-Using arm chairs here caps the table elegantly (and when you have an elderly, pregnant or just tired guest some day, they'll appreciate not having to lean their elbows forward).
-This concept works well for virtually any oval or rectangular table. Just make sure first off that you check the width and height that can tuck into your table. Table tops can be surprisingly thick so don't assume the listed height is the full arm height you can work with (and check the width between legs too).
-End chairs can contrast your side chairs dramatically for an eclectic feel, subtly for traditional elegance, or anywhere in between -- for more on style see tip #3.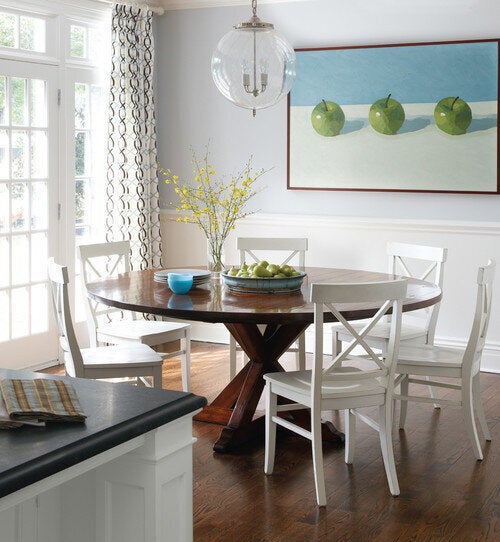 Once you've got some great end chair options, or have a square or round table with no defined "ends," it's time to size up some side chairs.
-Simpler chairs will look better in multiples, so it's safest to avoid bold patterns here and instead choose a solid but beautiful material. Plus, if you splurged on stunning end chairs or a treasured table, this is smart place to save.
-Selecting a stackable, weatherproof chair will provide ultimate flexibility, as the seats will move easily to the outdoors for busy BBQs, and stack out of the way to free up space for buffet meals or spring cleaning.
-In a small space, it's usually best to pick light and/or airy chairs. An open back chair allows longer sightlines for a larger looking room.
-If you want a little dose of bespoke drama but less investment, upholstering just the back of a side chair adds a pop of flavour (where it won't receive as much wear).
-Remember that using armrests on your chairs doesn't guarantee elbow room. Slim 18" chairs are fine for six-seat tables, but may leave the middle seats a bit cramped on longer 8+ seat tables (so sticking to 20"+ is safer).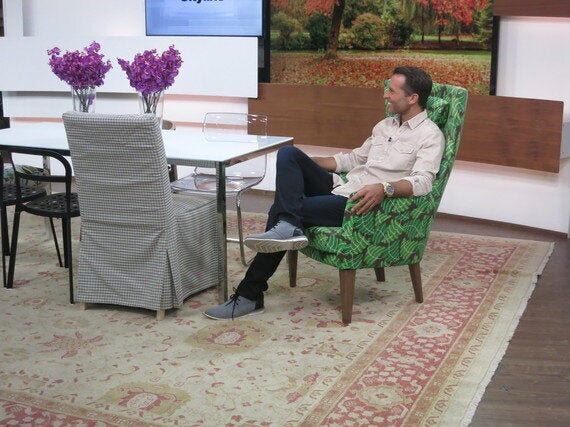 Yanic Simard on the Cityline set with dining chairs from Ikea
#3 Style You Can Sit With
Ultimately, style selection in dining chairs comes down to personal taste, however there are some general guidelines that can help achieve any look.
-I'm a big fan of mixing hard materials like glass, metal, or stone, with softer surfaces like wood and upholstery, to create that inviting balance. If you have a table with metal legs and a glass top, for example, a white or light stained wood will reintroduce some warmth. Playing off a traditional wood table, consider chairs using metal and/or clear plastic to add some crisp contrast.
-For those who prefer a strictly traditional or modern look, you can use just one material (say all wood, or all metal), but consider adding variety through different leg styles for the chairs vs the table (ex carved vs plain, polished vs brushed) to avoid a matchy-matchy look. Painted or lacquered wood chairs are also a great option to add flavour in both scenarios!
-When mixing chairs, using a similar back height is an easy way to help them visually relate.
-If you prefer not to commit to a bold look, you can always choose classic neutral chairs (bent wood in a mid-tone stain is timeless) and let a series of table cloths create fresh seasonal statements that won't get stale.
-Trends to try: mismatched wood chairs all painted one colour (especially an appetizing red); cane-back chairs for a breezy Miami Beach appeal; open, minimal chairs revealing an elegant wood table; modern and traditional chairs mixed together in all white or all black.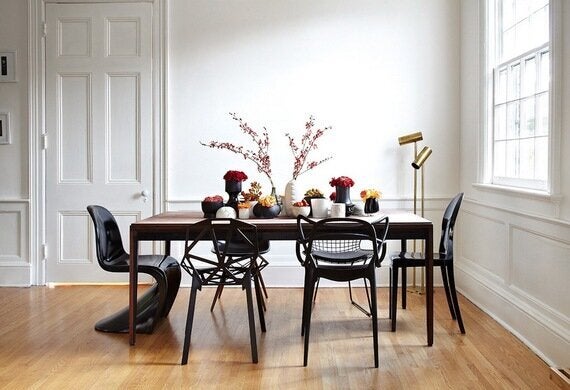 Zenergy Ball Chair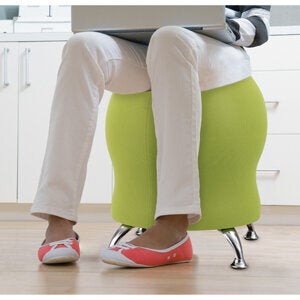 Swopper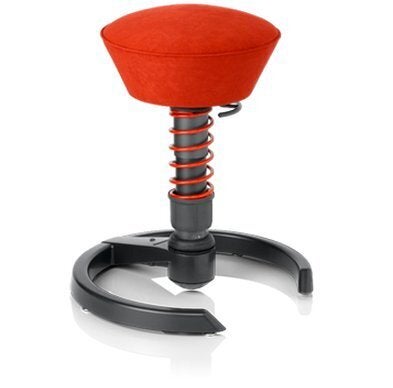 Wobble Stool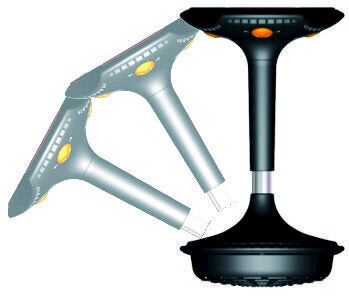 Rockin' Roller Desk Chair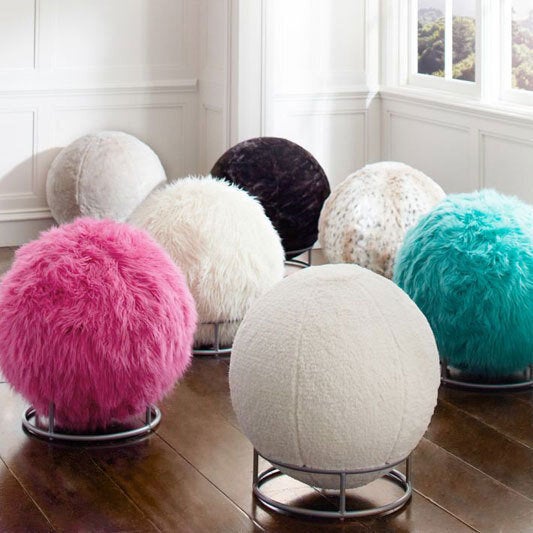 Humanscale Freedom Saddle Seat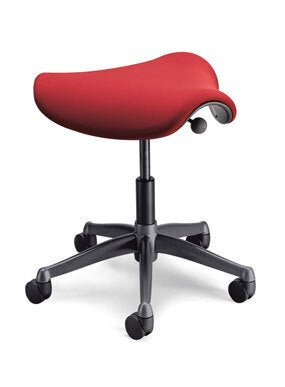 Wigli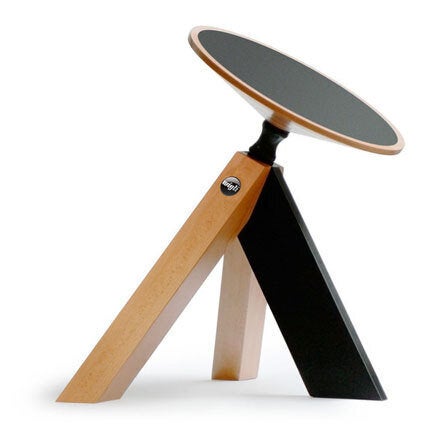 Gaiam Classic Balance Ball Chair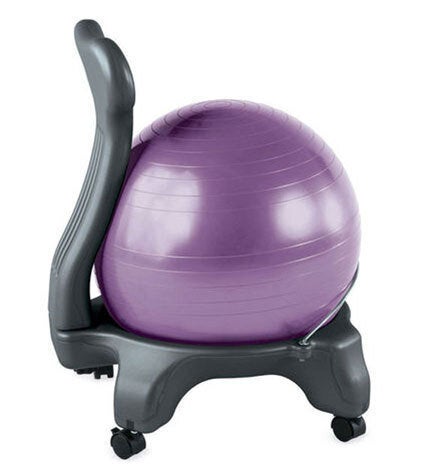 Buoy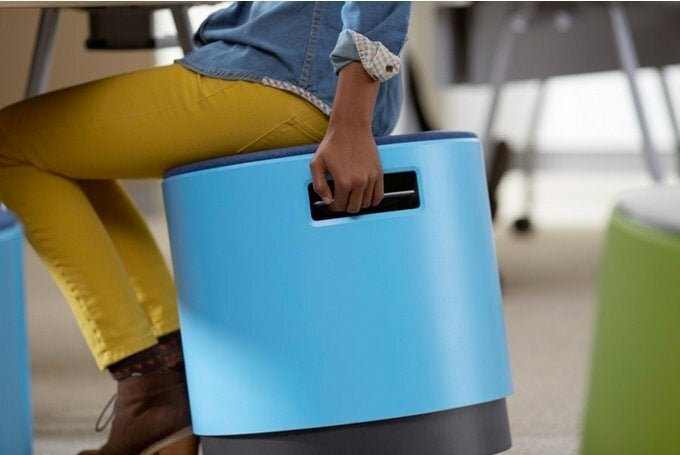 Muvman