Jim Ross via Getty Images
Canadian R&B Soul group Jacksoul won a number of Juno awards among other recognitions. They were handpicked to tour with James Brown and shared the stage with acts like Patti Labelle, Jim Cuddy and Nelly Furtado.
Lead singer Haydain Neale was one of the most beautiful souls. He managed to be intellectual, funny, big-hearted and talented while staying humble. His love for his gorgeous wife was something out of a story book and a love that not many people have in a lifetime. He wrote many songs about her, which became Canadian hits. I know all of this because he was my dad.
Growing up with parents in the music industry is a strange thing. You are constantly meeting famous people, going to cool events and it is quite easy to get a big head and start thinking you're the coolest kid around. Luckily my parents would of never let that happen to me. My dad was the most down to earth musician and person I've ever met.
Over the years after his passing all I ever hear are stories about the wonderful good deeds he did for people. I meet strangers who just met him once or twice briefly, but all the memories they share are really positive and sweet.
Jacksoul's greatest hits album just came out and I am so proud of his music and the bands loyalty to him. Monday we had a private CD release party at the Bloor street Roots store in Toronto. It doesn't really get more Canadian than Roots. The clothing company did many photo shoots with my dad, and they would fit the band for certain events. Some of the good people there became like family to us.
Last night watching a sea of faces who loved my dad pay tribute and respect to his honour, five years after his passing was so overwhelming. The love in that room was infectious. Musicians Divine Brown, Ivana Santilli and Luke McMaster played some of their favourite Jacksoul tunes to a quiet but engaged crowd.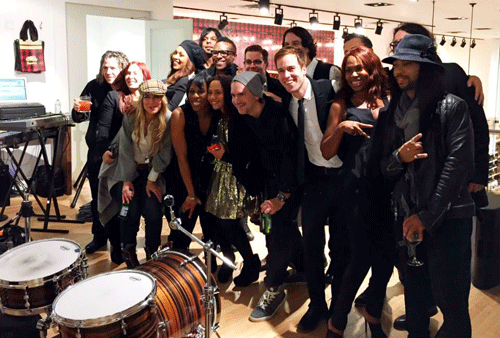 Jacksoul family and artists who performed
As a child I learned the music industry can be a very fake and cut throat place. There is always someone out for your job, someone pretending to be your friend for all the wrong reasons, shady managers and some musicians who want credit for things they didn't even do.
Yet even after his death, my dad can only seem to bring the best of the best together. The real people that are there because they are genuine. They stand in that room and honour him not just because of his incredible talent as a musician, but his big heart and beautiful soul that touched so many. They are some of the realest people I've ever known.
I often say that the greatest hits album is the the best of our lives together. Most of those beautiful songs are about my strong, empathetic and incredible mother. She needs a whole article of her own really, because she taught me what it is to love unconditionally until the very end. Watching her big blue eyes look at my dad everyday with true love. She never left his side after a serious vespa accident in 2007, she never left his side after a cancer diagnosis in 2009 and she never stops carrying him in her heart.
Jacksoul was more than just a band, they were a group of brothers and one sister (the back up singer). They have a strong love and respect for each other. Watching these talented musicians continue to play in various groups is hard sometimes because I believe they all belong together. However seeing them grow as people, start families and carry my dad in their hearts means more to me than they even know. I am proud of them and know my dad is looking down at them feeling the same.
Many people ask me about his legacy and what he left. Yes, of course he left incredible music that is timeless but his true legacy is his personality. He touched so many people by doing nice things despite being famous or important. He continued to reach out and give and that is a legacy to me. It is an important lesson to learn that being a good person and going above and beyond will always be remembered after you are gone.
When I was 19 my dad passed away in mine and my mother's arms. I made him a promise right before his last breath, I promised I would make something of myself. I continue everyday to hold that in my heart, it is the best promise I made to him and myself. I graduate college in a few weeks and although I wish he could be there, I know he will be watching proud as I continue my own journey as an adult.
MORE ON HUFFPOST: