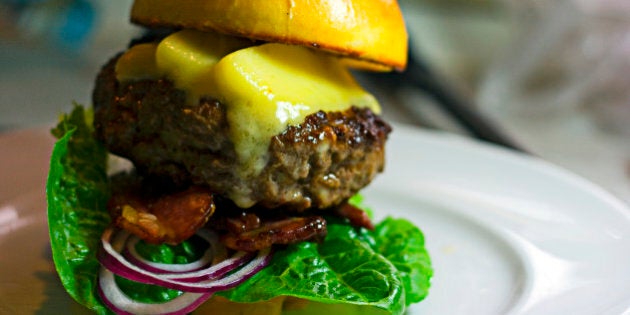 revision3.com/foodmob" data-caption="Everything made from scratch. Lettuce is home grown. I even made the burger rolls/buns myself.As seen on the great show Food Mob on Revision 3revision3.com/foodmob" data-credit="ugod/Flickr">
With more cattle spread across the rolling Alberta foothills than there are people, it's no surprise that Calgary is home to some bodacious burgers. Whether you like 'em spiced, stuffed, or au naturale, you'll be able to find some ground chuck game changers in Calgary. This list grills up a healthy dose of Alberta pride, served up in quarter and half pound portions. Open wide.
Good things come in small packages, or in Burger 320's case, buildings. In-house made buns, ground local steak, gelato, and even a truffle poutine -- all within 320 square feet. If you don't manage to get a spot at one of the two bench seats, grab a Wickens to go. Topped with farm bacon, and their signature sweet and tangy BBQ rhubarb onion chutney, you'll devour it before you even reach the door.
Sporting a handful of old school arcade consoles and other offbeat paraphernalia, this quirky and colourful burger shop claims to be the Official Burger of Deliciousness, and we're not ones to argue! Creatively combine your fave foods with the Pizza Burger or Deep Fried Mac and Cheese Burger. If you're up for a challenge, order Doug's Don't Fear The Reaper Burger. Four all beef patties, four slices of bacon, a butterflied beef wiener, two slices of cheddar, and a fried egg, all skewered together with a mini corndog. Good luck.
When it comes to local ingredients, you'll have a hard time finding anything closer to home than Dairy Lane. From supporting small farms by using open range and free grazing Alberta beef, to recycling everywhere they can and giving back to several local charities, Dairy Lane is down-home in all the right ways. What does this do for the food? Wrap your face around a Dairy Lane Burger with grass fed ground beef, housemade pickled onions, butterleaf lettuce, tomato and pickle on an egg-washed bun. You'll get it.
Naina's grills up classic home cooked comfort food like grandma used to make, smacked upside the head with hearty dose of awesome. Stuff your face with Naina's stuffed burgers -- Alberta beef jam-packed with whatever you want. For a truly Naina's experience, try the Poutine Stuffed burger -- house made french fries, gravy, and cheese with a fresh beef burger wrapped all the way around.
Upbeat and nostalgic, swing and jive, this retro take-out diner takes part in the community by only putting local beef on their flame grill. The result is nothing short of flame kissed burger brilliance. Check out their signature Flipp'n Burger: double patties with cheddar, swiss, beef bacon, frizzled onions, sautéed mushrooms and topped with whatever your heart desires -- probably everything.
Make a stop at the Crossroads Farmers market, any time of the year, to experience the best thing to ever happen to and old Calgary Transit bus. Family operated for over 20 years, Rocky's burgers have developed and incredibly loyal following. How do they make them so good? Beef, just beef. There's no secret to Rocky's burgers and there's nothing flashy to be found here, just a juicy burger made of 100 per cent Alberta beef in a bus.
The Holy Grill is right because these prime rib burgers are divine. Along with the Alberta beef, they serve up a solid menu of paninis, salads and brunch. They do it fast and are by no means fast food. Even though they'll get you fed and on your way before realize it, they still take the time every day to hand cut the fries and their ever popular beetroot chips with homemade garlic and chili dip.
The cutest cartoon burger people on their compostable packaging, and locally sourced ingredients to make both you and your tummy smile. Clive Burger is the classic American burger stand reinvented with a local, Alberta twist. It's simple: single, double or triple, and your choice of fixin's. Make sure to get one of their delicious custard shakes to wash it down.
Locals love them for their Free Range beef burger, but that's not all they're known for. If you're into something a little different, check out their specialty burger selection including elk, wild boar and buffalo, just to name a few. They sell the other usual fast food suspects like fries and onion rings and are the perfect companion to a loaded burger... but you already knew that.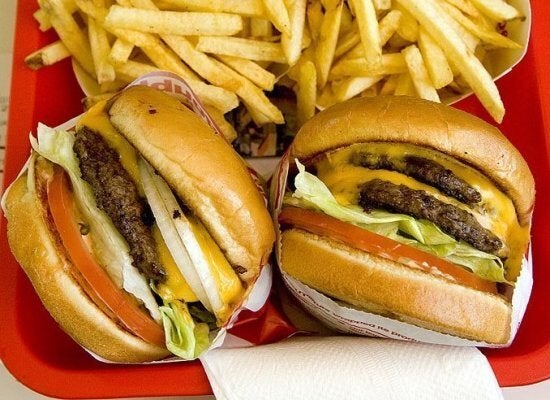 Food & Wine's Best Burgers in the U.S.