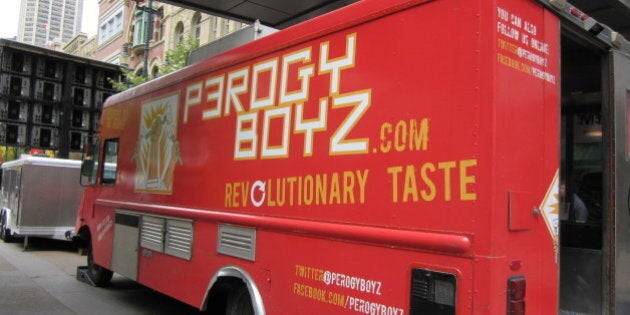 Calgary's creative food entrepreneurs have taken to trucks like a bento to a burrito, or naan to a taco. If you don't see the connection, read on. Whatever feeds your fancy, one thing is certain -- pound the pavement in Calgary and you're sure to turn up some satisfying street food.
On the forefront of this city's steamed bun revolution, you'll find Eats of Asia's Bao Sliders. Bask in the glory of the Lucky Pig Bao -- melt in your mouth pork belly on top of a warm and soft steamed bun. Topped with cilantro and peanuts, these are some scrumptious street sliders. Stumble across their truck on summer streets, or seek them out at at the Crossroads Market.
That's right, Calgary is home to a Food Truck dedicated to everything grilled cheese! Get down to business with the Hot Mess: Pimento cheese, pepper jack, banana peppers, sriracha mayo and staying true to their local philosophy, Spragg's Spanish chorizo and a Sylvan Star Farms fried egg.
There's a food d'état happening in Calgary and the Perogy Boyz are at the centre of the perogy revolution. Having studied with the pierogi masters, (their babas,) Perogy Boyz cook up urban street food versions of everyone's favourite Eastern European potato pocket. Try them traditional or enjoy a truly Calgarian creation like the Perogy Poutine -- topped with truck made garlic herb beef gravy, melted cheese curds, crisp double smoked bacon, and fresh chives.
Sure, they handcraft their gelato 10 litres at a time with the highest quality local ingredients and have flavours like Bourbon Vanilla Bean and Chocolate Caramel Sea Salt . Sure, they serve fresh brewed coffee from Calgary's own Rosso Coffee Roasters, they create incredible cookies and craft house made marshmallows from honey, but what truly sets the Fiasco Gelato Van apart from every other ice cream truck in existence -- no Greensleeves! Try one of their creative brioche concoctions like a S'mores Gelato Brioche with Marshmallow Fluff.
When naan bread met taco, the whole city fell in love with this tasty Indian-Mexican mashup. These street food sensations have Indian inspired innards like chickpea, butter chicken and beef vindaloo. They feature a changing menu of items that are made from ingredients so local, they even have an edible rooftop garden.
The Cheezy Waffle Sandwich at Waffles & Chix puts all the comfort of southern cooking into a uniquely Calgarian street food package you can eat with your hands -- that is, if you don't mind the mess. Southern fried chicken, creamy coleslaw and maple syrup sandwiched between between two cheese waffles. We doubt you'll still be hungry, but try and save some room for their Nutella and banana Waffle for dessert, will you?
An authentic Montreal diner, rolled up in a little red truck and served street side, the Red Wagon Diner smokes up some tasty meat. Looking for something a little more out of the ordinary? Try the smoked meat hash -- Montreal Smoked Meat mixed with hash browns, sautéed mushrooms, onions, banana peppers and cheese, topped with two soft basted eggs. Bon appetite.
In the world of street food, the burrito is an engineering masterpiece. Bento Burrito takes it a step further featuring all of the flavours you'd find in a Japanese Bento box. Sushi rice with pickled carrots, cucumber, daikon radish, fresh cilantro, avocado and toasted sesame seeds, all rolled up into a self contained smorgasbord with your choice of peanut satay chicken, teriyaki pork or tofu.
Down-home and homemade, Farm Girls brings the "fork to truck" picnic wherever they go. Try their pork, goat cheese and herb meatloaf sliders with cornmeal and caramelized onions. It's momma's home cooking that you can hold with your hands.
Like a superhero made of cast iron, the mighty skillet swoops in to protect Calgary streets from a boring brunch. Go big with the Golden Age breakfast poutine -- two soft eggs over large wedge fries, covered in all melted cheese curds, slices of ham and smothered with hollandaise sauce.