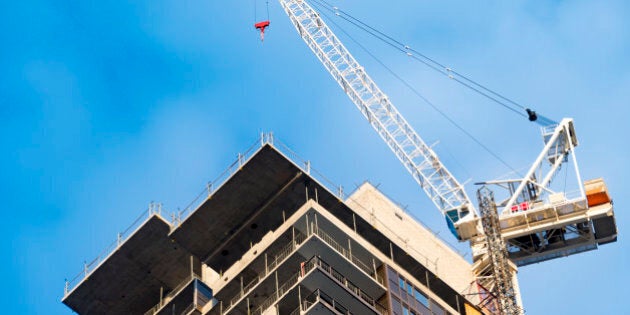 So, you've decided to buy a new condo. It's a big commitment, but rest assured -- you're not alone.
There were 29,186 new highrise condos sold across the GTA in 2016 -- a high-rise record and 30 per cent more than in 2015, according to Altus Group.
The GTA's condo rental market is also experiencing a boom. The average condo rent increased 11.7 per cent year-over-year in the fourth quarter of 2016 -- the highest level of growth ever recorded by Urbanation. The condo market research firm reports that the average GTA condo is leasing for around $2,000 per month, with units being snapped up after just 13 days on the market.
Condo prices keep rising, both in the resale and rental markets, yet this housing type continues to fly off the market.
Buying a home is probably the biggest financial commitment you'll make in your lifetime.
These high-rise homes are certainly a hot commodity in the GTA. Who are the condo builders making these sky-high dreams come true across the GTA, and how do you know which one has what you're looking for?
To distinguish themselves, some condo builders offer financial incentives to entice buyers. Others differentiate themselves with their product -- and not all condos are created equal. Some builders specialize in skyscrapers, while others build more intimate mid-rise and townhome communities. Some condo builders have an eco-friendly agenda, while others are all about the luxury features.
Take note of what you want in your new condo, and then determine who can deliver. Remember that a little research goes a long way.
Buying a home is probably the biggest financial commitment you'll make in your lifetime. Do your due diligence to ensure you're making a smart investment.
1 | Who's building what? Determine your area of choice, and who's building what there. Ask friends, family members and co-workers for names of reputable builders they have dealt with. Nothing beats first-hand experience. You can also check with your local home builders' association for builders in your area.
2 | What is the builder's experience? If this is starting to sound like a job interview, then you're on the right track. How long has the builder been in business? How many homes or condos do they build each year? What kind of background and experience do they have? Ask for references, and contact them to find out if previous buyers are satisfied with the homes they bought and the service they received.
3 | Is the builder licensed and registered with the Province of Ontario? If they don't take care of their own house, how can you trust them to take care of yours?
4 | Is there a model suite? Tour each one in detail, taking note of what you like and what you don't. Take your time, and if you feel you don't know enough about construction to make a decision, bring someone with you who does.
5 | Can I get a site tour? This isn't always possible, but it's definitely worth asking. You can tell a lot about a builder by seeing them in action.
6 | Can I see the master plan? Request this from the builder as well as the municipality. If you're moving into a brand-new community, know that it will most likely look very different in 10 years than it does when you buy your home. What's the future plan in terms of retail, schools and services, public spaces and infrastructure? These can all affect the value of your new home -- positively or negatively.
7 | Where's my camera? Ask as many questions as you can think of, and note the answers to review and compare at your leisure. Know that if a builder or representative is unable or unwilling to answer your questions, this could be a red flag.
A home is the biggest purchase you'll make in your lifetime. It can be tempting to buy on a whim, but look before you leap. Some careful consideration on your part will help to ensure you make a wise move that will enhance your lifestyle for today, and make a great investment for tomorrow!
For more essential real estate reading, visit YP NextHome.
Follow HuffPost Canada Blogs on Facebook