By: Sonia Bell
Ah, the "plus den" condo floor plan -- sure, that extra room may look great on paper but using this often tiny, windowless space efficiently can be tricky. And the smaller the space, the bigger the challenge.
We caught up with interior designer Candice Olson to get some tips and tricks for making the most of your "plus den" -- no matter how small.
Let there be light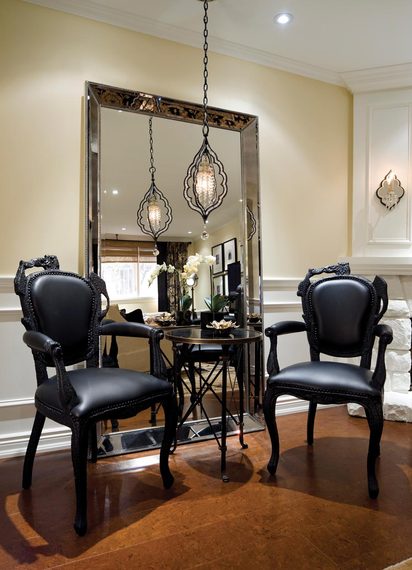 A little light goes a long way to make your den feel bigger and providing functional use of the space (there's very little you can do in a dark room). With the right lighting accessories, you can even add some style.
Designer tip: Good things really do come in threes, including lighting. According to Olson, "The most important element in any of my designs is the concept of layers of light. The first layer is ambient lighting or general, overall even illumination. This is usually accomplished with recessed lighting. The next layer is task lighting -- the practical layer of lighting that allows for a specific activity, like reading, to be performed. And finally, decorative or accent lighting gives the room drama, pizzazz and sparkle... small pendant lights or chandeliers bring an unexpected sparkle of light into a room, creating interest in a conversational grouping."
Function, and Multi-function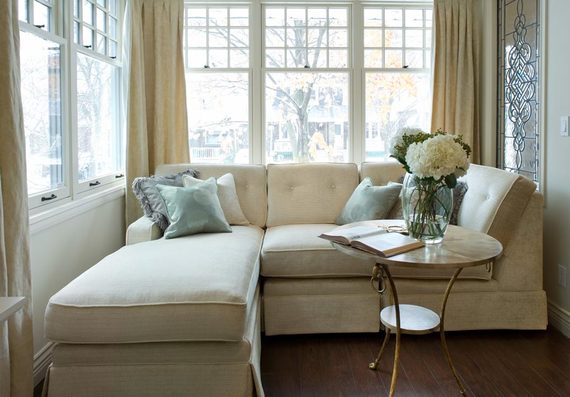 You're going to want your den to serve a specific purpose. For example, will it function as an additional bedroom, a home of office, or a reading room?
Whatever your den's designated purpose, it's imperative to choose the furniture wisely. Luckily, as condo spaces get smaller, furniture has followed suit. Consider investing in multifunctional pieces, like a Murphy bed. Also, "Round pedestal tables are one of my go-to multi-functional pieces of furniture," says Olson. "[They] act as a side table, a petite snack table or even a presentation area for a home of office."
Designer tip: When decorating your den, Olson says scale is key. "In small rooms, the scale of the furniture must suit the space." If you're hoping to add plenty of seating for people to congregate, Olson says to "look for narrow arms on sofas and chairs, to provide as much practical seating area as possible."
Mirror, mirror on the wall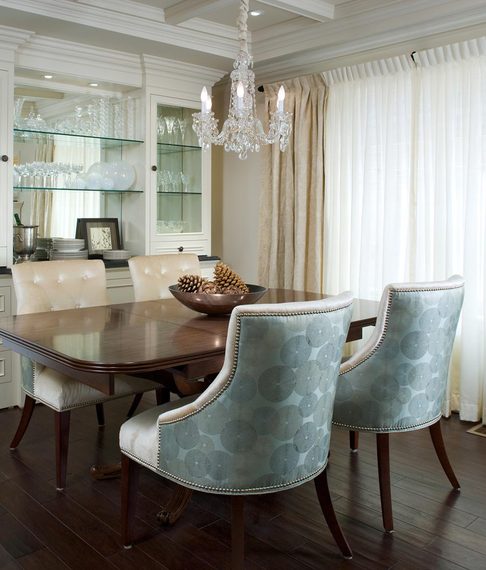 Mirrors work wonders in small spaces, as they possess two key qualities: they visually double the area of the room, and they amplify light. Since space and light are two elements that your condo den may lack, thoughtfully placed mirrors are essential. Even one mirror can go a long way, creating the illusion that the room has a window, or even an adjoining room.
Designer tip: "When installing shelving, whether it is custom-built or off-the-shelf, my trade secret is to strategically install mirrors to the cabinetry backs," says Olson. "While the mirror may not be noticeable at first, it has a huge impact on the sense of space, making the room feel larger."
Contrast is key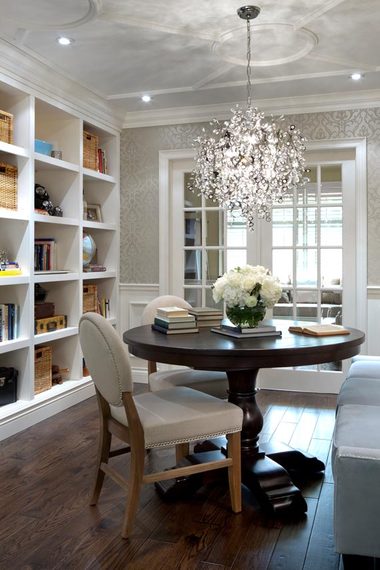 By this point, you've added lighting, multi-functional furniture and mirrors to create the best look for your den. Don't defeat their purpose by selecting a colour scheme that doesn't complement the small space.
Colours have a huge impact on rooms, for example, darker hues will absorb colour and create the appearance of a tighter, darker room. That being said, even if your taste is nudging you toward a navy blue, stick with lighter, calmer hues.
Designer tip: According to Olson, "Unifying walls and vertical surfaces with continuous colour and low-contrast tones will calm the space and make it feel more expansive. In a one-colour or tone-on-tone colour scheme, visual interest comes from texture and that's where fabric choices come in."
Photos courtesy of Candice Olson
Read more on YP NextHome.
Follow HuffPost Canada Blogs on Facebook