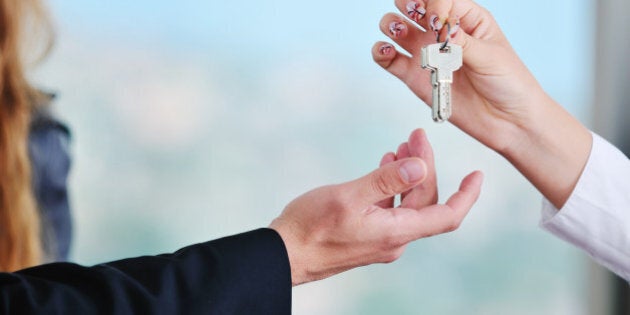 After years of plotting and procrastinating, I've finally up and left the nest. But the quest for my first rental was harder than I thought it was going to be.
My boyfriend and I decided to get a place together and had our hopes on a one-bedroom plus den in Liberty Village. The area is close to each of our workplaces, close to the downtown core, and the best part was that it seemed to be its own little community - the perfect transitional neighbourhood from someone going from the suburbs to the city. While it may sound a little cliché, Liberty Village - to us, at least - is that perfect blend of urban and suburban.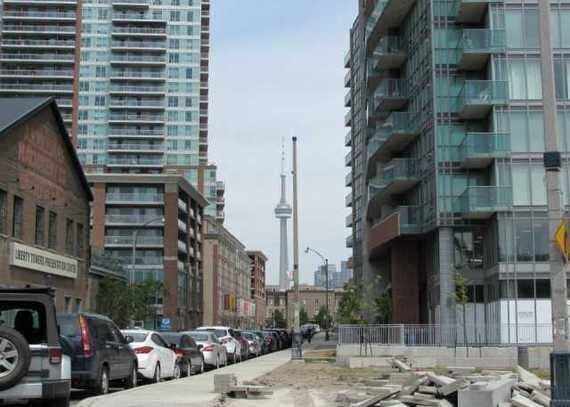 Photo of Liberty Village by Elisa Krovblit
Our hunt started a few weeks ago. I told myself I wanted to find a rental privately; I figured I might get more selection seeing as not all landlords use agents (as they don't want to fork out one month's rent). I went online, contacted the owners of a dozen places, but to my surprise, it was rarely a landlord responding to me, it was a realtor. I found myself juggling dates and times, and if one realtor sensed I was going to other showings, they'd blow me off.
One of the realtors I met ended up sending me more listings after our meeting. I was interested in them, and before I knew it I was was working exclusively with her. So much for doing it on my own - but it was convenient. Messaging agents and landlords to coordinate meetings was time consuming. I was happy to have a buffer; even though I knew I was potentially limiting myself.
We went to our first showing and loved the place. We put in an offer on the spot -- it was declined. I immediately put in an offer on the second unit we had seen that day -- that, too, was declined.
To be frank, I never anticipated the rejection. I thought my boyfriend and I were a shoo-in. Our combined income is likely more than one individual seeking a one-bedroom unit, we're in our late twenties, full-time jobs, good credit -- why wouldn't a landlord want to accept my offer?
Landlords, however, have the luxury of choosing the cream of the crop. We keep hearing how it's a seller's market, and this trickles down into the rental market. Investors and landlords let the applications come in and they choose whomever they wish. No matter how good I was on paper, there was that one applicant who made more money, one person who had better credit, one person with more rental experience, more references, and the list goes on.
One of the reasons I decided to rent in the first place was to get out and do it fast. Clearly I'd misunderstood the process. It seemed almost as intricate as buying. Bidding wars? I didn't even know those existed in the rental market. Believe me, they do.
When it came time to put in the offer for my next unit, I got a message from my realtor: "If needed, would you be willing to offer $25 more a month on rent?" She wanted this in her back pocket; if she sensed the landlord wouldn't accept the offer, we'd offer more. I said, "Okay."
The next day, I received another message from my realtor: "Are you willing to pay three months up front?" Again, she wanted this in her back pocket. After living at home for four years since graduating university, we both had some money saved, so again I said, "Okay."
Here's the situation I was left in: I offered to pay more per month and agreed to pay thousands of dollars up front just to compete. And the outcome? My offer was declined.
Before I started this process, I didn't realize that renting was very much like finding a job - it takes time, persistence and a touch of luck; you hope you stand out enough to be considered, you then hope to impress, and you hang tight with your fingers crossed, hoping that the person making the decision will take a chance on you.
And here is where my touch of luck kicked in: The landlords of the second offer we put in called my realtor and asked if my boyfriend and I would be willing to accept a flex move-in date; we would get our unit no later than June 15, but could potentially get the keys and start paying rent anytime as of June 1. My boyfriend and I agreed.
Remember, we were both living at home and didn't need to be out by a particular date. The tenant needed more time to move and asked her landlords if they could potentially give her a couple weeks. However, most applicants wouldn't accept a flexible move-in date, so they withdrew their offers.
It all worked out in the end, and we recently got the keys to our new rental. My advice for first-time renters is to be patient. It's a tough market out there, not just for buyers, but for renters too. Unfortunately the reality is, patience isn't always an option. If this is the case, focus on enhancing your application - like finding personal references since you've never had a landlord. Also, start re-evaluating your rental needs - figure out what features you're willing to sacrifice. That way, you have a broader selection of units to choose from.
And lastly, stay optimistic -- eventually you'll find something right for you!
Follow HuffPost Canada Blogs on Facebook