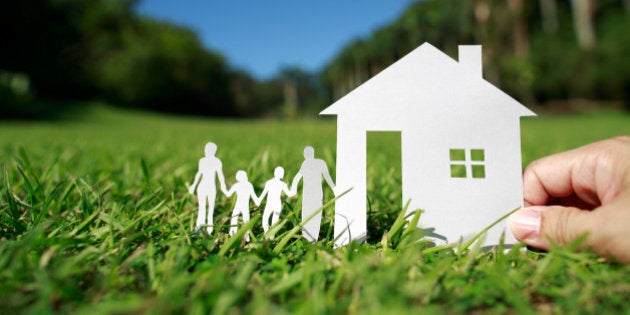 As the saying goes, good things come in small packages. In fact, this may be the mantra for many homebuyers in 2017, given the steady rise in real estate prices. National housing affordability hit an eight-year low in the third quarter of 2016, according to the latest Housing Trends and Affordability Report issued by RBC Economics Research.
Single-family homes scored a hard-to-swallow measure of 49.4 per cent, while condos came in at a more-digestible 35.6 per cent. What does this mean? Those dreaming of a single-detached, two-storey life in Canada should expect to shell out 49.4 per cent of their pre-tax income -- providing they earn at least an "average" income.
Sound high? Don't be mistaken, these numbers are sharply skewed upward by the hot housing markets in Vancouver and Toronto.
Vancouver scored an eye-popping 92 percentage points across all housing types, while affordability in the Greater Toronto Area reached 63.7 -- the steepest erosion of affordability, at three percentage points.
To cool these overheating markets, Ottawa implemented new mortgage rules late last year, requiring that insured mortgages (those with less than 20-per-cent down payment) qualify at the central bank's posted rate of 4.64 per cent. This is the case, even if the rate offered by your lender is lower. When rates do eventually rise, the increase in payments will be manageable.
There's also your Gross Debt Service ratio to think about. When applying for a mortgage, the lender combines your total housing costs (including mortgage, property tax and heating) and calculates what percentage they are of your gross monthly income, known as your GDS ratio.
Under the new mortgage rules, your GDS ratio must not exceed 39 per cent of your gross income -- 10 percentage points below Canada's average cost of single-detached home ownership, as per RBC Economics Research.
"The new mortgage insurance rules may help affordability over time, but 2017 is likely to see a tug of war between these market-cooling policy measures and rising longer-term interest rates, pulling affordability in opposite directions," Craig Wright, RBC's chief economist, noted in the report. "The net effect of this on the costs of owning a home is unclear at this point."
Since Q3 of 2016 marked the sixth consecutive time affordability dropped, let's err on the side of safety and assume that costs will continue rising in the foreseeable future. Forms of home ownership are evolving to survive the storm, so to speak. Increasingly common are options like secondary suites, to help pay off the hefty mortgage debt, and new housing types that are smaller in size and price. (Read why micro condos are still trending here.)
Who says the key to happiness is a 2,500-sq.-ft. detached house, anyway? Perhaps your dream home isn't a house at all.
Condo living can afford you the hottest location, coolest finishes, concierge service, a gym, a rooftop pool, at an affordable price. How much would you pay for a detached house that offers all that? Perhaps on your scale, amenities rank higher than that extra square footage.
Weigh the pros and cons of each housing type, then decide which best suits your lifestyle and budget. You might be surprised at where you end up!
For more essential real estate reading, visit YPNextHome.
Follow HuffPost Canada Blogs on Facebook