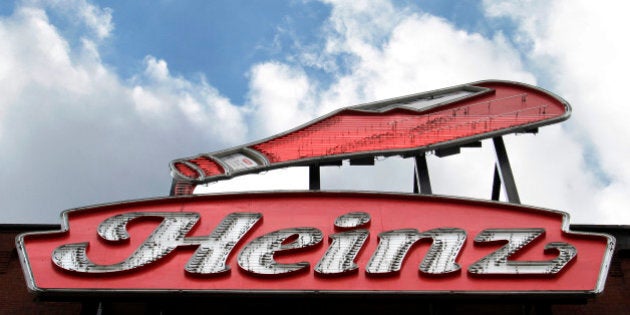 Written by Elisa Krovblit
In 2014, Leamington, Ontario was dealt a blow. The Heinz (now The Kraft Heinz Company) plant shut down due to the company's global restructuring, and production was moved stateside. After 100-plus years of production in Leamington, residents relied on the plant and never thought that day would come. As a town of 30,000 struggled with the loss of 740 good jobs and the loss of lifelong careers, farmers also had to rethink their existence as 'The Tomato Capital of Canada' would not have the local-dedicated demand for the product.
When it happened to Flint, Michigan, it was total devastation. I was in Flint in 1991, and it was eerie. As GM pulled out and the auto manufacturing sector tapered off in the 80s, the city literally went to waste. It was a ghost town, a shadow of its former bustling self.
Windsor felt it in 2008 when their automotive sector diminished. It wasn't as hard hit as Flint, but it made a mark.
Leamington was Heinz-dependent. And when they left, they left a lot of questions and concerns about the future that would start to affect residents in many ways.
Without those jobs, income for many was at issue. With reduced income, people would be spending less, paying less tax and not spreading the wealth around. With the loss of the Heinz plant's property taxes alone, significantly less money for capital projects would be put into public coffers. With a number of people leaving to pursue jobs elsewhere, the real estate market softened and prices were affected. Leamington even considered cutting builder levies in half to encourage new home construction because they sought to be proactive in mitigating the fallout.
But it wasn't total devastation. It hurt many, and there were casualties that forced some to leave, pursuing employment and prosperity elsewhere, but it would be an interesting turn of events that changed the tides.
While many of us may have grown up with "Heinz, because there's no other kinds," believing that the brand and the word ketchup were synonymous, a Canadian company may have just earned the respect of those die-hard Heinz loyalists. In fact, it's had sell-out success!
French's -- which is to mustard what Heinz was to ketchup, has stepped in. A Canadian company, Highbury Canco Corporation, started ketchup production for French's in the former Heinz plant. This is where real estate and condiments meet in the middle. Though the previous workers had to newly apply for their jobs -- and many at a salary much reduced from its former level, ketchup production has resumed under the new brand. Production is steady and employment has improved.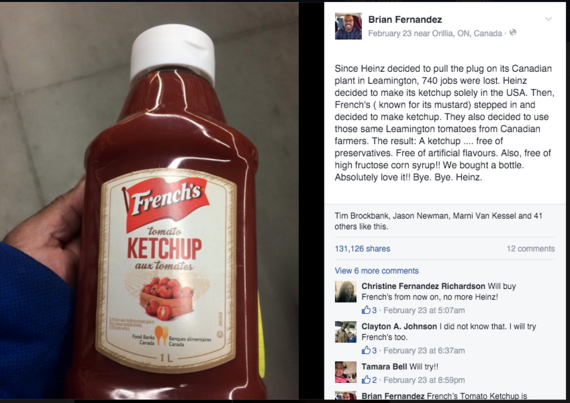 It may have been the little bit of help from a viral post that sealed the deal on its success. Orillia resident Brian Fernandez, thrilled to find a Canadian alternative to Kraft Heinz ketchup, sung its praises and it was the Facebook post heard round dinner tables of the country! Just over 131,000 shares at publication time, Fernandez' post bid a not-so-fond farewell to Heinz and embraced the benefits of the locally made, preservative-free, high fructose syrup-free and artificial flavour-free French's ketchup.
One caveat -- though Heinz left the town in a bit of a lurch, Highbury Canco is also contracted by Heinz to produce pasta sauce, vinegar and tomato juice, among other products, according to Leamington Mayor John Paterson in a response to Fernandez. Mayor Paterson urges people not to boycott Kraft Heinz products because many residents' jobs depend on those orders!
Follow HuffPost Canada Blogs on Facebook