Picture this: a huge swath of parkland -- 21 acres -- built overtop a fully active rail corridor. No, this is not in Chicago or New York. It's Rail Deck Park in Toronto.
Toronto Mayor John Tory and Councillor Joe Cressy recently announced the City of Toronto's intention to protect more than 21 acres of land in the downtown core for the future development of the iconic city park. The initiative is part of the City's TOCore project, a response to the rapid development and intensification of the city's downtown that is placing pressure on physical and social infrastructure.
Toronto's western rail corridor, from Bathurst Street to Blue Jays Way, represents the last opportunity to create a significant signature park to serve the growing downtown population and create a legacy for future generations of city residents and visitors, the city says.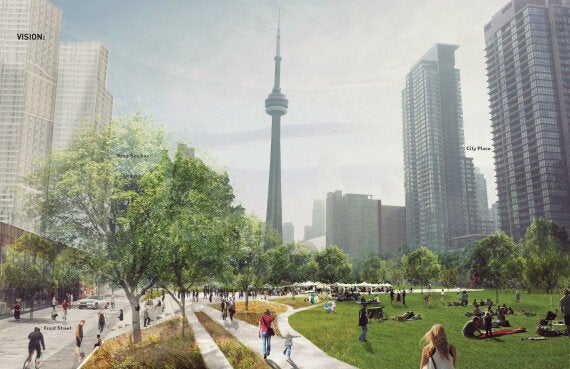 The City of Toronto's vision for Rail Deck Park, if fully developed as parkland
"Great cities have great parks," says Tory. "As Toronto grows, we need to take bold action to create public space and make sure we build a city that makes future generations proud. This is our last chance to secure a piece of land that could transform the way we experience our city."
"Such a forward-thinking initiative would be a game changer, not only for downtown Toronto, but for all of Toronto," Jeanhy Shim, industry consultant and president of Housing Lab Toronto, told YPNextHome.
For downtown Toronto condo residents, such a park would provide a significant amount of green space, which is badly needed, she adds. Currently, the Toronto Islands, Coronation Park, Trinity Bellwoods or Corktown Common are the only large downtown parks, but really not enough for the explosion of condo units and residents who live and work in the downtown core.
The thousands of condo unit owners and prospective buyers in the area should definitely be excited by the prospect of Rail Deck Park, says Pauline Lierman, director of market research at Urbanation Inc., a Toronto condominium market research and analysis firm.
"The potential from a real estate perspective is strongest for resale values in the CityPlace neighbourhood as it nears build-out (about 1,536 units are still proposed there). But it will also mean substantially more for new sites representing further densification," such as The Well and additional sites off Wellington Street, King Street and surrounding Liberty Village.
"The current park at CityPlace is well-loved, as are the many parks in the immediate area. This will go a long way to alleviating stress on them, plus adding further appeal to the area. It will also help bridge the areas north and south of the rail lines in a permanent way. This is one aspect that hurts the downtown -- transects from both the rail corridor and the Gardiner. All this feeds into stronger demand to live nearby."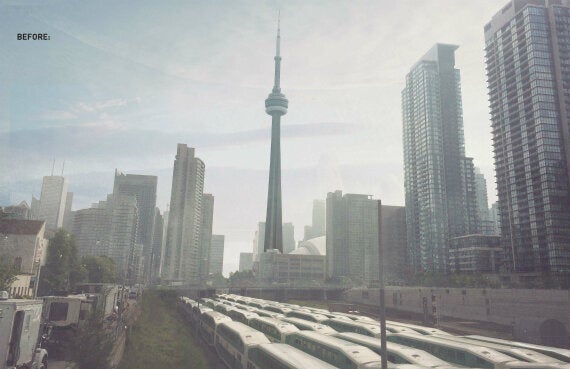 A photo of the proposed Rail Deck Park area as it looks today.
There's also an important lifestyle benefit, Shim says. "As condo units (and their so-called balconies) are getting smaller downtown, parks are an essential extension of one's living space, especially for downtown dwellers. Access to nature is important for human health and well-being, not just in the obvious physical benefits of having a place for sports and recreation, but also important for mental and emotional well-being."
The population of downtown Toronto has the potential to nearly double to 475,000 people by 2041, the city says. This population growth is propelled by people choosing to live downtown, a part of the city that currently has one of the lowest levels of parkland.
To protect the rail corridor, the city will have to secure the air rights and create an Official Plan Amendment to ensure it is developed for public use only. A long-term vision would see a park created from decking over the corridor, creating a marquee green space that will serve the high-density surrounding neighbourhoods and help connect the city to its waterfront.
"More and more families are choosing to call downtown home, and they need somewhere to play with their kids, enjoy the outdoors and relax with friends," says Cressy. "Turning this underutilized part of our city into a beautiful and sustainable public space is truly a win-win, and will complement the transformative work being done with The Bentway and Fort York."
As for next steps, an inter-divisional staff team will advance the Rail Decking Project and staff will report to the Executive Committee in September.
If the plan goes ahead, Toronto would follow other cities that have successfully transformed rail corridors into iconic spaces, including Chicago's Millennial Park, New York's Hudson Yards and Manhattan West, New York. In Canada, the City of Vancouver recently agreed to purchase the Arbutus rail corridor for parkland.
Follow HuffPost Canada Blogs on Facebook