When my 11-year-old recently announced she was considering becoming a food critic, her dad and I weren't the least bit surprised. Our kid is a picky eater. She's a healthy eater who loves vegetables, fruit, pasta, as well as one or two meat dishes -- including "vampire-rare steak" -- but she's anti-garlic (obviously, right?) and hates sauces of all kinds (except tomato sauce). But the sauce must be flavourful (for example, with hidden, unroasted, garlic) and without any chunks in it.
She also goes on-and-off foods by whim. Quiche: once good! Now bad! Veggie dogs: once horrible, now apparently, desirable ("Why didn't you make me any when you were eating one?!")! Vietnamese pho, once delish, is now a poor substitute for Chinese noodle soup. Ramen: Yummy. No, wait, not anymore!
I generally have no way of knowing whether or not she'll like a new food, or, for that matter, will accept one she's eaten in the past. As I type this, it occurs to me that this might all be a hilarious case of a tween messing with her mom's head.
I enjoy cooking from scratch and consider it essential for our healthy, highly active lifestyle. Because we work out several evenings per week, we eat dinner late, typically around 8 or 9 p.m. We avoid convenience groceries, although we eat out twice a week, when I'm too drained to cook, or we're hankering for food I don't cook (typically meals requiring laborious preparation techniques or many small tapas-style dishes -- I'm a protein-starch-two-veg kind of chef!).
My partner and I are avid eaters -- I hate the elitist ring of "foodie" -- and I love trying new foods. As a supporter of sustainable agriculture, 75-90 per cent of what's in my fridge is organic. The meat, dairy and eggs are as free-range and organic as possible. There isn't a third-party certification body for free-range livestock, so I stick to small, family-owned purveyors raising hormone- and antibiotic-free pork, chicken, and grass-fed beef. I prefer sustainable seafood and use the Seafood Watch app for my iPhone when grocery shopping.
For my challenge meal, the main event would be a big salad. What else are you going to do with uncooked foods in the summer? I can't stand raw beets or broccoli, so I decided on carpaccio: paper-thin slices of (vegetable) flesh marinated and tenderized in olive oil and lemon juice, served on a bed of arugula, with anything else that would add vitamins and fibre, without clashing, flavour-wise.
No-cook meal: Vegetable Carpaccio with salmon over arugula salad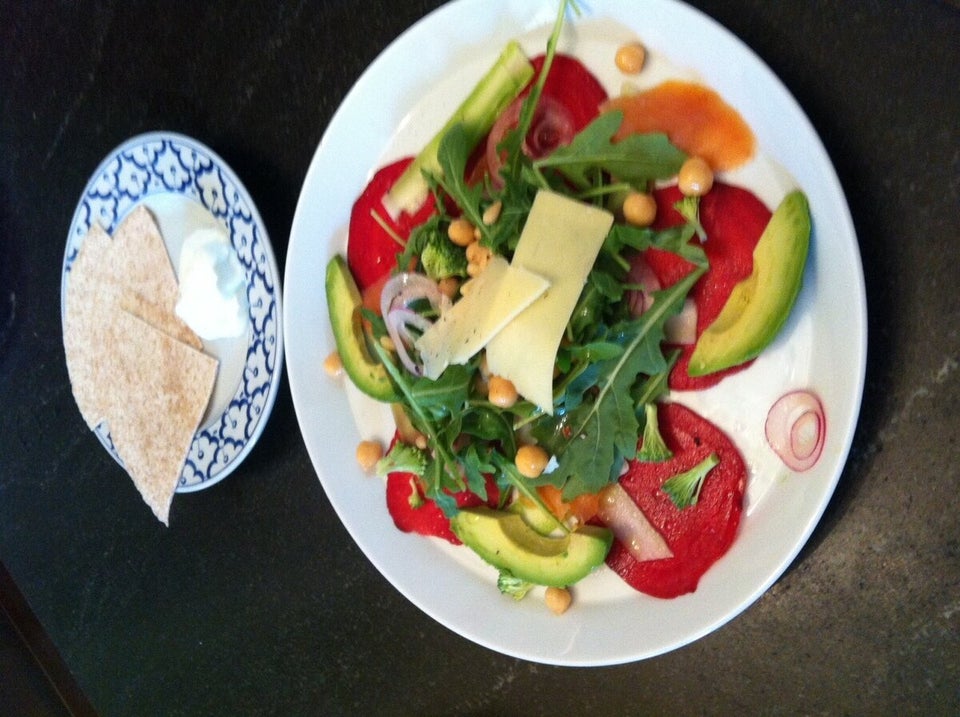 The Main Ingredients Challenger Meal 2
Beets
Broccoli
Chickpeas
Dark green leafy lettuce
Fish
Avocadoes
Cheddar cheese
Whole grain tortilla
1 stalk fresh broccoli
1 large beet (try candy cane beets for their pretty white and red rings and milder flavour, but regular beets work just as well)
850 g cold-smoked trout (or smoked Arctic char or Pacific salmon), sliced
1/2 142 g (about 71 g) bag Arugula or arugula salad mix
200-250 g(½ can )low-sodium chickpeas, drained, rinsed
1 avocado, cut into wedges
125 mL (1/2 cup) low-fat old Cheddar cheese
4 whole grain tortillas
Staple pantry and fridge items like: extra-virgin olive oil, lemon, onion, pepper, pine nuts, basil leaves from the garden, to taste
Low-fat plain Greek yogurt, optional
Preparation: Wash and dry all your veggies. Separate broccoli florets from stalks. Set broccoli crowns aside for another use, or keep a few tiny florets for garnish. Peel the beet, onion and broccoli stalks and then slice both very thinly. You can use a mandolin or a knife to create paper-thin rounds of the beet and onion, and super-thin lengths of broccoli stalk.
Put the vegetables in a dish and squeeze lemon juice and drizzle olive oil onto them. You can put the onions and broccoli together, but separate the beets to avoid staining the other vegetables. Put a heavy plate overtop the vegetables, to press the marinade into the vegetables, for at least 30 minutes.
Slice the avocado into thin wedges.
Arrange the beet, onion and broccoli carpaccio on a plate with the smoked fish, covering the entire plate in a single slightly overlapping layer (lay the beets down first; otherwise, they will stain the other vegetables). You can also roll up the smoked fish slices and present them on the side of the plate, depending on your plating preference. Add a handful of arugula overtop in the centre. Add the chickpeas and slices of avocado to garnish liberally. Drizzle olive oil and lemon juice to taste (about 10 - 15 mL each), and then crack black pepper over top, adding pine nuts and basil leaves if you have them.
Cut two long, thin slices of cheddar and place on top of the salad as a garnish.
Serve the vegetable carpaccio with the whole grain tortilla quarters for wrapping, and plain Greek yogurt to smear onto tortilla strips, if desired.
The verdict: We grown-ups enjoyed the meal, but in an ideal world, I'd shave Parmigiano-Reggiano, not Cheddar and the tortillas would be toasted for better flavour and texture.
Picky eater verdict: There's no way my kid would eat this. While broccoli is her fave veg, she won't touch it uncooked. And beets? Blech! Smoked fish? Double blech! For her, deconstructing the salad into a series of separate small-dish appetizers of chick peas, sliced Cheddar, quartered whole grain wrap, pine nuts and either steamed broccoli (if allowed to cook) or raw carrots and ranch dressing (if not) would be the way to go. I'd set aside her dishes as I prepared the rest of the meal.