 The renowned political sociologist Seymour Lipset -- an American -- is perhaps best known for his Formative Events Theory. Lipset holds that the political cultures of societies are largely determined by the events that formed these societies.
Canada's formative events are threefold. First, the influx of loyalists to the British Crown north of the 49th parallel following the American Revolution. Second, the geopolitical and military pressure placed on Canada during the American Civil War. And finally, American Manifest Destiny toward the west, rendering Canadians particularly weary of a possible ensuing conquest of the north.
All of these events have rendered Canadians particularly suspicious of the intentions of Americans. It is obvious that there is an element of truth in Lipset's theory: Canadian identity over the years have largely been expressed in opposition to American identity. Canada is everything the U.S. isn't, from foreign to social to fiscal policy, so the narrative goes.
Of course, the theory has its flaws. As Canada becomes more conservative -- becoming readier for combat, placing emphasis on fiscal restraint and enacting tough on crime policies -- the United States has shown an openness to a U.S. president known for stimulus, financial regulation and public health insurance. There is an element of convergence these days between our political cultures.
But as I have written in the past, football is usually a pretty good barometer of our country's sociopolitical attitude. Particularly when it comes to Toronto, many claim that residents of Canada's biggest city think of themselves as being better than the rest of Canada and express this sentiment by watching NFL football instead of the Canadian league.
This proposition, once again, is only half true. Despite much fanfare over PSY's halftime performance and the fact that Rogers Communications -- who brought the team to Toronto -- had an entire year to market a single NFL game, the Buffalo Bills drew a crowd this past Sunday at SkyDome of just 40,770.
The NFL mandates that franchises play in stadia that are at least 65,000 seats in capacity, thus already disqualifying SkyDome, which is 11,000 seats too small. Despite that, this year's annual NFL tilt in Toronto didn't even come close to packing the house.
The numbers get worse for Rogers and the NFL, however, when we take into account the fact that the telecommunications company has been known to hand out thousands of free tickets to these Bills games in order to pad the attendance numbers. Noting as well the number of Bills fans who traveled to Toronto from Buffalo for the game -- this was, after all, officially a Bills home game -- the actual number of southern Ontarians who bought a ticket is closer to 20,000.
In other words, less than the average attendance for the CFL's Toronto Argonauts.
NFL fans counter that ticket prices were higher than usual, prompting the smaller crowd. Yet the average ticket price has decreased from $180 at the beginning of the series to $99 this year. Despite that, the crowds have shrunk. And in any case, one would think that an NFL fan would be prepared to pay a higher price to see the only game of the year in Toronto.
NFL fans would also counter that if a team were to move to Toronto, the residents of the city would develop a kinship with the franchise and thus crowd sizes would boom. The Bills just aren't Toronto's team, they say. If so, kinship would have to work a lot of magic.
Going from just 20,000 regional fans prepared to buy a ticket for a single NFL game -- something any NFL fan should do regardless of what team they cheer for -- to 65,000 fans per game for eight games would require a pretty massive turnaround. And of course, it would require a new stadium. Good luck finding government funding for a stadium that is only going to be used eight times a year.
Here's how the proposition cited earlier is only half-true: Toronto does have NFL fans. Perhaps they don't all cheer for the Bills. But the bigger issue is that they prefer to watch NFL football on a TV screen.
Toronto does have football fans that know how to make noise for a defense, that reliably go to games and that know how to tailgate. They're called CFL fans. CFL fans in Canada know how to do what NFL fans in the U.S. do very well. NFL fans in Toronto don't.
So Lipset's theory again has its strong points and weak points. In this case, its weak point is that Canadian football and American football fans have quite a bit in common. Although we disagree about which game is better, we both enjoy its consumption in similar fashion. There is a similarity between our two cultures in that respect.
However, where Lipset is right -- and the Bills Toronto Series has proven this -- is that at the end of the day, Canadians (including southern Ontarians) prefer our game to the one played south of the border. And after 100 Grey Cup championship games, that isn't about to change.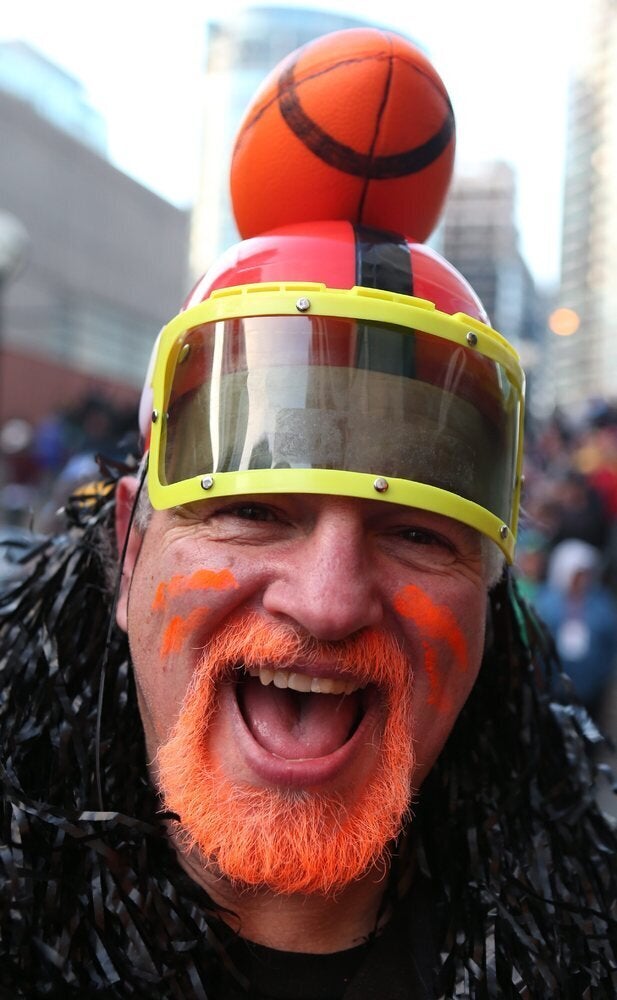 Grey Cup 2012: All The Sights And Styles From The 100th Grey Cup