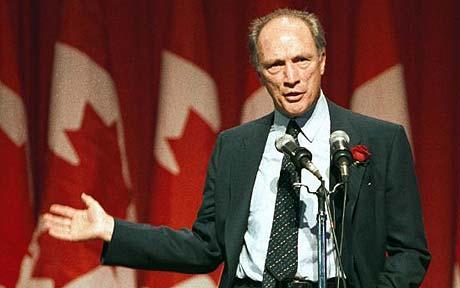 On the 30th anniversary of the patriation of our constitution -- and the resulting inclusion within it of the Charter of Rights and Freedoms -- we should take time to appreciate how the act of patriation greatly benefited our nation and to dwell upon the challenges that lie ahead.
Historically, Canada has been torn between two poles -- it was believed that one could ensure either national unity or the rights of all, but not both.
The 1896 general election was one of the first important contests on the national stage in which national unity faced off against rights protection. The Manitoba Schools Question -- in which Manitoba's Liberal government banned sectarian schools and discontinued the official-language status of French -- almost tore the country apart as the federal Tory government threatened to reverse Manitoba's decision through remedial legislation.
Laurier's Grits won the election, but had to sacrifice Manitoba's Catholics and francophones in the process. The country was kept together, but minority education rights -- which in reality represented the right of minorities to maintain their very identity and existence -- had yet to be given precedence over provincial jurisdiction relative to education.
The Charter of Rights and Freedoms, among other things, accomplished something of extreme significance: Ottawa no longer has to choose between national unity and rights. The Charter protects individuals from an intrusive state by ensuring their fundamental freedoms yet also guarantees the right of every citizen to be Canadian. The 1998 Supreme Court Reference re: Secession of Quebec -- whose ruling could not have been held if not for patriation and our constitution's amending formula -- led to the Clarity Act and the furthering of this right.
When the term "national unity" is brought up, people often think of the Quebec question. However, Quebeckers' opposition to patriation and to the Charter largely remains a myth. This doesn't change the fact, however, that Quebeckers have been voting for an opposition party at the federal level en masse for two decades.
Too many speak of the immediate need to bring Quebec into the constitutional fold of which it is already in fact a member. Bringing Quebec back into the governing political fold remains an important national goal, however, because the next generation of leaders in Canada will require the backing of every region in this country if they are to address our country's fundamental challenges.
Every region will have to be on board if we wish to address the impending fiscal crisis that will be brought about by an aging population, seeing as the primary cost to government incurred by seniors is through health care -- a field in which provinces have jurisdiction over delivery but in which the feds provide much of the cash.
Nearly every region will have to be on board if we are to develop and defend our country's north, particularly as climate change will intersect in future decades with the rise of China and the irredentism of Russia to create a more multi-polar, unpredictable world. The next generation of Canadians has a responsibility to build a country in which our population unites around issues of national defence and security, rather than be divided by them as we have been in the past.
All regions will have to be on board if we are to develop a comprehensive plan to maximize government revenue to deal with the issues outlined in the previous two paragraphs. We must be able to tap into the natural advantages of every region, from natural resources to innovation and technology to numerous other sectors.
And yes, all regions will have to be willing if we are ever one day to pursue the natural follow-up to the previous "Quebec round" of constitutional talks -- a "Canada round" in which democratic renewal and reform, our country's status as a Commonwealth realm, and a more comprehensive "powers package" for federal-provincial relations are discussed, among other issues of national importance.
Indeed, the most enduring legacy -- in this writer's opinion -- of the patriation of the constitution is transition of the national unity file from being a constitutional question to being a political one. As a consequence, the guardians of Canada are no longer judges of the Judicial Committee of the Privy Council or of our country's Supreme Court but rather the Canadian people themselves.
To borrow a phrase from Pierre Trudeau's lexicon, it seems as if the Charter of Rights and Freedoms truly was a "people's package." The Charter not only protected individuals from harm but also gave them the ability to take their destiny into their own hands and achieve their greatest potential.
Nothing could be more Liberal. Nothing could be more Canadian.