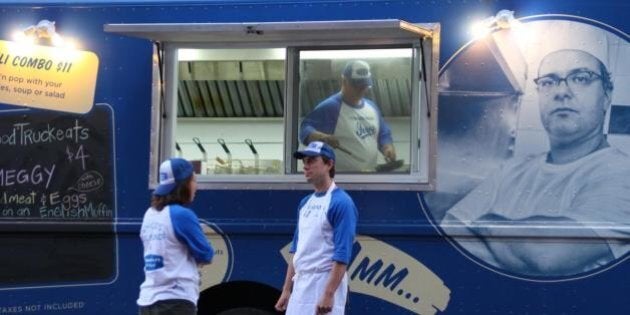 My name is Zane Caplansky. "Zane" is, in fact, an Arab name. It means "good", or "strong" or "beautiful" depending on the context. Caplansky is a name I gave myself. I was born Zane Caplan but legally changed my name, restoring it to its ancestral glory when I opened my deli business six years ago. I changed the spelling from Caplanski to Caplansky just because I thought it looked better.
The reasons why my great-grandfather Benjamin Caplanski changed his name are lost in time. My belief is that it was an attempt to fit in better with Canadian society. I have a photo of him wearing a straw bowler hat and a wool suit. The epitome of: "be Yiddish, look British." In changing my name back, I made a statement about not needing to fit in. I embrace my Jewish name and my Jewish identity. I am a proud Jewish man who is part of a family that has contributed to this city and this country for well over 100 years.
My business is Jewish too. I own and operate Caplansky's Delicatessen on College Street. In the logo, if you look closely, you'll see a little Star of David for an apostrophe in my name. My menu features some Yiddish terms and I refer to my Jewish heritage on the cover of my menu. There are mezuzot on the doors. We close for the High Holidays. I own a deli truck named after my beloved Nana: "Thunderin' Thelma." I sponsor a softball team "The Bad News Jews", Mount Sinai Hospital and have proudly supported The Toronto Jewish Film Festival as well as countless other community groups and initiatives.
Six months ago I decided to sponsor the Toronto Palestinian Film Festival. Until that time I didn't even know such a thing existed. I was volunteering with "Action Against Hunger" and met someone who mentioned The TPFF to me. "Gee," I said "I'd like to sponsor that."
One of the great joys of running a restaurant is that on most days, it feels like a room full of storytellers sharing their experiences over a great meal. This festival seemed to me to be another forum for storytelling. It is often said that the conflict between Jews and Palestinians is one of a conflicting narrative. I don't know if that's true, but I have to believe that a starting place for peace is a place where we can both share and listen to one another's stories.
The truth is, I didn't screen the content of the films because I didn't make the decision to sponsor this festival to support any one perspective. I sponsored it as a small and humble effort to break down barriers so that both Jews and Palestinians care share each others stories. There was no ulterior motive here -- lets just get together over good food and share stories.
I've been incredibly encouraged by the volume of positive response that I've received as a result of the unexpected media attention. I've also been personally wounded and disappointed by accusations of being a "self-hating Jew" and other horrible accusations. While I have tried to keep focused on the incredibly encouraging feedback, I have to ask: If we, as a Jewish community are unable to speak kindly and compassionately amongst ourselves, even when we disagree with each other, how can we ever hope to make peace with our enemies?
I have little interest in engaging in conversation about who is at fault in this conflict, in polarized and heated accusations, nor do I propose that I have any solutions to the terrible suffering on both sides during this war. But what I do know is that the "us" and "them" perspective is getting us nowhere. And my sponsorship of the festival was my effort to think of ourselves as a collective "us" -- those of us who just want peace.
My favourite night in the deli is the Second night of Passover. I host two Seders that night where we tell the story, pray for freedom for the oppressed and feast together. The two Seders always sell out and they are always a mix of Jews and Gentiles. The love in that room sustains me all year round. When I'm down or upset or stressed or whatever I try to think of everyone singing Deyenu.
Of course, I recognize that timing is everything. Thus, the current state of turmoil in Israel makes my sponsorship of a free screening of "Laila's Birthday" in Christie Pits Park on August 8th newsworthy. We are taking our deli truck to that park and donating the profits to the festival. I know my Nana would be proud.
My Nana taught me that food, like life itself, is best enjoyed as a shared experience. My motivation was and will continue to be fostering peace and understanding. It's a small gesture. All I wanted to do was demonstrate cross-cultural support and foster understanding.
I love being a Jew with an Arab name. I love that I restored my ancestral name and don't feel the need to fit in because I'm fine just as I am. I love celebrating Jewish food, culture and traditions in my deli. And I love when new deli customers ask me what Matzo Ball soup is. "It's Jewish penicillin," I say. "Whether you've got a broken arm or a broken heart, a bowl of my soup will make you feel better." And as humble of a contribution as that may be during these incredibly difficult times, it's something that I'm very proud of and feel immense gratitude to my Jewish heritage for giving to me.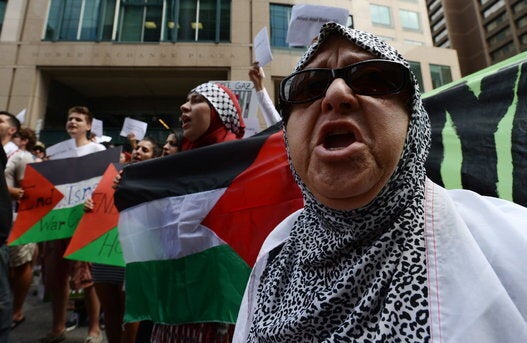 Protesters In Ottawa Denounce Israeli Offensive In Gaza