Debt Crisis: Comparing Canada And The U.S.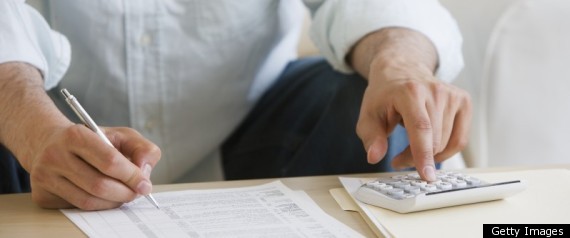 The U.S. is going through a historic debt crisis, but Canada's economy also faces an uncertain future. While the American government raised the debt ceiling once again, and American consumers are busy reducing their debt levels, Canada's debt outlook is arguably worse, with household debts at record highs, billions owed in student loans, and an expensive housing market.
The Conservative government isn't changing its plan to eliminate the deficit by 2014 to 2015 — Finance Minister Jim Flaherty said Ottawa plans on finding $4 billion each year in savings. He also said that Canada has "deep linkages" with the U.S. economy, and their economic instability poses risks to our own.
Here's a slideshow comparing the U.S. debt levels with those of Canada.
Loading Slideshow
Household Debt

Canada <a href="http://www.cga-canada.org/en-ca/ResearchAndAdvocacy/AreasofInterest/DebtandConsumption/Pages/ca_debt_default.aspx" target="_hplink">hit a record high</a> in the first quarter of 2011, reaching $1.5 trillion in household debt. If spread evenly across Canada, that means every family with two children has $176,461 in debt. In the U.S., <a href="http://blog.unibulmerchantservices.com/u-s-household-debt-holds-steady-in-2011-q1/" target="_hplink">household debt</a> hit $11.5 trillion by the end of March this year. The average household debt in the U.S. for a family of four is $148,000.

Student Debt

Loans owed to Canada Student Loans amount to <a href="http://www.cfs-fcee.ca/studentdebt/index.html" target="_hplink">nearly $14 billion</a> and rising. In the U.S., where tuitions are considerable higher, loans owed <a href="http://www.finaid.org/loans/studentloandebtclock.phtml" target="_hplink">exceed $932 billion</a>, including federal and private loans.

Public Debt

With their debt ceiling raised again, the U.S. has <a href="http://www.treasurydirect.gov/govt/reports/pd/mspd/2011/opds072011.pdf" target="_hplink">more than $14 trillion</a> in government debt in the first quarter of 2011. Canada has more than <a href="http://news.nationalpost.com/2011/03/21/graphic-50-years-of-canadian-debt/" target="_hplink">$563 billion</a>. That figure works out to 84 per cent of Canada's GDP, compared to 58.9 per cent for the U.S.

Personal Debt

In the first quarter of 2011, the average Canadian had more than $3,500 in credit card debt, according to <a href="http://newsroom-en.transunion.ca/easyir/customrel.do?easyirid=8AD5A6701E126601&version=live&prid=762822&releasejsp=custom_144" target="_hplink">TransUnion Canada</a>. In the U.S., the average American consumer owes more than $4,200 in credit card debt.

Home Prices

As of June 2011, the median cost of a home in Canada was $372,000. Vancouver, Victoria and Toronto are some of the most expensive places in the country to buy a house. Prices in the U.S. vary more than they do in Canada. As of June, the median price of a home in the Northeast was $261,000, while the median price in the Midwest was $147,000. The median in the South was $159,100 and in the West, it was $240,400. The average price of a home <a href="http://news.bbc.co.uk/2/shared/spl/hi/in_depth/uk_house_prices/html/houses.stm" target="_hplink">in the UK</a> is £232,628 as reported by their first quarter in 2011, which converts to around CAD $371,000.

Personal Bankruptcy

In 2010, there were more than 1.5 million non-business bankruptcy filings in the U.S. In the same year, there were only 92,694 personal bankruptcies in Canada. That means there were 48 bankruptcies per 10,000 people in the U.S., and 28 bankruptcies per 10,000 in Canada.