Jack Layton Letter To Canadians: NDP Leader's Last Words For The Public
Jack Layton's family released a letter he wrote to all Canadians in the event of his death. He died Monday. Click here for live updates, an obituary and complete coverage.
Here's the letter Layton left behind:
Dear Friends,
Tens of thousands of Canadians have written to me in recent weeks to wish me well. I want to thank each and every one of you for your thoughtful, inspiring and often beautiful notes, cards and gifts. Your spirit and love have lit up my home, my spirit, and my determination.

Unfortunately my treatment has not worked out as I hoped. So I am giving this letter to my partner Olivia to share with you in the circumstance in which I cannot continue.
I recommend that Hull-Aylmer MP Nycole Turmel continue her work as our interim leader until a permanent successor is elected.
I recommend the party hold a leadership vote as early as possible in the New Year, on approximately the same timelines as in 2003, so that our new leader has ample time to reconsolidate our team, renew our party and our program, and move forward towards the next election.
A few additional thoughts:
To other Canadians who are on journeys to defeat cancer and to live their lives, I say this: please don't be discouraged that my own journey hasn't gone as well as I had hoped. You must not lose your own hope. Treatments and therapies have never been better in the face of this disease. You have every reason to be optimistic, determined, and focused on the future. My only other advice is to cherish every moment with those you love at every stage of your journey, as I have done this summer.
To the members of my party: we've done remarkable things together in the past eight years. It has been a privilege to lead the New Democratic Party and I am most grateful for your confidence, your support, and the endless hours of volunteer commitment you have devoted to our cause. There will be those who will try to persuade you to give up our cause. But that cause is much bigger than any one leader. Answer them by recommitting with energy and determination to our work. Remember our proud history of social justice, universal health care, public pensions and making sure no one is left behind. Let's continue to move forward. Let's demonstrate in everything we do in the four years before us that we are ready to serve our beloved Canada as its next government.
To the members of our parliamentary caucus: I have been privileged to work with each and every one of you. Our caucus meetings were always the highlight of my week. It has been my role to ask a great deal from you. And now I am going to do so again. Canadians will be closely watching you in the months to come. Colleagues, I know you will make the tens of thousands of members of our party proud of you by demonstrating the same seamless teamwork and solidarity that has earned us the confidence of millions of Canadians in the recent election.
To my fellow Quebecers: On May 2nd, you made an historic decision. You decided that the way to replace Canada's Conservative federal government with something better was by working together in partnership with progressive-minded Canadians across the country. You made the right decision then; it is still the right decision today; and it will be the right decision right through to the next election, when we will succeed, together. You have elected a superb team of New Democrats to Parliament. They are going to be doing remarkable things in the years to come to make this country better for us all.
To young Canadians: All my life I have worked to make things better. Hope and optimism have defined my political career, and I continue to be hopeful and optimistic about Canada. Young people have been a great source of inspiration for me. I have met and talked with so many of you about your dreams, your frustrations, and your ideas for change. More and more, you are engaging in politics because you want to change things for the better. Many of you have placed your trust in our party. As my time in political life draws to a close I want to share with you my belief in your power to change this country and this world. There are great challenges before you, from the overwhelming nature of climate change to the unfairness of an economy that excludes so many from our collective wealth, and the changes necessary to build a more inclusive and generous Canada. I believe in you. Your energy, your vision, your passion for justice are exactly what this country needs today. You need to be at the heart of our economy, our political life, and our plans for the present and the future.
And finally, to all Canadians: Canada is a great country, one of the hopes of the world. We can be a better one - a country of greater equality, justice, and opportunity. We can build a prosperous economy and a society that shares its benefits more fairly. We can look after our seniors. We can offer better futures for our children. We can do our part to save the world's environment. We can restore our good name in the world. We can do all of these things because we finally have a party system at the national level where there are real choices; where your vote matters; where working for change can actually bring about change. In the months and years to come, New Democrats will put a compelling new alternative to you. My colleagues in our party are an impressive, committed team. Give them a careful hearing; consider the alternatives; and consider that we can be a better, fairer, more equal country by working together. Don't let them tell you it can't be done.
My friends, love is better than anger. Hope is better than fear. Optimism is better than despair. So let us be loving, hopeful and optimistic.
And we'll change the world.
All my very best,
Jack Layton
FROM EARLIER TODAY
| | |
| --- | --- |
| | @ scottlightfoot : Flowers are arriving constantly at Layton's house. By the dozen and single stems. Several people walking home had not heard of his death. |
The Toronto Star also reported on the scene at Layton's office on the Danforth.
William Todd, wearing a black suit on his way to work, stopped at the constituency office with a bouquet of orange flowers and lit a candle.

Todd said he'd often see Layton on Saturdays on the Danforth, "not being a politician," playing a guitar and talking to people.

"They'll have to close the street down," he said about the growing display of tributes.
At his office:
At City Hall:
| | |
| --- | --- |
| | @ TOMayorFord : A book of condolence for the late Jack Layton will be available for signing at #Toronto City Hall. It will be set up on the main floor #FB |
According to reports, books of condolence will also be set up in Parliament Hill and NDP constituency offices across the country.
Earlier in Ottawa, people paid tribute to Layton in a lunch-time memorial at Parliament Hill.
The walls of Toronto's City Hall are filling with tributes to Jack Layton. Huffington Post Canada's Scaachi Koul is documenting it on Twitter.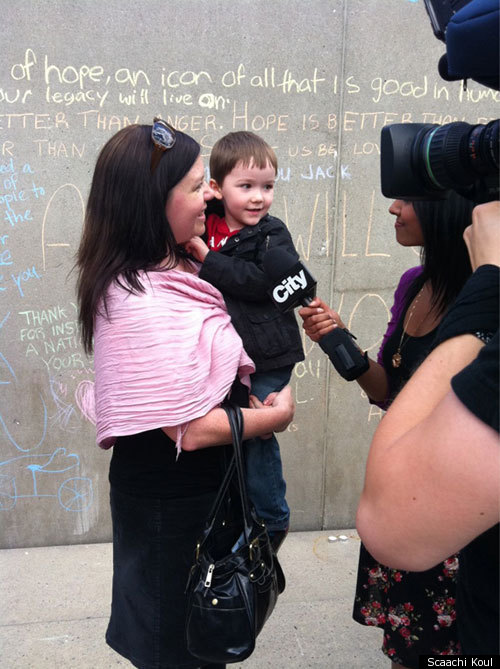 | | |
| --- | --- |
| | @ scottlightfoot : Flowers are arriving constantly at Layton's house. By the dozen and single stems. Several people walking home had not heard of his death. |
The Toronto Star also reported on the scene at Layton's office on the Danforth.
William Todd, wearing a black suit on his way to work, stopped at the constituency office with a bouquet of orange flowers and lit a candle.

Todd said he'd often see Layton on Saturdays on the Danforth, "not being a politician," playing a guitar and talking to people.

"They'll have to close the street down," he said about the growing display of tributes.
Vancouver will hold a candlelight vigil for Jack Layton at the Art Gallery steps starting 8 p.m. PT
| | |
| --- | --- |
| | @ CityNews : BREAKING: Jack Layton to get state funeral Sat. at Roy Thomson Hall, councillor says at city hall. More: http://ow.ly/69P8j |
Jack Layton, a long-time cyclist and bike advocate, would've liked this tribute found chalked onto one of Toronto's bike lanes.
| | |
| --- | --- |
| | @ PaulDewar : Holding a candlelight vigil on Parliament Hill tonight @ 8pm in memory of Jack Layton. |
Meanwhile in Toronto,
The Huffington Post Canada's Scaachi Koul is at the memorial at Nathan Phillips Square being held for Jack Layton. Follow her for live tweets.
The Toronto Star has republished a Kristin Rushowy story from 1999 about the love affair between Jack Layton and Olivia Chow. The couple have been a fixture in Toronto and national politics for years.
Aside from the passionate commitment on some very similar issues, the ones we've spent our lives' work on, we also enjoy each other's company socially and we have a lot of fun together. We're either in stitches or organizing something, those are the most common states of mind.

We enjoy the same kinds of recreation - physical kind of stuff, she introduced me to whitewater canoeing and I introduced her to long-distance cycling. We have a bicycle built for two, that was our wedding gift, and we go on trips all over the place with that. We try to do one of those types of holidays every year, away from the city and our cell phones. We don't think about work and we don't talk about it.

I love her wisdom, and her youthful enthusiasm. She's got really great values on the issues - justice for people and fairness, economic fairness, respect for rights, these things motivate both of us. She's a wonderful friend. I'm her biggest fan and I pretty much gush about her all the time.
Former Liberal leader Michael Ignatieff recounts a memory of Jack Layton:
Often the memory we have of someone who has just lost his battle for life will crystallize around a single image. My single image of Jack Layton comes from last March in the lobby, just off the House of Commons chamber. After Question Period, the lobby is a crowded, rowdy place, full of MP's, staffers, guests, standing around, plotting, drinking cups of tea or coffee, talking on cellphones or the phones by the chairs. I see this scene and I see Jack on crutches, his face moist with sweat and his complexion pale, powering his way through this crowd, cantilevering his body on crutches, taking the weight on his shoulders, moving towards his caucus area in the lobby. It is an image of a man struggling, in the middle of a crowd, to prevail, to make it through. What I remember best is his smile: cheerful, jaunty and buoyant. The smile was an inspiration, then and now.

Rest in peace, Jack.
Ed Keenan, writer and editor from Toronto weekly The Grid has
written a tribute to Jack Layton:
Layton was that rare person, rarer still in politics, whose platitudes were both eternally sunny and entirely heartfelt. Moreover, they were rooted in both a full awareness of the grim realities of whatever situation he faced and a spirit of intellectual rigour. He knew that the only thing in history that had conquered seemingly impossible odds was the determination to conquer seemingly impossible odds. In other words, he wasn't an optimist because he believed the world was better than it was, he was an optimist because he believed in his own ability to make the world better than it was. And his belief in himself proved justified, time and again throughout his career.
It's no surprise that Jack Layton's very moving letter has been getting a lot of attention among Canadians. But it seems to have attracted the attention of a prominent British politician as well.
| | |
| --- | --- |
| | @ Ed_Miliband : Extremely moving last letter by Jack Layton,the NDP leader, who has died.Big loss to progressive politics. http://t.co/cobrXV7 #jacklayton |
The Mark's news editor, Mike Barber writes this tribute to Jack Layton:
Layton masterfully played his small hand to actually win concessions from a government hardly known for them – bucketloads of cash for EI benefits at a time when thousands of his constituents desperately needed it. At that moment, all of his paeans to finding common ground with the other parties and getting results for Canadians rang true.

Layton accomplished all of that without cynicism, rancour, or keys to 24 Sussex. He embraced the politics of the positive, proving that hard work and his homespun "proposition, not opposition" slogan could indeed find a home in the most cynical of Parliaments, that being pragmatic bore better results than being dogmatic.
Toronto designer
Stuart Thursby
has created
a series of posters inspired by Layton's moving final letter to the Canadian people.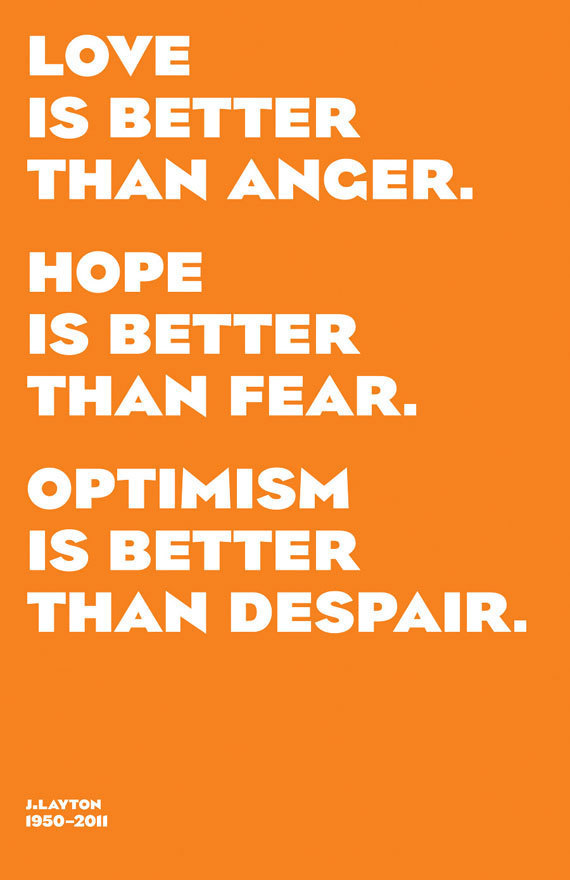 A number of well-known Canadian musicians have sent their condolences about Layton's death.
Members of Broken Social Scene, the Barenaked Ladies, singer-songwriter Sarah Slean and progressive folk icon Billy Bragg have sent in their messages.
TVO's Steve Paikin recounts following Layton's career, first at city council and all the way to Ottawa's highest reaches.
I first met Jack Layton almost 30 years ago. I was a Toronto City Hall reporter for CHFI and CFTR and he was a rookie city councillor, having just staged what was considered a major upset over incumbent Gordon Chong. But there was nothing rookie-ish about Layton. He did his job with the panache of a seasoned pro. He was masterful at capturing media attention for the causes he believed in, and he championed many of them (Aids, homelessness) before most.

And despite playing the role of de facto leader of the opposition to Mayor Art Eggleton's majority on council, he wanted to be known for more than just opposing.
| | |
| --- | --- |
| | @ kdaubs : Flower display growing at jack layton's office on broadview, door cannot be opened. |
| | |
| --- | --- |
| | @ kdaubs : Thank you for your belief in all canadians, reads one card with photo of jack in front of rainbow flag. #jacklayton |
CBC's Evan Solomon recounts on-air how NDP Party President Brian Topp, Layton Chief Of Staff Anne McGrath and Layton's Wife Olivia Chow worked on the letter together on Saturday.
Layton wanted the letter released if he died but also made other plans if he was able to beat cancer.
The Prime Minister recounts that Layton was a natural musician and recalled that Jack always joked about joining the PM for a jam session. "Alas, we were always both too busy," the Prime MInister quipped at a press conference on Monday afternoon.
The press conference also touched on Libya and the crash in Resolute Bay.
| | |
| --- | --- |
| | @ evansolomoncbc : #ndp president @briantopp saying he, Olivia Chow and Anne McGrath helped @jacklayton write his letter on Saturday. #cdnpoli |
If you haven't read Jack Layton's moving open letter to Canadians do it now.