NDP Leadership: Despite No Permanent Leader, Party Eyes Next Election With Gun Registry Ad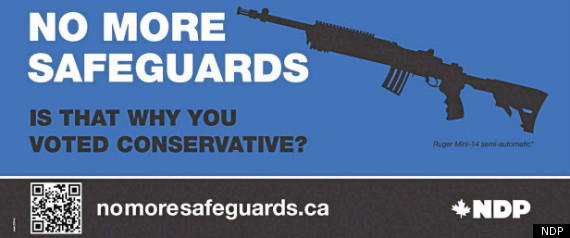 UPDATE: The Globe and Mail is reporting that the NDP is revamping its upcoming ad campaign after learning it features the wrong gun.

A senior Conservative staffer contacted The Huffington Post to point out that while the text of the ad says the gun is a Ruger Mini-14 semi-automatic the image actually portrays a Ruger Mini 14 Tactical Rifle.

The Ruger Mini 14 Tactical Rifle is a restricted weapon and will remain registered even after the Tories scrap the long-gun registry. Owners will still need a restricted firearms licence to purchase the gun.

The Ruger Mini-14 Ranch Rifle is the semi-automatic version of the weapon. The weapon is not restricted and owners will be "de-registered," the senior staffer said.

The Globe's story states the party is changing the billboard ads to reflect the image of another military-looking gun the Steyr HS .50.

The NDP may not have a permanent leader but that isn't stopping it from already planning for the next election.
"Preparations for the next campaign are already underway," Brad Lavigne, the principal secretary to interim leader Nycole Turmel told The Huffington Post Sunday.
"Four years, is not that long when you size up the challenge before us. We've secured 31 per cent of the vote, we need to find another large group of Canadians who either voted for another party or didn't vote in the last election campaign for us to reach our ultimate goal, which is to form the next government."
"The next election will be starting a lot sooner than four years from now. Planning is already kind of underway. So we have no time to spare in terms of it," he added.
The NDP is preparing to launch a new billboard ad campaign attacking the Conservatives for their decision to scrap the long-gun registry and destroy its records, the Globe and Mail reported Monday.
The outside-election-cycle ad features the image of a Ruger Mini-14 semi-automatic, a weapon that was used by both Marc Lépine in the 1989 Montreal Polytechnique massacre and by Norwegian Anders Breivik during his horrific July killing spree. The tagline: "No More Safeguards. Is that why you voted Conservative?" is intended to reinforce the message that the Tories are using their majority to instigate policies Canadian voters didn't expect, the newspaper reported, and imprint that idea in the public's mind in a fashion similar to how the Conservatives used ads to define Liberal leaders Stephane Dion and Michael Ignatieff ahead of the last two elections..
Tuesday, Lavigne will be in Sydney, Australia, signing a memorandum of understanding with the country's Labour Party — the first formal international partnership in the NDP's 50-year history.
"We have a tremendous amount to learn from our colleagues and we want to put those lessons into place as soon as possible," Lavigne told HuffPost, noting that agreements are also being sought with U.K.'s Labour Party and potentially Ireland and Italy's Labour parties.
International linkages will help the NDP learn from parties with experience governing, Lavigne said, what it took for them to get there and how that can be put into practice in a Canadian context.
Will that undoubtedly mean the New Democrats move closer to the political centre?
Yes, Lavigne suggested.
While he prefered talking about the party moving forward rather than horizontally, and cautioned that strategies and messaging that worked elsewhere won't necessarily translate in Canada — "We have a different political culture" — Lavigne said the DNP will have to continue to broaden its appeal. He stressed, however, that "Obviously, the next leader chosen by our members in March is going to set the direction for where we need to go."
"We've gone from less than a million people supporting us less than 10 years ago, to 4.6 million" the NDP veteran noted.
"There's no question that what we've been doing for the last number of years has made the party more relevant to the electorate. That work must continue, and will do so," Lavigne said.
Like Huffington Post Canada's Ottawa Bureau Chief Althia Raj's reporter page on Facebook and follow her onTwitter for all the latest news from Parliament Hill.
althia.raj@huffingtonpost.com

Loading Slideshow
What does this new bill on the gun registry do?

We keep hearing about scrapping the long-gun registry, but really what we're talking about is scrapping the requirement for people to register their rifles and shotguns - that's what Bill C-19 aims to do by making amendments to the Criminal Code and Firearms Act. Once passed, people will not have to register their non-restricted or non-prohibited firearms. It also provides for the destruction of existing records in the Canadian Firearms Registry for those firearms. <em>With files from CBC</em>

What exactly is the registry?

It's a centralized database overseen by the Royal Canadian Mounted Police that links firearms with their licensed owners. It contains information about all three types of guns that must be registered - non-restricted, restricted and prohibited. (All firearms must be registered.) To register a firearm, you have to have a licence to possess it.

Does the bill make any changes to licensing requirements?

No. Canadian residents need a licence in order to possess and register a firearm or ammunition and that won't change. There are a couple of different kinds of licences because of various changes to laws and regulations over the years.

What are long guns?

There are three types of guns under Canadian law: non-restricted, restricted and prohibited. Most common long guns - rifles and shotguns - are non-restricted but there are a few exceptions. A sawed-off shotgun, for example, is a prohibited firearm. A handgun is an example of a restricted firearm. Different regulations apply to different classifications of firearms.

How many guns are we talking about?

As of September 2011, there were about 7.8 million registered guns. Of those, 7.1 million are non-restricted firearms.

Why does the government want to get rid of the long-gun registry?

The government says it is wasteful and ineffective at reducing crime and targets law-abiding gun owners instead of criminals, who don't register their firearms.

Who wants to keep it?

Police and victims' groups are big supporters of the registry. Police say the database helps them evaluate a potential safety threat when they pull a vehicle over or are called to a residence. They also say it helps support police investigations because the registry can help determine if a gun was stolen, illegally imported, acquired or manufactured. This year, the RCMP says police agencies accessed it on average more than 17,000 times a day.

When will the registry cease to exist?

The government has passed the legislation and the registry no longer exists. Except for in Quebec, where an ongoing court challenge means the owners must still register their guns in the province.

Why does the government want to destroy the records?

The government is doing this to ensure that no future non-Conservative government can recreate the registry. Public Safety Minister Vic Toews has also made it clear that if any province wants to set up its own registry it would get no help from the federal government. The Conservatives are so fundamentally opposed to the existence of the records, because they say they focus on law-abiding citizens instead of criminals, that they don't want them available for anyone to use.

How much does the registry cost?

The registry cost more than $1 billion to set up in 1995 and the cost was the source of much controversy. Public Safety Minister Vic Toews said on Oct. 25 that the government's best estimate is that it costs about $22 million a year to operate. That's the entire registry, not just the long-gun portion, but he noted most of the guns in the registry are long guns. He said he didn't know how much money scrapping the requirement to register long guns would save the government. Conservative MP Candice Hoeppner says there are also "hidden costs" that are borne by provincial and municipal police agencies to enforce the registry.