Year In Review 2011: Canada's Top 5 News Losers Of The Year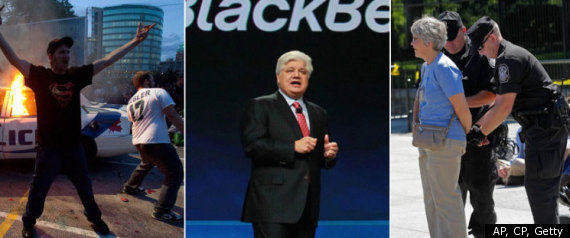 For many, 2011 was a year they wanted to get back. We look at some Canadians who could have done better this year.
1. RESEARCH IN MOTION
In November, 2010, Research In Motion's BlackBerry accounted for just under a quarter of all smartphone sales in the United States. One year later, its market share had dropped to 9 per cent. Worldwide, the company's share of sales dropped from 15 per cent of the total to 10 per cent.
Those stats pretty much sum up what happened in 2011 to RIM, Canada's highest-profile tech company. A firm that just a few years earlier was the darling of investors found itself falling severely behind its primary competitors, the Apple iPhone and smartphones running Google's Android operating system.
Despite the company shifting into overdrive to broaden the BlackBerry's appeal — this year it introduced a new music-sharing service and touch-screen phones, among other things — investors and market observers brought out the knives all the same, and RIM shares sunk to multi-year lows, falling every time the company released a quarterly report.
Speculation abounded as to whether the company would get bought out, with Microsoft, billionaire investor Carl Icahn and global wireless carrier Vodafone all rumoured to be interested, but as of the end of the year, little had materialized from the takeover chatter.
Conventional wisdom held the Waterloo, Ont.-based company's co-CEOs, Jim Balsillie and Mike Lazaridis, to blame for the company's woes, with whispers circulating about an inflexible corporate culture and a lack of vision within company leadership. Daily Finance listed Balsillie and Lazaridis — who this year lost their status as billionaires — among their nine CEOs who should be fired.
Things didn't get much better when the company released its iPad rival, the PlayBook. After an initial shipment of 500,000 units, RIM reportedly dropped shipments for the next quarter to 200,000 — an unmitigated disaster, by any standard. The tablet computer didn't gain traction with consumers until RIM dropped the price of the basic model to $200 in the U.S. and $300 in Canada, causing it to fly off the shelves during Black Friday sales.
And then, of course, there was the Great BlackBerry Outage of 2011, a cascading series of network failures that began in a RIM office in England and spread around the world, causing BlackBerry users to lose service for up to four days. The company's days-long silence on the issue angered its customer base, forcing a contrite Lazaridis to apologize on YouTube. Not surprisingly, the whole fiasco ended in lawsuits, and market observers wondered whether the technical snafu would mark the company's death knell.
The company's reputation for secure communication suffered a few months later, when hackers managed to gain root access to the PlayBook.

And if that wasn't enough, a promotion in Jakarta, Indonesia, offering the first 1,000 buyers a 50 per cent discount on the new BlackBerry 9790 turned into a near-riot, with police sending in reinforcements after several dozen people were injured. As of press time, Indonesian authorities were reporting that RIM's Indonesia chief, Andy Cobham, could face charges over the incident.
A year of misadventures aside, it's not all doom and gloom for RIM, and there are bright spots in the company's outlook that could form the basis for a comeback. One is the company's relative strength in emerging markets. In India, for instance, the BlackBerry continues to outperform the iPhone by leaps and bounds. And the company has managed to maintain its market lead in its home country.
RIM has also signaled that a major shift in its image is in the works, starting with a redesign of its smartphones. One look at the new BlackBerry London, set to go on sale next year, suggests it will be the most radical redesign of the BlackBerry since the phone's launch.
And as the year comes to a close, at least some tech investors appear to be taking a second look at the company, suggesting it may be time to invest in its stock, if for no other reason than the somewhat logical assumption that, well, its value can't get much lower. — Dan Tencer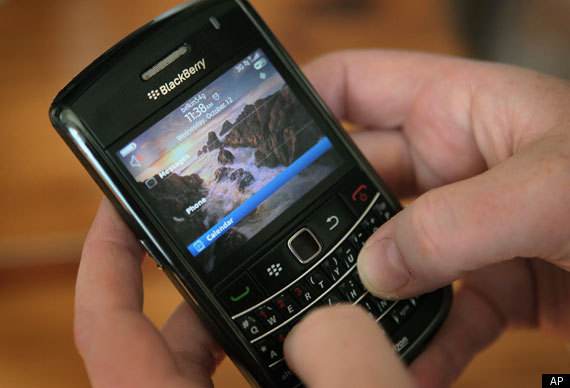 It hasn't been a good year for RIM, maker of the iconic Blackberry device. (AP)
What were the biggest Canadian news stories of 2011? We want to know. Tell us on Twitter using the hashtag #2011news