Alison Redford: Polls Indicate Alberta's PC Leader Likely To Remain Premier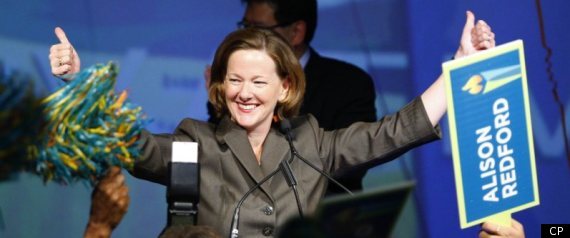 The next province heading to the polls looks set to continue the winning streak for incumbent governments.
But as in Manitoba and Newfoundland and Labrador, the incumbent party will be led by a new leader who represents both change and continuity.
Alberta's Premier Alison Redford was named leader of the Progressive Conservatives in October. Before the leadership campaign had started, the Alberta Tories were bleeding support away to Danielle Smith's Wildrose Party, and an end to the uninterrupted period of PC rule stretching back to 1971 seemed possible.
But the leadership campaign itself rejuvenated the party and under Redford's leadership the Tories are on track to win another majority government in the province.
A recent survey by Forum Research indicated that the Progressive Conservatives hold a 15-point lead over the Wildrose Party (38 per cent to 23 per cent). The large number of respondents who said they would vote for an "other" party, nine per cent, obscures what the real levels of support would be. With these others distributed proportionately, the Progressive Conservatives would stand somewhere around 42 per cent to Wildrose's 25 per cent.
This puts the two parties roughly where they have been since Redford was named leader. The Tory lead is not challenged in any part of the province. Wildrose comes closest to competing in Calgary, where the PC's lead is eight points.
These are not bad numbers for Wildrose's Smith. For a party that has never won more than a single seat in a general election, being on pace to form the Official Opposition is still a remarkable feat.
Smith is Wildrose's greatest asset, as an Angus-Reid poll recently demonstrated. Smith's approval ratings surpass those of the other opposition leaders, with 41 per cent approving of her performance and only 29 per cent disapproving.
Though Forum has Redford's approval rating at only 38 per cent (to 29 per cent disapproving), Angus-Reid suggests that her approval rating is as high as 53 per cent, putting her among the most liked premiers in the country. In a time when leadership and personality means so much in Canadian politics, these are numbers that virtually assure a Redford victory in the spring.
Her main opponent in the legislature, however, is not faring so well. Raj Sherman, leader of the Liberals, has an approval rating of only 24 per cent in the Forum poll. His party's support has sunk to 12 per cent, one point behind the New Democrats. In five of the last seven polls, the Alberta NDP has placed ahead of the Liberals.
All of this plays into Redford's hands. With the Liberals all but disappearing in the two major cities, the Tories have little to fear from their left flank. They still hold a strong lead over Wildrose on their right, putting them in a good position to win another majority even if their provincial support drops 10 points from the last election. The new electoral law in Alberta mandates that the election be sometime between March and May of next year. With things going so well, Alison Redford might opt to go to the polls at the earliest opportunity.
Éric Grenier taps The Pulse of federal and regional politics for Huffington Post Canada readers on most Tuesdays and Fridays. Grenier is the author of ThreeHundredEight.com, covering Canadian politics, polls, and electoral projections.
LEAST POPULAR PREMIERS
Loading Slideshow
Jean Charest - 26 per cent approval

Quebec's Liberal Premier is Canada's least popular. (<a href="http://www.angus-reid.com/wp-content/uploads/2011/12/2011.12.19_Premiers_CAN.pdf">Data from Angus Reid Survey</a>)

Dalton McGuinty - 38 per cent approval

Ontario's Liberal Premier is second from bottom on the list of Canadian provincial leaders.

Darrell Dexter - 39 per cent approval

Nova Scotia's NDP Premier is third from the bottom.

Christy Clark - 40 per cent approval

B.C.'s Liberal Premier is near the middle of the pack.

David Alward - 40 per cent approval

New Brunswick's Progressive Conservative Premier is near the middle of the pack.

Greg Selinger - 50 per cent approval

Manitoba's NDP Premier is near the middle of the pack.

Alison Redford - 53 per cent approval

Alberta's Progressive Conservative Premier is third from the top.

Kathy Dunderdale - 60 per cent approval

Newfoundland and Labrador's Progressive Conservative Premier is second from the top.

Brad Wall - 71 per cent approval

Saskatchewan's Saskatchewan Party Premier is Canada's most popular.