PHOTOS: Kate Middleton Turns 30!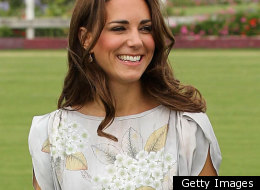 It's been a banner year for Kate Middleton. She married Prince William in a fairytale wedding. She travelled the world (trips which included a pit-stop in Canada). She quickly became a style icon known for making savvy and smart sartorial decisions. And now she's set to celebrate her 30th birthday.
In honour of the Duchess of Cambridge -- who will reportedly ring in her big day today with a "low-key and private" party -- we thought we'd take a look back at the many reasons we love her.
Join in the Kate love-fest, and let us know why you're fond of her Twitter.
Brides may fork over tons of money enlisting makeup artists to make them look perfect on their big day, but Kate kept it simple and did it herself. And wouldn't you agree that she looked stunning?

Kate gives us hope that even we can look as stunning as she does... All we have to do is keep shopping at our -- and her -- favourite stores (like Zara and Top Shop).

Even though Pippa's dress came close to stealing the show on Kate's big day, there seems to be no rivalry between these two beauties. In fact, Kate seems to be uber supportive of her sister.

With so many celebrity marriages ending in divorce these days, we love (and predict) that theirs is a love that will last.

Though we're not all hat people, we're able to vicariously live out our hat fantasies through this beautiful brunette. Maybe, one day, we'll even be brave enough to rock one of these inspired looks ourselves.

Admit it: you'd love to see this piece of bling sparkling back at you as you look down, typing away on your keyboard. We all would. Unfortunately, it wasn't meant to be. And no one, as far as we're concerned, would rock the ring as well as Kate does.

Forget borrowing a cup of sugar from your neighbour. We love that Kate can put on a pair of flats and jeans and run off to buy everyday essentials in a grocery store with "common folk."

A white bikini is a daring fashion choice... And it's hard to pull off. But Kate's confidence makes the choice seem simple and chic.

Days before her 30th birthday, she's finally picked which charities she's going to support as part of her duties as the Duchess of Cambridge. Among them, Patron of Action on Addiction, Royal Patron of East Anglia's Children's Hospices, Royal Patron of The Art Room and Patron of the National Portrait Gallery, London.

Many of us would cringe at the thought of wearing a see through dress, but not this Duchess. And what a lucky lingerie-esque number this outfit was -- it's reportedly what attracted Will to Kate.

Though she may be allergic to horses, she's a big fan of dogs. So much so that Will even got her her own pooch for Christmas!

The only time many of us would rock the cowboy look is on Halloween, but Kate and Will traded in their royal crowns for a pair of matching white, cowboy hats on their recent tour of Canada. Don't they look fashionable and cute?

Rumours of breakups and babies may keep surfacing, but Kate has no problem setting the tabloids straight. You tell 'em, girl!

We'd love to play a sport with this beautiful Brit: she set a high jump record in high school, has been spotted at Wimbledon and loves to ski.

Whether it's her poise, charity work or style, we can't help but notice she's well on her way to becoming the royal icon of our generation -- much like Princess Diana was so many years ago.