Golden Globes: Celebs To Watch On The Red Carpet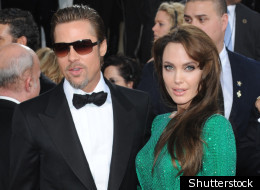 The 69th annual Golden Globe Awards are set to air this coming Sunday, and the guessing game of who will to take top honours is well underway. While fans are making bets on which film will take home the big prize, we're placing bets on which of our favourite celebs will steal the show with their sartorial decisions.
Take a look at the celebs we'll be keeping a close eye on this coming weekend, and let us know who you're most excited to see on Twitter.
Golden Globes: Celebs To Watch On The Red Carpet
He's got a hold of our hearts and won't let go. Is there anything that'll ever make this Canadian hottie look bad? We think not. And though we hear he won't be walking the Golden Globes carpet (or so we hear), we're still holding out hope for a miracle.

Last year, she was named one of the best dressed ladies at the show because of this emerald green Versace number. We have no doubt she'll steal top honours again this year!

With a babe like Jolie on your arm, Pitt automatically wins a prize for best dressed. We're excited to see what this powerhouse couple has planned for the evening.

This red carpet veteran always looks fabulous. The question remains whether she will channel her inner Margaret Thatcher or stick to her classic style this coming Sunday.

'This Descendants' star has always been the model for what a modern man should dress like -- and we can't wait to drool over his sartorial decisions again on Sunday.

Her gothic, yet feminine looks prove to be easily adaptable in any given situation. Whether she'll rock something dark and edgy or opt for a more girly look, we can't wait to see what she has in store for us.

She's one of this year's presenters, which means our eyes will glued to the television the second she takes centre stage -- what will she wear sans cute baby belly?

Those baby blues and that smile are sure to captivate the ladies this weekend.

We don't think Viola Davis will need any help putting together a show-stopping look.

We've got our bets set that this boy-next-door looking cutie will get tons of attention on the red carpet this year.

If the 23rd Annual Palm Springs International Film Festival Awards Gala was any indication of what this beauty will wear on Sunday, than be prepared for nothing but perfection. Case in point.

Owen Wilson shows us that even a funny man knows how to rock a sophisticated suit.

Kate makes walking down the red carpet look effortless. We can't wait to see what glamorous gown this blonde will show up in on Sunday.

Will this hottie put others to shame on the red carpet? Tune in on Sunday to find out.

We can't seem to get enough of this gal's simple and sophisticated fashion choices -- even when she's simply handing out a trophy.

We're expecting nothing but a knockout red carpet performance from this blonde bombshell.

Whether it's his inviting smile or the uber hip glasses, all eyes will definitely be on this Hollywood legend on Sunday.

Her quirky, funky style is something we've always loved, and this newly-single babe is definitely someone we're keeping an eye on. Will she be sporting a new beau on her arm? Who knows...

This fashion icon never ceases to amaze us with his effortless style.

Do you remember Fey's Mary Poppins inspired look at the 2010 awards? Yeah, we wish we could forget that fiasco too. Hopefully this year, she'll give us a look worthy of remembering.

The comedian is set to host the show for the second year in a row, and he's made no promises to play "nice" this time around. We just hope his outfit compliments what we think will be an unforgettable performance.

Nothing else needs to be said when this hunk takes the stage to present hardware Sunday night. Just look at those puppy dog eyes!

Nothing but elegance is expected from one of Hollywood's most fashionable females.