The Best And Worst Red Carpet Fashions.. Ever (PHOTOS)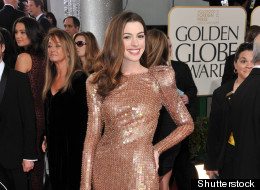 Let's face it -- once the hardware is handed out and the speeches are said and done, the only thing many of us will remember about this year's Golden Globes are the sartorial hits and -- what usually leaves us with something to gossip about the next morning -- the misses.
Over the years, our eyes have been blessed to see jaw-dropping creations from Versace to Zac Posen paraded down the red carpet. Unfortunately, we've also been blinded by outfit choices that seem to have been pulled from a celeb's mom's closet mere hours before all eyes were set to be on them.
Still, it's awards season, and everyone's a critic. Take a look at some at the best looks we've seen on the Golden Globes' red carpet over the years. For good measure, we've thrown in a few we wish we could forget, too.
And be sure to let us know which celeb you think will take top style honours this year on Twitter.
The Best And Worst Red Carpet Fashions.. Ever
We were all green with envy when this beauty stepped onto the red carpet in her shimmering Versace dress last year.

We love that Natalie Portman proudly displayed her cute baby bump in this Viktor & Rolf strapless gown.

Since when does being wrapped in your grandmother's living room curtain count as style...

Anne Hathaway shows that you can show skin and still remain elegant in this Giorgio Armani Privé gown.

Let's be honest -- is there anyone else who can pull off this colour as well as Julianne Moore did last year? We think not!

It seems that Olivia Wilde thought she was going to a high school prom, not the Golden Globes. Oops...

Green proved to be a hit on the red carpet last year, as Mila Kunis graced us in this beautiful one-shoulder Vera Wang creation.

How this babe fit into this fuchsia, corseted gown by Vera Wang we'll never know -- but we're sure glad she did!

Mismatched shoes? Come on, Helena, you didn't think you were going to the circus...did you?

We love that Nicole Kidman can keep it simple, yet still look fabulous on the red carpet -- work it, girl!

Scarlett Johansson looked pretty in pink in this Elie Saab dress last year.

Flower power? Sorry, Michelle, but this dress should have been left in the 60s.

This frilly, nude-coloured Jenny Packham gown leaves Sandra Bullock looking feminine and fresh.

Kate Winslet looks like a doll in this Yves Saint Laurent dress.

Though we love her voluptuous new look, Christina Aguilera looks stuffed into this dress -- it hurts to look at.

We love the mermaid tail on this elegant black dress.

January Jones heated up the carpets last year in this red hot number! We love how she polished off the look with Old Hollywood curls and red lipstick.

Hey, Tina: Mary Poppins called and she wants her dress back.

We love the one-ruffled shoulder look on this bombshell!

Halle Berry took the little black dress look to a whole new level in this sexy Nina Ricci number last year.

Is that a ferret on your shoulder, Drew?

Kelly Osbourne looks like a punk-rock princess in this Zac Posen gown.

Emma Stone looked peachy in this Calvin Klein dress at last year's show.

Who knew that Cameron Diaz was a bag lady in the late 90s?

Queen Bey shows off her rockin' bod in this elegant Ivory Elie Saab gown. We approve!

We love the cute butterfly sleeves on this sparkly, beige dress.

We know there's a feisty chica hiding under this matronly-looking Zuhair Murad number. We're just wondering why she didn't come out to play last year...

We love that this beauty wasn't afraid to embrace colour -- in the form of Emilio Pucci.

Heidi Klum looked playful and fun in this vintage polka-dot James Galanos dress.

Lara Flynn Boyle lived out her childhood ballerina dreams on the 2003 Globes red carpet. What other explanation can there be for this crazy get-up?