Peter MacKay Wedding: Nazanin Afshin-Jam And Defence Minister Donate Proceeds From Photos To Charity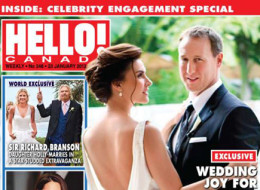 Peter MacKay's wedding to Nazanin Afshin-Jam is making headlines again and this time it's for a good cause.
The Defence Minister and his new wife have sold their wedding photos to Hello Canada magazine. In exchange, the publication is donating $5,000 to Afshin-Jam's charity, Stop Child Executions, according to the Globe and Mail.
VIDEOS: WHY WE LOVE PETER MACKAY'S WIFE
Afshin-Jam's manager and brother-in-law, Peter Karroll, told Hello the couple needed to be convinced that the photos from the Mexican wedding should be released.
"She said 'Well, can we benefit some of the causes?'" Karroll said. "And I said 'I am sure we can make some arrangements."
Maclean's magazine also obtained rights to some of the photos and will donate $3,000 to the charity Soldier On, which helps ill or injured Canadian soldiers and veterans take part in recreational activities.
The couple shared their first wedding photo on Facebook last week. In it, the couple is showered with white rose petals as they emerge from the private, civil ceremony.
Afshin-Jam may be best-known for winning the Miss World Canada crown in 2003, but the Iranian-born Canadian is much more than just a beauty queen.
Her family came to Canada from Iran in 1981 following the Islamic revolution there. She holds degrees in international relations and political science from the University of British Columbia and also studied at the prestigious Institut d'Études Politiques de Paris and the International Study Center at Herstmonceux Castle in England. She speaks three languages: English, French and Farsi.
In 2003, she mounted a successful campaign to stop the execution of Nazanin Mahabad Fatehi, an Iranian teenager who was sentenced to death by stoning for killing one of three men who were trying to rape her and her niece. You can see a number of interviews Afshin-Jam did on Fatehi in the video slideshow below.
Following her success in Iran, Afshin-Jam started the Stop Child Executions charity, to which Hello donated, to help other young people facing death sentences.
On top of all her humanitarian work, Afshin-Jam is also a talented musician. She released an album, "Someday," in April 2007. You can see the video for the title track in the slideshow below, as well for her single "I Dance For You."
Between the schooling, languages, pageants, activism and music, Afshin-Jam somehow has found time to become a licensed pilot. She holds the highest rank possible in the Royal Canadian Air Cadets.
VIDEOS: WHY WE LOVE PETER MACKAY'S WIFE
Why We Love Peter MacKay's Wife
For as long as she can remember, Nazanin Afshin-Jam has had people tell her what she couldn't do, and then she did it anyway. Sharing the story of a personal mission to save a teenage girl from death row in Iran, she demonstrates that the power of the individual is stronger than we are commonly led to believe, and urges each of us to stand up for those whose voices are smothered under ruthless authoritarian regimes.

When former Miss Canada NAZANIN AFSHIN-JAM learned that a young girl in Iran was on death row for stabbing a man who attacked her, she knew she had to take action. Two years of lobbying and 350000 signatures culminated in the girls release but Nazanin's work was not done there. She expanded her campaign and started a larger effort to put an end to the execution of minors with Stop Child Executions. The organization is run entirely by volunteers who tirelessly work to gather information and lobby governments to put pressure on the countries where child executions are still practiced. Nazanin passionately addresses human rights abuses, particularly for women and children in Iran, and has dedicated herself to being a voice for the voiceless.

A profile on Nazanin Afshin-Jam including her active role in helping Nazanin Fatehi - a teenager sentenced to death by hanging after defending herself against three alleged rapists.

Bif Naked and Nazanin Afshin-Jam sing "Someday" at the Vancouver Art Gallery at the Silent Scream protest in Vancouver for the Iranian Election.

Singer and human rights campaigner Nazanin Afshin-Jam was born in Tehran during the turmoil of the 1979 revolution. Her family fled to Canada where she was raised.

ET Canada interview with Nazanin Afshin Jam, former Miss Canada and Human Rights activist.

Nazanin Afshin-Jam discusses child executions in Iran on The O'Reilly Factor with Bill O'Reilly

CNN. September 21, 2008 A human rights activist and former beauty queen talks to CNN's Asieh Namdar about protesting child executions in Iran.

Nazanin Afshin-Jam is an international human rights activist, singer/songwriter, actor, model, former Miss World Canada and President and co-founder of Stop Child Executions organization.