Martin Luther King Jr. Day: How To Get Involved In Your Community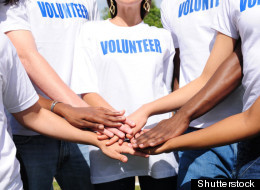 Quick Study [kwik stuhd-ee]: The Huffington Post Canada's tips to make your life a little sweeter, five minutes at a time. Think of it as a cheatsheet for your general well-being.
Martin Luther King Jr. Day was created to honour the birthday of the civil rights leader who famously spoke his "I have a dream," speech in 1963. Today, there are numerous organizations inspired by his vision that encourage community involvement and leadership. We spoke to Ruth Richardson, the co-founder of Small Change Fund, an online platform that exposes Canadians to grassroots projects, about how families can get involved with their communities in 2012.
Ruth Richardson: It's always good to know what action people are taking in their communities and how you can help out in small ways. Part of it is tapping into what turns kids on and what gets them excited in a world of volunteering and civic action. There's such diversity of things out there and getting involved lets your family get together.
Here are some tips on how to get your kids involved with philanthropy:
Getting Kids Involved In The Community
Hearing about other kids' stories can be a starting point to spark interest with those kids who may seem a bit shy at first. Ben Rudolph was one kid who recently donated his bar mitzvah money to the Hamilton Fruit Tree Project and has also collected donations for food banks and the Haiti relief effort.

Making the time to volunteer with your kids at a local food bank is a great way to give back as a family. Take a shopping trip together and let your kids pick out some of their favourite non-perishable foods (and don't forget to focus on healthier options). To find food banks in your area, check out Food Banks Canada.

Parents, let's face it -- your kid loves to be on the computer. Another great way to ensure family involvement is browsing local charities, organizations and websites together, and choosing one to either donate to or work with.

If you are a parent, you would know by now that kids love trying on high heels, makeup and going through your other belongings. So if your child sees you involved, chances are they will also be eager to join in with you. Visit a seniors' home together or volunteer your time at a soup kitchen. Being a role model is a great way for kids to pick up new interests.

If you can't quite figure out how to get your child to volunteer, get inspired by their hobbies. For example, if your kid loves to make crafts or homemade jewellery, see if you can find a community organization where they could help teach others to do this, or even donate some of their supplies.
HUFFPOST SECRETS:
Huffington Post contributors and founders of Free The Children and Me to We, Craig and Marc Kielburger say coming up with New Year's resolutions for your family is a great way to kick start more community involvement and engage children.
Talk about the headlines. Start a subscription to a newspaper or magazine. Read articles together and point out stories of interest to your children. Discuss the influence of individuals you read about -- and the difference they are making in the world. Read the rest of the resolutions here.
WATCH:
If the Google search results for "volunteer in my community" leaves you feeling overwhelmed, here are some tips to pick the right one for you. How do you get involved in your community? Let us know on Twitter at
@HuffPostCaLiv
or in the comments below.