Tipping Etiquette: Is 20 Per Cent The New Norm At Restaurants? (PHOTOS, POLL)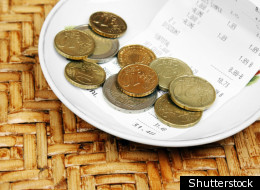 We've all experienced this quandary: we swipe our credit card after stepping out of that salon chair and debate whether to leave a tip... or not. And then, once we walk away, we wonder if we've tipped too much or too little for the new 'do we're sporting.
Yes, tipping has become an anxiety-riddled activity. Thanks to credit and debit card machines programmed to specific denominations, the feeling of guilt may overwhelm some who choose not to leave a little somethin'-somethin' for their favourite barista or fabulous masseuse. And it seems many Canadians don't really understand proper tipping etiquette.
Part of the problem is there's a lot of confusion out there -- especially, it appears, in big cities like Toronto. Common practice has been to tip 15 per cent for service at restaurants, but now, some places across town, are implementing a minimum 20 per cent tip at the end of their bills. And if restaurateurs -- not personal choice -- begin to dictate how much we tip, where does that leave us in the grand scheme of things?
Some people believe if you're at a salon and get your hair cut by the owner, you should forgo the tip. But etiquette experts say tips should be anywhere between 15 and 20 per cent, and never below $5 -- no matter what the person's position is at the salon.
When it comes to hotel services, 15 per cent is usually welcomed, with $1 or $2 given for each bag handled by the bellhop. For takeout, don't feel obligated to tip, and tip jars at coffee shops are usually there for regulars to drop in some change.
And experts suggest even when not completely satisfied with the service you've received, it's polite to leave at least 10 per cent.
So we want to know: when do you think you should tip and when shouldn't you? And if you don't mind being deemed a notoriously bad tipper, can you just forgo the tip? We've come up with some ideas below. And let us know your thoughts on Twitter.
Expert Advice: What To Tip And When
Ensure your stylist gives you a great cut on your next visit by leaving a 15 to 20 per cent tip.

Slip your manicurist 15 to 20 per cent for those freshly painted nails.

Relax -- you shouldn't be worrying about tipping while getting that massage. You're under no obligation to tip, but, if you do, anything around 10 per cent is typical.

Even if you know your tattoo artist well, a monetary tip isn't necessary. Opt for a small gift or refer some friends to him/her instead.

Since your pooch has no funds to offer, don't forget to tip at least five bucks to your dog groomer.

That boy at coat check probably looks bored, so make his night by tipping about $1 to $2 for each item you leave with him.

Sure it's a nice gesture, but don't feel obligated to throw your change into that empty tip jar at your local coffee shop -- it's for regular customers only.

Don't forget to tip your waiter! While some restaurants are starting to suggest you leave a minimum of 20 per cent, we say stick with the standard of 15 and never go below 10 (regardless of the service you receive).