Winter Skin-Care Secrets From Celeste Hilling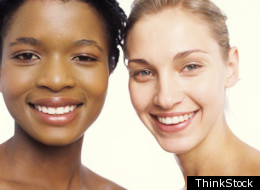 Winter is finally here! And with it comes several things that could ravage your skin -- from whipping winds to sub-zero temperatures. To protect your face -- and put the best one you can forward -- we nabbed some healthy epidermal tips from Celeste Hilling, CEO of Skin Authority, a beauty line carried at Murale.
When it comes to winterizing skin, what should everyone be doing?
"Winterizing skin is all about hydration. During winter, skin cell production slows way down and goes into a bit of hibernation. This slow-down means, without daily exfoliation, dead cells sit on the skin's surface. With this build-up, regardless of the price of the moisturizer you put on, it will not sink in. I recommend using a natural resurfacing agent such as glycolic acid to gently dissolve dead surface skin cells to be replaced with new, plump ones."
Why is it important to protect skin from the elements?
"In winter, people with sensitive skin tend to have more reactivity than other times of the year because of dry air inside and cold temps outside. To replace moisture that is being lost during the day, I recommend carrying a hydrating mask in your bag that you can spritz on easily and quickly. Think of the frequency of spritzing as you do with sunscreen application while at the beach: reapply every two hours.
And, speaking of sunscreen… the glare of sun bouncing off snow is intense. To ensure your sunscreen works for you this winter: Apply to all exposed skin, which in the winter months often includes our faces, neck, ears, décolletage, hands, forearms, feet and ankles. Use a sunscreen that gives you full-spectrum protection. To determine the quality, check the SPF number on the label (those with SPF 15 or greater yield the best results)."
Check out this additional list of ways to heal winter skin -- with captions courtesy of Earth911. Story continues below the slideshow.
Indoor heat and chilly outdoor temperatures can leave your skin rough, dry and itchy. Most of us reach for that bottle of lotion to cure this common winter woe. But the ingredients list on most brand-name lotions usually reads like a science experiment. Go back to basics with an all-natural fix that will quench your skin without chemical additives. DIY Fix: Soothing Beeswax Body Lotion What you'll need: Avocado oil, grape seed oil or jojoba oil, beeswax pellets, water, aloe vera gel and the essential oil of your choice. How to make it: 1. Start by melting three tablespoons of cosmetic-grade beeswax pellets - which you can find for less than $5 at a local health food store. For best results, put your pellets into a glass bowl, and place the bowl over a pot of boiling water until pellets are melted. 2. Gradually stir in 1 cup of the oil of your choice. Jojoba oil works great for sensitive skin or skin that is prone to breakouts, while avocado and grape seed oil soothe extra-dry skin. All can be found at your local health food store on the cheap. 3. Remove the mixture from heat, and stir in 4 tablespoons of aloe vera gel. If you have an aloe plant at home, just squeeze some gel out of an aloe leaf, or purchase pure aloe vera gel from your local natural foods store. 4. Use a hand blender or whisk to whip your lotion. Slowly add five tablespoons of water and continue to whip. The mixture should begin to thicken and resemble store-bought lotion. Add a few drops of essential oil , and mix some more. 5. Allow your lotion to set for at least 20 minutes before using, and store in a glass mason jar for up to two weeks. Flickr image courtesy of shioshvili.

Cool temperatures and heavy winds leave you with rough, chapped lips that can be annoying and sometimes even painful. Many store-bought lip balms contain harsh ingredients like alcohol. So, it may feel like they're soothing your pucker, but they can actually dry out your lips even more - meaning you have to constantly reapply to get the relief you need. A gentler treatment will give you a sooth that lasts. DIY Fix: Vanilla Honey Lip Balm What you'll need: Beeswax pellets, olive oil, honey and vanilla essential oil How to make it: 1. Melt two tablespoons of beeswax pellets in a glass bowl over a pot of boiling water. 2. Stir in 1/2 teaspoon olive oil, 1/2 teaspoon honey and a few drops of vanilla essential oil - which will add a little sweetness to your balm and act as a natural preservative. Don't worry if the balm is a little thin. It will thicken as it cools. 3. Pour your balm into an old lip balm tube while it is still runny. If you don't have an old tube handy, use a small button jar or old breath mint tin, and apply the balm with your fingers.

That summer tan is fading fast, and dryness can leave your skin looking even more dull and drab. Skip those icky bronzers and self-tanners (they tend to stain your clothes, anyway), and opt for kitchen ingredients like fruit to give your skin a natural glow. DIY Fix: Strawberry Banana Face and Body Scrub What you'll need: Strawberries, bananas and brown sugar How to make it: 1. Start by mashing about four cups of bananas and strawberries in a glass bowl (take the tops off the strawberries first!). Both fruits have soothing properties and will protect your skin against future damage. 2. Stir in two tablespoons of brown sugar. Fine-grained sugar works best for this, as the teeny granules will gently exfoliate without being harsh or abrasive. 3. Apply the scrub to your skin in gentle, circular motions, and rinse with warm water. The brown sugar will buff off dry, dead skin cells, while fruit oils give your bod a radiant glow. For best results, use your scrub in the shower and follow up with a homemade lotion. Store any extra in a mason jar in the refrigerator for up to one week.

The chilly winter months can leave your hair frizzy, dry and prone to breakage. Sure, you could pile on the hairsprays and pricey conditioning masks. But why spend a fortune when you can tame your tresses using things you already have? A quick trip to the pantry is all you'll need for this treatment. DIY Fix: Olive oil hair treatment What you'll need: Olive oil, a shower cap and lots of towels How to make it: 1. Pour about a cup of olive oil into a heat-resistant bowl (you may need a little more or less, depending on the length and thickness of your hair). You can save the extra virgin oil for cooking. A light olive oil works just as well for this. 2. Heat the oil in the microwave until it is warm but not hot enough to burn you. 3. Soak all of your hair in the warm oil, and cover with a shower cap. Wrap your head in a towel to keep the warmth in and allow the oil to infuse into your hair. 4. Leave the oil on for at least 30 minutes. You may need to change towels a few times. 5. Rinse your head with warm water, and shampoo at least twice, rinsing with cool water. Condition as usual. Use this treatment once a week to start, and see if it makes a difference in your hair. You may increase the treatments to a few times per week if desired.

With cold and flu season in full swing, many of us are washing our hands more than ever - meaning those hands can get even more dried out than the rest of your bod. If you're suffering from painful chapping and cracking on your hands, ditch the store-bought creams, and whip up an all-natural cure to get the relief you crave. DIY Fix: Almond and Cocoa Butter Hand Cream What you'll need: Beeswax pellets, cocoa butter, coconut oil, almond oil, water How to make it: 1. Melt six tablespoons of beeswax pellets in a glass bowl over a pot of boiling water. 2. Remove from heat and add three tablespoons of pure cocoa butter, which you can usually find at a beauty supply store. No luck? Your local health food store will definitely have some in stock. 3. Stir in six tablespoons of coconut oil and six tablespoons of almond oil. You can find both at a local health or natural foods store for less than $5. 4. Add about a tablespoon of water, and stir until smooth. 5. Pour the mixture into a glass mason jar while it is still hot, as it will firm up as it cools. Let sit for at least 30 minutes before using, and store in a mason jar for up to two weeks. Flickr image courtesy of .reid.
What are some of your trade secret ways to protect skin?
"Use anti-inflammatory ingredients to beat redness and irritation. I love moisturizers that include mango, shea butter, olive oil, bergamot and aloe.
Take quick, lukewarm showers. Hot water can be damaging to skin when indoor air tends to be dryer. Exfoliate from head to toe to slough off dead skin cells and apply lotion as soon as you step out of the shower to seal in moisture.
Think about your alcohol consumption at holiday parties. Have one glass of water per each alcohol drink to avoid dehydration.
The eye area is a reflection of dehydration and late nights. I suggest eye massages in a.m. and p.m. with your fingers to reduce puffiness.
Forget hoarding 20 skin-care products. In reality, you need two or three. In the morning, you need a mild gel cleanser, an antioxidant such as Vitamin C and a sunscreen moisturizer. Before going to bed, use resurfacing ingredients such as AHAs and retinols in addition to restorative peptides."
What is the one thing people always forget to do/add to their skin-care regimen when it comes to winter skin care?
"Even though we talk about summer as the time a lot of hyper-pigmentation is accumulated, the effects (freckles, red spots, uneven skin tone) don't show until the winter. So, change your way of thinking about only treating sun spots in the summer. Treat them in the winter too!"