Robbie Burns Day: Celebs Who Rock Tartan, Kilts (PHOTOS)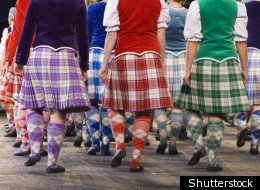 Bring on the haggis, shortbread and poetry -- Robbie Burns Day is upon us and we're ready to party.
The Scottish legend would have been 253-years-old this year, and just because he's long gone, doesn't mean his legacy is, too. Known for his poetry, love of whiskey and, ahem, women, today is the day to whip out those tartan shirts, pull out granddad's kilt, dust off those old bagpipes and show off your Scottish pride.
Take a look at how some of our favourite stars channel their inner Scot and let us know whether you'll be partaking in any Robbie Burns Day festivities on Twitter.
This wee lass looks like she's ready to take part in some of today's Scottish festivities in this Alexander McQueen creation.

We're glad he remembered to stay true to his Canadian roots even when rockin' the kilt and sexy knee-highs.

We'd love to share haggis with this beauty.

Just another day in the life of the Prince of Wales...

Here's one lad that can definitely get the party started.

Lucy Liu brings a little Scottish flair down under at the Australian premiere of 'Kung Fu Panada 2.'

We wonder if Justin Bieber will take part in the Robbie Burns festivities with shortbread and a reading of one of his famous poems?

Cue the bagpipes: Helena has arrived and is ready to celebrate all things Robbie Burns.

A toast to this fine lad for wowing us in this Scottish-esque suit.

This sassy blogger made sure to turn heads when he channeled his inner Scot on his 31st birthday.

This dress is one we believe Robbie Burns would approve of!

Courtney's ready to rock out in honour of Robbie.

Who knew P. Diddy could look so good in a skirt?

We'd love to share an ale with this stud and, perhaps, discuss his choice attire, too.