2012 Colour Trends: What's Your Paint Personality? (PHOTOS, QUIZ)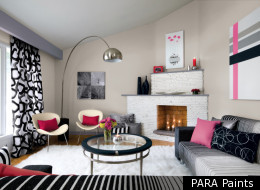 If you're looking for a quick and easy way to update the look of your home, look no further than paint. It's an inexpensive fix-up that can be done quickly and easily over a weekend. The only problem is deciding what colour scheme to go with -- especially with all of the new colour trends we're seeing for 2012.
So we took a second to chat with the paint experts at PARA. They've teamed up with some of our favourite celeb designers to help you decipher the trends and determine which paint colour will suit your space -- and personality.
Which star do you share a colour palette personality with? Take our quiz (are you mostly a's, b's, c's or d's!?) to find out.
What's Your Paint Personality? (PHOTOS, QUIZ)
a) A rustic cabin far away from city life b) Bar-hopping to all of the city's new hotspots c) Trying out a new restaurant off the beaten path d) Riding the tallest, fastest roller coaster all day long at an amusement park

a) Yoga-sexy b) Right off the runway c) Eclectic chic d) Business Class

a) Bedroom b) Living Room c) Kitchen d) Home office

a) Hawaii b) New York c) Jamaica d) Hong Kong

a) Prius b) Fiat c) Land Rover d) BMW M3

a) Brown b) Red c) Orange d) Blue

This palette focusses on the importance of an intimate space to nest and nurture balance. Given the chaos of our economy, we're naturally drawn to organic textures, comforting earth-tone shades of rust-worn bronze, and the rich, regenerating colours of golden sunrises. The trend palette used here is neutral, but soulful, with muted overtones that bathe the room with measured calm. Your celeb designer match is network design stylist Elizabeth Wharnsby.

Our cities are evolving, and city-dwellers' tastes in colour are more grown up. They speak to a sophistication that's posh and polished. The reflective surfaces in the room combine a dramatic backdrop of cityscape green, softened with cream hazes and accented with pale seafoam and smoky mauve, to express a distinct metropolitan vibe. The palette feels well-heeled and well-honed. Your celeb designer match is television design personality Ambrose Price.

Design trends are now as global as commerce and culture. As a Canadian company, it's not surprising that PARA has responded with a bold and eclectic collection that shows a strong multicultural influence. This hybrid palette pairs spicy oranges and yellows that pulse with island rhythms and mouth-watering purples of homemade preserves. The effect is primal and evocative of tribal adornments, but with a luxurious regal flair. Your celeb designer match is celebrity trend designer/Publisher Marc Atiyolil.

This palette expresses a vibrant, youthful, futuristic glow that's very now. The palette is alive and playful, immediately satisfying and stimulating. It reflects our thirst for quick access to information. We've charged this palette of modern greys, blacks and reds with a luminous optical energy that inspires creative clarity. These are high-speed hues that give sharp definition to a room's style and sense of form and function. Your celeb designer match is celebrity design host Glenn Dixon.