How Much Do MPs Make In Canada? (PHOTOS)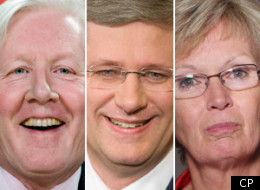 With MP's cushy pensions making headlines across Canada and the Prime Minister signalling change is on the way, we decided to take a look at what our politicians in Ottawa make before they retire.
Every MP in the House of Commons is paid the same annual salary, but a member can earn extra by being named to cabinet or other positions.
MP pay is adjusted on April 1 each year, with increases based on wage hikes in the private sector, as determined by the federal Department of Human Resources Development.
MP wages for 2011-2012, however, were frozen at 2010-2011 levels.
How Much Do Our MPs Make?
Here's a rundown of how much our MPs make depending on their position in the House. (Alamy)

The base salary for a Member of Parliament is $157,731. Being named to cabinet or other positions nets an MP extra pay. (Flickr: Scazon)

NDP MP Nycole Turmel is the Official Opposition Whip. (CP)

Bob Rae is the interim leader of the Liberal Party of Canada. (CP)

Tim Uppal is the Minister of State for Democratic Reform. Ministers of State are essentially junior cabinet ministers. (CP)

Jim Flaherty is Minister of Finance. (CP) All ministers also receive a car allowance of $2,122.

As NDP chief, Thomas Mulair is leader of the Official Opposition. He also receives a $2,122 car allowance. (CP)

Andrew Scheer is currently serving as speaker. On top of his salary, Scheer receives a rent allowance of $3,000 and a car allowance of $1,061. (CP)

As Prime Minister, Stephen Harper also receives a car allowance of $2,112. (AP)