February Citizen Style: Trends And Street Style From Across Canada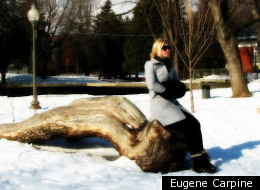 Canada may be known for many things -- igloos, snow, maple syrup, Loonies, Tim Hortons, hockey and, of course, our brutally cold winters -- but it's the street style of our citizens that has us impressed.
When we launched this site in December, we also launched a new fashion feature, Citizen Style, which put the spotlight on the many sartorial statements we as Canadians make on a daily basis. And boy did you deliver. For weeks, we received images and tips from readers and bloggers on how they stay stylish despite our cool climate.
And today, we're showcasing even more of our favourite looks.
Think it's hard for you -- if you live in a warmer climate -- to get dressed and look chic and sleek in the morning? Try pulling together an eye-catching outfit that's comprised of a puffy winter jacket, knee-high winter boots and layers and layers of thermal wear. It is possible, as the following pics show. From Manitoba to Quebec, here are some of the ways Canadians stay stylish in the winter.
Have a look or a tip you want to submit for our next Citizen Style feature? Email us at CanadaStyle@huffingtonpost.com, or reach out to us on Twitter at @HuffPostCaStyle.
February Citizen Style: Trends And Street Style From Across Canada
Name: South Godfrey Occupation: President/Designer/Blogger at Lilly Lab Photography By: South Godfrey About The Look: "Less is more. I love to have one piece be the focal point in each outfit. Everything else should be worn to help make that piece look its best. For this outfit, I chose a killer dip-dye sweatshirt from Lilly Lab. It is hand dyed, thus one of a kind and I felt black skinny jeans, wedge sandals, red polish and a simple side pony were all that was needed to look pulled together, yet unique."

Name: Mo Handahu Occupation: Designer at Clutchculture.com and blogger at Curvygeekery.blogspot.com Photography By: Montwedi Sebina About The Look: "Winter doesn't scare me much, it just means finding an inventive way to put together layers that won't compromise my sense of self. I am all about bright colors, yummy prints, and thrifting. I bought this dress for $1, the coat for $14 and the earrings for $0.99. Thrifting has spoiled me because I can't stay in a regular mall for too long, but put me in a Sally Anne's or VV's Boutique and I can spend a long time making snow angels over piles of once loved clothing or do a happy dance when I find the best earrings for under a loonie. Being a designer, I have tons of fabric scraps lying around so those come in handy for my head wraps, which feed my need for prints and keep my head warm. I never move away from bright colors no matter how gloomy it is outside. A life without bright colors is ...is... is just wrong!"

Name: Adriana Carpo Occupation: Full-time mom Photography By: Gabriel Carpo About The Look: "When you look awesome and you're warm -- despite the elements -- you've got yourself a perfect winter outfit. Faux leather pants are my fave and make me feel sophisticated, while these knee-high suede boots add drama to my look. The chunky knit beret and MK sunglasses just add class to this outfit!"

Name: Sabrina Fenster Occupation: Blogger/Owner of Streetscout.me Photography By: Jon Fenster About The Look: "I love wearing skinny jeans with a pair of booties. Scarves are my best friend because they add interest to a neutral palette. This is my go-to look for winter in Vancouver."

Name: Lydia Okello Occupation: Blogger at Styleisstyle.com Photography By: About The Look: "For me, winter dressing generally means an effort to wear as many happy colours and patterns as possible. I often see drab palettes take over when the weather gets grey. I would much rather bring a little sunshine through my wardrobe. Some might find this a little corny, but I think that a dash of brights and silly pattern brings lightness to a time of year, which can be utterly depressing."

Name: Sara Holland Occupation: Real estate broker and blogger for Lifeofthreeblog.blogspot.com Photography By: Eugene Carpine About The Look: "I used to HATE winter... Okay, so hate may be a strong word, but I used to strongly dislike winter because of the obvious, along with the fact that I found it very difficult to dress cute in the winter. Well, I've proved myself wrong. I have found many different pieces that I now love and have made dressing for winter fun. My favourite? My 'Mad Men for Banana Republic' muff that my sister gave me for Christmas. I fell in love with it and am totally trying to bring it back. I featured it on my blog and got soooo many people asking where I got it. I love the look and the fact that it's so practical."

Name: Donald D'Haene Occupation: Writer, actor and online theatre editor for Beatmagazine.ca Photography By: Richard Martin About The Look: "A friend of mine took this photo at Delta Armouries in London for Londonlicious (a festival that gives you the chance to try a diversity of culinary experiences at different participating restuarants, while you dress to impress). I love a dash of colour, but overall solid shades are my preference. I like mixing stylish jackets with jeans. I don't care for jewelry of any kind (only a watch) and even though I've been with my honey for 15 years, we both have no interest in rings either (he hasn't worn a pair of jeans or shorts in the entire time I've known him -- very conservative dresser)."

Name: Kendra Hagerman Occupation: Freelance fashion writer and founder of Vancitypretty.com Photography By: Vancitypretty.com About The Look: "I'm a sucker for anything classic, elegant or vintage; when I found this houndstooth dress that just happens to be all three, I was ecstatic. I thrifted this triple threat at a thrift store in St. Catharines, Ontario for just $6. I'm always on the hunt for a dress with long sleeves, but new or vintage, they are extremely hard to come by. It's a classic look that creates a streamlined silhouette and an effortless outfit. I love mixing and matching vintage pieces with contemporary items and Vancouver is full of second-hand stores that are brimming with vintage clutches, classic pumps and beautiful scarves."

Name: Karolina Ciupinska Occupation: Personal style blogger at Karolinas-style.ca Photography By: Julian P. About The Look: "My style has changed lately -- from all over the place to more minimalist with clean lines. Lately, I've really been into asymmetric cuts because they add edge to my look."

Name: Jenna Zuschlag Misener Occupation: Writer at Ahbon.ca Photography By: Victoria Tultz About The Look: "I'm a big fan of vibrant lip colour to add a nice pop to just about any outfit, especially as the weather gets colder and the sun disappears for months on end. Bright lipstick is an instant mood-enhancer. It's hard to have the winter blues when your lips are screaming colour! I paired MAC's "Impassioned" fuchsia lipstick with a McQueen for Target dress for a night out with friends at a divvy, small town Ontario bar. Overdressed for the occasion? Maybe. But it's more fun that way."

Name: Meaghan Orlinski Occupation: Marketing consultant at DEUXDEER. Photography By: Jesse Winter About The Look: "The Deadly Nightshades is my crew, a bi-coastal design collective by day, mischevious bicycle gang by night. Our style is rocking up to Fashion Week and art parties on our bikes, hence a slogan "High Heels on Wheels." Therefore, our style must be forward-thinking, beautiful, but a tad practical. Bicycles also make it easier to wear high heels, as there is little pressure put on the front foot, and heels can act as cleats to hold onto your pedals. We are part of a growing movement that embraces European style of everyday cycling. Successful Canadian fashion companies cater to rather then reject the active lifestyle."

Take these winter style tips from some of our favourite stars.