Stephen Harper Hockey: PM Chats With NHL Commissioner Gary Bettman During All Star Game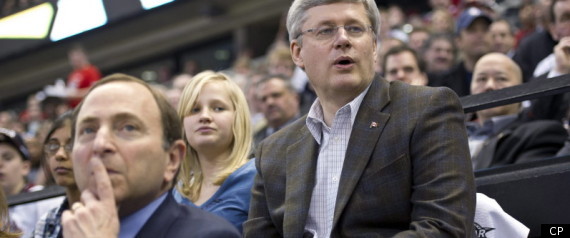 Stephen Harper isn't shy about his love for Canada's favourite game, but at Sunday night's NHL All-Star Game in Ottawa he clearly had more than just the one-ice action on his mind.
Harper and NHL Commissioner Gary Bettman spent much of the game engrossed in conversation, according to The Globe and Mail. What kept the two men talking remains a mystery.
The Globe's Jane Taber speculates that perhaps the PM and the commish discussed bringing an NHL franchise to Quebec City or Hamilton, since the league is currently searching for a buyer for the Phoenix Coyotes.
The prime minister is currently writing a book about hockey, spending 15 minutes writing each day for the last eight years. The book is set to be published this year.
Harper and hockey were also in the news last month, after the Toronto Star published a story claiming he would face off with Russian Prime Minister in a game to mark the 40th anniverary of the 1972 Canada-U.S.S.R. Summit Series.
The Prime Minister's Office vehemently denied that Harper would be lacing up and the Star was subsequently forced to apologize for their "offside" story.
While Harper may not have paid much attention to the action, the all-star game featured some surprises. The game was supposed to be all about Daniel Alfredsson and his Ottawa teammates, but it was ex-Senator Zdeno Chara who had the last laugh.
The Boston Bruins captain had the game-winner as he and another former Senator from Slovakia, Marian Hossa of the Chicago Blackhawks, scored 16 seconds apart in a six-goal third period to lead Team Chara to a 12-9 victory over Team Alfredsson.
With files from The Canadian Press.

HARPER AND PUTIN PLAY HOCKEY
Harper Plays Street Hockey