Celebrity Rider Food Requests: What The Stars Demand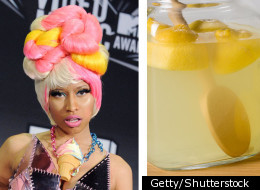 The closest most of us will ever come to finding out what celebrities like to eat is by searching online or getting a sneak peek during MTV's "Cribs" when the fridge is open. (Satisfying, we know).
But when celebrities are on tour, most of them have a wishlist for what's waiting for them backstage -- and luckily for us, those get leaked. From ice-chilled beverages to linens and furniture, at the end, a lot of the stars aren't too different from us. They too are picky eaters, have specific tastes when it comes to wine and have rules about dairy and meat. And even if their bodies always look fantastic, they also love to indulge in desserts and alcohol.
Recently, rapper Nicki Minaj's rider for her and her entourage included everything from a gallon of lemonade to a bucket of spicy fried chicken (no thighs) to a silverware set, according to the Daily Mail. The star also revealed her love for Red Bull, honey and Belgian waffles.
Think Minaj's rider was over the top? We put together a list of what celebrities request, foodwise, on tour and in the dressing room to let you judge for yourself.
Celebrity Rider Food Requests
We wonder if rapper Nicki Minaj eats her food or adds it to her wardrobe. Recently, she reportedly asked for buckets of chicken, a gallon of lemonade and 12 cans of Red Bull (six iced, six warm) for her and her entourage. REQUESTS WE'RE PROUD OF:Cranberries, salad, fruit platter and turkey breast meat. Singer Nicki Minaj speaks onstage during The GRAMMY Nominations Concert Live! Countdown to Music's Biggest Night at Nokia Theatre L.A. Live on November 30, 2011 in Los Angeles, California.

If you plan on bringing singer Jordin Sparks some hot dogs, burgers or anything else grilled and put in between two buns -- don't bother. This American Idol diva ensures she eats healthy.REQUESTS WE'RE PROUD OF:A small jar of kosher pickle spears. Recording artist Jordin Sparks poses in the press room at the American Country Awards 2011 at the MGM Grand Garden Arena.

With Lady Gaga's history of food choices -- her infamous meat dress and that eggshell Grammy entry -- we assume her rider requests are as unique as her fashion taste. But, turns out, this monster mama only requests liquids, including Red Bull and the classic -- bottles of water.REQUESTS WE'RE PROUD OF:Bottles of green tea and assorted juice drinks. Lady Gaga attends the 39th International Emmy Awards at the Mercury Ballroom at the New York Hilton.

All the vitamins on Christina Aguilera's rider make us wonder if she's running a pharmacy on the side. The singer also likes her Nesquick chocolate mix and Oreo cookies, but stays away from Evian water bottles. REQUESTS WE'RE PROUD OF: Flinstone's Chewable Vitamins, soy cheese and veggie platter. Christina Aguilera speaks onstage during the 'The Voice' panel during the NBCUniversal portion of the 2012 Winter TCA Tour at The Langham Huntington Hotel and Spa.

When Canadian rapper Drake is on tour, his rider reflects the feeling of being home. Stocked with comfort foods like breads, meats (skip the pork and red meat) and a pot for hot water for tea, Drake also loves his alcohol -- Patron, vodka and a case of Heineken beer.REQUESTS WE'RE PROUD OF:Vegetarian lasagna and fruit platter including pineapples, kiwis, mangoes and a watermelon. Drake's performance at the Bing Bar.

When teen sensation Justin Bieber goes on tour, you better believe he still eats like a kid. His dressing room is stocked with potato chips, mixed nuts and white bread, but our personal favourite item has to be his Big Foots from Canada.REQUESTS WE'RE PROUD OF: Whole wheat bread and fresh lemons. Justin Bieber poses as he arrives at NRJ Music Awards 2012 at Palais des Festivals.

We would imagine Kanye West knows how to throw a party -- and judging from his drinks and food request, we'd be right. With bottles of tequila, vodka and six packs of Heineken beer, Kanye is also picky about his pistachios -- they can't be red.REQUESTS WE'RE PROUD OF:Kanye and his crew love yogurt. His rider includes four Yoplait yogurts and one tub for dipping fruits. Kanye West attends the Givenchy Ready to Wear Spring / Summer 2012 show during Paris Fashion Week .

Singer Selena Gomez keeps her food requests pretty simple: breads, condiments, meats and cheeses (aka a sandwich). But she is picky about a few things: keep Wonder Bread out of the premises and all beverages must be ice cold. REQUESTS WE'RE PROUD OF: Avocado, whole wheat bread and honey. Singer Selena Gomez arrives at Selena Gomez's 2nd Annual Charity Concert To Benefit UNICEF at House of Blues Sunset Strip.

Singer Adele has a huge crowd to feed -- at least 26 people in her crew. And not just pizza or sandwiches, but also something more exciting, according to her rider. This diva's request has everything from 2 per cent milk to wine to bite-sized candies. Oh, and for the record, North American beer is NOT acceptable.REQUESTS WE'RE PROUD OF:Cereal bars and organic muesli. Singer Adele arrives at the 2011 MTV Video Music Awards at Nokia Theatre.

The Queen Bee's rider is definitely making us hungry -- and a bit sad we're not there with her. From baked chicken wings freshly seasoned with garlic to steaming garlic broccoli, the only thing left unanswered is what her rider was like during pregnancy. REQUESTS WE'RE PROUD OF: Green beans and spinach. Singer Beyonce hosts the screening of 'Live at Roseland.'

Let's get one thing straight -- keep tomato, apple and grape juice out of JLo's bus or hotel rooms. Jlo's food rider includes cookies and apple pie, and healthier options like papaya and mangoes.REQUESTS WE'RE PROUD OF: Pineapples and balance bars. Actress/recording artist Jennifer Lopez attends the 2012 Winter Television Critics Association Press Tour at The Langham Huntington Hotel and Spa.

When Michael Buble comes to your town, expect him to have the morning local paper and a local team hockey puck. He also loves his bottle of scotch, red and white wine (minimum $25) and veggies with dip. REQUESTS WE'RE PROUD OF: Carrots, celery and tea. Michael Buble attends the 2011 Rockefeller Center.

This California girl's food request list is far from her fictional Candyland. Perry likes organic grown fruit, fresh veggies and high protein pretzels.REQUESTS WE'RE PROUD OF: Hummus, dried fruit and edamame. Singer Katy Perry arrives at 1 OAK Las Vegas at the Mirage Hotel & Casino.

After Jennifer Hudson's incredible body transformation in 2011, we're not suprised this diva keeps it healthy with nuts, fresh veggies and fruit. Well, she does sneak in one treat -- baked hot wings. REQUESTS WE'RE PROUD OF: Sunflower seeds and various melons (good for digestion!). Singer Jennifer Hudson signs copies of her new book, 'I Got This' at Barnes and Noble.