Global Clothing Bans: Uggs Get The Boot In Pennsylvania (PHOTOS)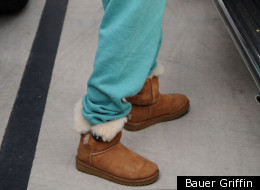 First it was dodgeball. Then technological devices. Now, students in Pottsdam Middle School in Pennsylvania are being told to leave their Uggs -- or "outdoor, open-top" boots -- at home.
This controversial decision was introduced by school officials as a way to ban students from using cellphones -- prohibited by school policy -- which they would smuggle into class in their boots.
While officials are confident this new rule will help deter students from checking Facebook in between multiplication problems, parents seem to think otherwise.
"When the school starts paying to raise and clothe my children then maybe... maybe they can have a say in dictating my child's wardrobe," Julie Lyn Miller-Gallisdorfer posted on Facebook.
Students are no stranger to wardrobe bans. Over the years, miniskirts have been banned from many high schools and, most recently, a Mormon university in the U.S. banned, and then un-banned, the wearing of skinny jeans to class.
Are these bans ridiculous or right? Let us know on Twitter @HuffPostCaStyle
And take a look at some of the other pieces of clothing that are banned in various parts of the world
Uggs now double as storage devices? For students of a Pennsylvania high school, they were reportedly used to hide cellphones, which breaks the school's strict rules about using the devices in class. Credit: Shutterstock

Who knew dyeing your hair could get you sent home from school? Harwich and Dovercourt High School students in Essex, U.K., have been banned from dyeing their hair to look like their favourite stars. The colour no-nos include 'Rihanna red,' 'Lady Gaga green,' and Jessie J's 'Price Tag Purple.'

Shelley College, a co-ed public school in northern England, introduced a makeup and mirror ban last September to ensure female students spent more time studying and less time looking at themselves. Teachers now do daily checks to ensure there are no traces of mascara or eyeshadow, and mirrors have been temporarily removed to help combat the the students' vanity issues.

Students at St. Joseph Catholic High School in Ottawa were told in November they could no longer where yoga pants to class -- unless the pants were accompanied by a long shirt that offers sufficient, ahem, coverage. The only thing we're wondering, is what will the kids wear to gym class?

Despite the Duchess of Cambridge's obsession over fascinators, Royal Ascot Racecourse banned them from their dress code in January. Who knew these delicate and whimsical pieces could cause such a stir?

Rising hemlines among female students led to a ban on minis at Herne Bay High School in Kent, U.K. According to school officials, short skirts put female students in a risky position -- exposing them to possible sexual attacks from peers.

This past December, Brigham Young University in Idaho banned skinny jeans -- they un-banned them a day later. According to the Mormon school's strict dress and grooming standards, principles of modesty restrict form-fitting clothing.

Students and parents in an uproar over the Uggs boot ban at a U.S. high school speak out.