Pandas In Canada: Beloved Bears Could Be Coming To Canadian Zoos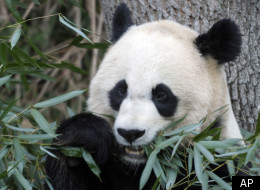 Canadians who love giant pandas have had to travel abroad to catch a glimpse of the beloved bears. But that could be changing soon.
Sources have told The Globe and Mail that two pandas will likely be heading to Toronto and that there will be an announcement sometime next week. According to the newspaper, the announcement will probably coincide with Prime Minister Stephen Harper's trip to China.
Postmedia is reporting that Toronto won't be the only Canadian city to host the bamboo-loving bears if they come to Canada; the Toronto Zoo will likely take turns caring for the giant pandas with the Calgary Zoo and the Granby Zoo in Granby, Que. The news outlet adds that each zoo will likely receive the duo for at least 18 months.
The reported loans to Canada are part of China's long history of 'panda diplomacy'. A practice that reportedly dates back to the seventh century. More recently, the lovable animals have been used by once-ostracized communist China to build ties to the rest of the world. The Telegraph reports that between 1958 and 1982 China gave more than 20 pandas to a number of different countries.
CityNews points out that it's been almost 30 years since the Toronto Zoo has featured a giant panda exhibit. Back in August of 2010, The Toronto Zoo released a letter that said the zoo hoped to debut a "giant panda cooperation and research project" that would take place during the upcoming PanAm Games in 2015. Toronto city councillor Giorgio Mammoliti also told CBC News in 2010 that a deal to bring pandas to Toronto and other cities was practically completed.
[China has] agreed to give us two pandas for 2012 .... and they've also agreed that other zoos in Canada should share them," he said.
According to the CBC, the cost of building a home for the pandas could be as much as $10 million. In addition, the bears require a special diet of bamboo shoots.
Want an idea of what kind of panda-monium awaits the zoos that get the lucky bears? The Edinburgh Zoo saw a 200% increase in visitors after it received two bears earlier this year. "We've been fully booked almost every day so far and expect the popularity of Tian Tian and Yang Guang to continue," zoo executive Hugh Roberts told the Daily Mail.
A pair of pandas sent to live in France were escorted with a full guard reserved for visiting heads of state and were flown in specially modified planes sponsored by Fed-Ex, reports Reuters.