Electro-Motive Lockout: Caterpillar To Close London, Ont. Plant, Company Says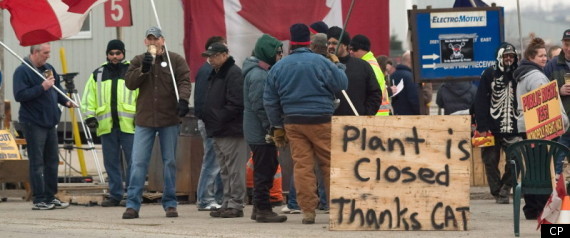 [This story was updated from an earlier version.]
TORONTO -- Caterpillar Inc. has announced that it will close the Electro-Motive plant in London, bringing a swift end to one of the most bitter labour disputes in decades, and igniting outrage and disappointment among union leaders and politicians.
"I'm disgusted. I'm angry," CAW President Ken Lewenza told The Huffington Post Friday morning, shortly after learning of the decision. "I've seen workplace closures through consolidation, because the company went out of business, but I have never seen such a profitable company take such great advantage of a workforce and of a community as Caterpillar has done in this community."
Despite reaping record profits in 2011, the Illinois-based heavy machinery manufacturing giant, which owns Electro-Motive through its subsidiary Progress Rail, articulated on Friday morning that it will cease operations at the locomotive assembly plant, realizing the worst fears of 481 CAW workers who were locked out of the facility on Jan. 1.
Previously on HuffPost: Unions Take Fight To Caterpillar Customers As Company Posts Record Profits.. Protesters Decry 'Corporate Greed' In London's Largest Ever Demonstration.. Caterpillar's Aggressive Labour Strategy May Be A Sign Of Things To Come
Contract talks broke down after union leaders refused a deal that would have cut benefits and slashed wages by more than half, from $35 to $16.50, giving rise to rumours that the company was planning to shift operations to a newly opened plant in Muncie, Ind., where workers are paid between $12 and $18 an hour.
Though union leaders put on a brave face for media and the public in recent weeks, the bravado quickly faded as reality set in among workers in a community battered by a string of layoffs and factory closures.
"We always suspected that Caterpillar's agenda here was to close the facility," said Tim Carrie, president of CAW Local 27, which represents the Electro-Motive workers. "But it's almost like when you have somebody in your family that's terminally ill. You know the worst is going to happen, but when it happens, it doesn't seem to lessen the pain."
CAW plant chairman Bob Scott says the news was met with devastation on the picket line.
"A lot of guys were teary-eyed, upset," says Scott, who has worked at the plant for 23 years. "A lot of the families are young families. When they went to this plant the were figuring they were going to have a future there, and everything is just shattered this morning."
Though the closure may have felt inevitable, there was a sense that it came sooner than expected.
As Mike Moffatt, a labour expert at the University of Western Ontario's Ivey School of Business, points out, Caterpillar has been known to endure lengthy lockouts.
"The fact that this only lasted a month is a little unusual," he said. "I'm a little puzzled by the timing. I guess what it means is that Caterpillar feels that its workers in Muncie are advanced enough to ramp up production."
The company made no mention of Muncie, saying simply that it will shift operations to its other plants in North and South America. Progress Rail blamed the decision on the "unsustainable cost structure of the operation" and the failure to "negotiate a new, competitive agreement," adding that, "It is regrettable that it has become necessary to close production operations at the London facility."
The announcement sparked anger about the perceived inaction of the federal government, which has remained silent throughout the dispute.
Reached by phone on her way to the picket line on Friday morning, an audibly shaken Irene Mathyssen, NDP MP for London-Fanshawe, insisted that Ottawa should have intervened.
"This is a reality that we saw coming and surely our government must have seen coming and not only did nothing to prevent what happened here, but have washed their hands of it by saying, 'This is provincial, this has nothing to do with us.' Excuse me, but the jobs and the security of Canadian families is the government's business," she said. "This is a despicable dereliction of duty, and I don't understand how they could be so callous and uncaring, and how they could be so shortsighted."
Liberal Party Leader Bob Rae also called for more oversight.
"Foreign-owned companies like Caterpillar Inc. must be made to understand that we expect assurances in exchange for generous concessions, incentives and tax cuts," he said in a release.
"Stephen Harper once staged a photo op at Electro Motive – it's time for him to go back there and fix this mess," he said, referring to a 2009 media spot that saw the Prime Minister use the plant as the backdrop for a corporate tax-break announcement.
Ottawa has maintained throughout the lockout that it was not the place of the federal government to get involved in the dispute, which fell under provincial jurisdiction.
For its part, the Ontario government has expressed frustration at Caterpillar for refusing to engage in talks with the workers at the plant.
"It's not working because the balanced, made-in-Ontario approach requires that unions and management sit down and talk to try to work out their differences, and so far the owners of Electro-Motive have failed to live up to Ontarians expectations," Premier Dalton McGuinty told the London Chamber Of Commerce last month.
According to Greg Dennis, a spokesman from the Ontario Ministry of Labour, the province got word of the decision on Friday morning, moments before the company's press release went out.
He says the primary objective of the province is to assure that workers are awarded whatever pay and benefits that they are legally entitled to receive.
"Obviously this is devastating and there is great concern for the workers and their families, but we also have to focus on the workers now, and that means making sure they get what's owed them," he said.
Lewenza, however, says the CAW is planning to ask both the federal and provincial ministers of labour to investigate Caterpillar and determine whether they bargained in good faith.
"This was a goddamn conspiracy. This was not fair and collective bargaining. This isn't a company that wanted an agreement," he said, adding that there should also be a "thorough and meaningful investigation" of the sale of the Electro-Motive plant to Caterpillar in 2010.
"This is far from over," he said.
Meanwhile, in Muncie, Ind., the announcement was met with mixed emotions.
"My heart goes out to those workers and their families and the community there. I know how devastating it's going to be when that plant leaves that community," Mayor Dennis Tyler told HuffPost. "But to be honest with you, my community has been dealing with that for the last 15 years -- plants packing up and leaving -- and we need jobs just as London, Ont., would like to keep those jobs."
Progress Rail is holding a job fair at its Muncie facility on Saturday, where it has advertised openings for materials handlers, assemblers, welders, quality inspectors, painters and maintenance technicians.
But Tyler says he has so far received no indication from the company that the jobs lost in London will wind up in his community.
He is planning to sit down with the chamber of commerce, which has been communicating with Progress Rail, to getter a better sense of the company's intention.
"I have a duty and obligation if they've made a determination to leave Canada and head to the United States to do everything I can to try and secure that employment here," he said, adding that while Muncie's official unemployment sits at 10 per cent, the actual proportion of people out of work is closer to 20 per cent.
"Muncie, Indiana, in not the enemy in this thing," he said.
With files from the Canadian Press
Correction: An earlier version of this story said it had not been announced where operations would be shifting to. However, an update has indicated operations are moving to other plants in North and South America. This version has been updated.
FLASHPOINTS IN THE HISTORY OF CANADIAN LABOUR
Loading Slideshow
Labour Day: A Canadian Invention

Few Canadians realize it, but Labour Day is as Canadian as maple bacon. It all began in 1872, when the Toronto Typographical Union went on strike to demand a nine-hour workday. When <i>Globe and Mail</i> chief George Brown had the protest organizers arrested, Prime Minister John A. Macdonald passed a law legalizing labour unions. Thus, a Conservative prime minister became a hero to the working class, and Canada became among the first countries to limit the workday, doing so decades before the U.S. The typographers' marches became an annual event, eventually being adopted by the U.S., becoming the modern day Labour Day.

The Winnipeg General Strike

The end of World War I brought social instability and economic volatility to Canada. On May 15, 1919, numerous umbrella union groups went out on strike in Winnipeg, grinding the city to a halt. Protesters were attacked in the media with epithets such as "Bolshevik" and "Bohunk," but resistance from the media and government only strengthened the movement. In June, the mayor ordered the Mounties to ride into the protest, prompting violent clashes and the death of two protesters. After protest leaders were arrested, organizers called off the strike. But the federal mediator ended up ruling in favour of the protesters, establishing the Winnipeg General Strike as the most important strike in Canadian history, and a precursor to the country's modern labour movement.

The Regina Riot

During the Great Depression, the only way for a single male Canadian to get government assistance was to join "relief camps" -- make-work projects set up by the federal government out of concern idle young men were a threat to the nation. The relief camps, with their poor work conditions, became breeding grounds for communists and other radicals. The "On-To-Ottawa Trek" was organized as a protest that would move from Vancouver across the country to Ottawa, to bring workers' grievances to the prime minister. The trek halted in Regina when Prime Minister R.B. Bennett promised to talk to protest organizers. When talks broke down, the RCMP refused to allow the protesters to leave Regina and head for Ottawa, and on June 26, 1935, RCMP riot officers attacked a crowd of protesters. More than 100 people were arrested and two killed -- one protester and one officer.

Bloody Sunday

In May, 1938, unemployed men led by communist organizers occupied a post office and art gallery in downtown Vancouver, protesting over poor work conditions at government-run Depression-era "relief camps." In June, the RCMP moved in to clear out the occupiers, using tear gas inside the post office. The protesters inside smashed windows for air and armed themselves with whatever was available. Forty-two people, including five officers, were injured. When word spread of the evacuation, sympathizers marched through the city's East End, smashing store windows. Further protests against "police terror" would be held in the weeks to come.

Giant Mine Bombing

In 1992, workers at Royal Oak Mines' Giant Mine in the Northwest Territories went on strike. On September 18, a bomb exploded in a mineshaft deep underground, killing nine replacement workers. Mine worker Roger Warren was convicted of nine counts of second-degree murder. The Giant Mine closed in 2004.

The Toronto G20

The Canadian Labour Congress, representing numerous labour groups, participated in protests in Toronto during the G20 summit in June, 2010. When a handful of "Black Block" anarchists rioted through the city core, it brought an overwhelming police response that resulted in the largest mass arrests in Canadian history. More than 1,000 people were arrested, with most never charged with any crime. Numerous allegations of police brutality have been made, and the Toronto police are now the target of several multi-million dollar lawsuits. So far, two police officers have been charged with crimes relating to G20 policing, and charges against other police officers are also possible.

Occupy Canada

When Vancouver-based magazine Adbusters suggested the public "occupy Wall Street" to protest corporate malfeasance, New Yorkers took the suggestion seriously, and occupied Zuccotti Park in Manhattan. Canadians followed suit, sparking copycat occupations in all major Canadian cities in September, 2011. By December, most of the occupations had been cleared, all of them non-violently. Though the protests achieved no specific goals, they did change the political conversation in North America. What their long-term legacy will be remains to be seen.