Valentine's Day: Gifts For Her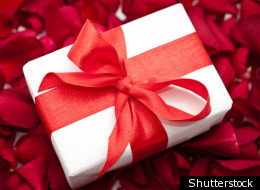 Valentine's Day is just around the corner and while a dozen red roses and a stuffed teddy might seem like a good gift idea for her, take it from us, gentlemen -- it's not.
Whether you're still early on in your relationship, in a long-term romance or have been with your sweetheart for over a decade, Valentine's Day is a day your leading lady looks forward to every year -- no matter how much she may try to convince you otherwise.
Need a little help with what to get your sartorially savvy Valentine? Take a look at our guide and we're sure your sweety won't be disappointed this February 14th.
Valentine's Day: Gifts For Her
This cross-body bag will make any sartorial-savvy woman's heart flutter. And not only is it a good piece for her to add to her Valentine's Day outfit, it'll brighten up dull winter days and remind her that spring actually is on its way. Available at Banana Republic, $150.

If anyone ever told you heart lockets were cheesy, they lied! Buy this brass heart for your sweetie, add a pic of yourself and you'll be able to sleep soundly knowing she always keeps you close to her heart! Available at Ilovebiko.com, $79.

Whether she loves adventuring through the wild or just wants to stay dry while navigating through those busy downtown streets, these bright red Downpour Lace-Up Rubber Boots will not only make her stand out among the crowds, but will keep her feet dry and warm. Available at Mark's in red or black, $44.99.

Bring your fantasies to life with this vanilla-scented bondage kit -- perfect for first-time users or those looking to add a little flavour -- literally -- to the bedroom. And just look at that ice cream packaging -- it's really too cute to be intimidating! Available at Pureromance.com, $13.

Forget boring ol' votives and set the mood this Valentine's Day with Air Wick's Colour Changing Candle. You read that right: these candles don't just smell scrumptious, they change colour! Available in Apple Cinnamon, Vanilla Indulgence and Fresh Waters, $9.99.

Forget that classic bottle of red wine and pop open a bottle of Fruli -- an all-natural, premium strawberry wheat beer. It pairs excellently with chocolate. At only 125 calories, how can you go wrong? Available at the LCBO or other major liquor retailers, $2.45/per bottle.

We know your love is unique and special, so we think her gift should be, too. This Me to We Artisans 19-strand Turkana Earth Pamoja Love Bracelet is handcrafted by local women in Free The Children countries across the globe. Me to We even donates 50 per cent of its profits to Free The Children, so not only will you be helping to put a smile on your sweeties' face, you'll also be helping those in need Available at Metowe.com, $149.99.

This "Cranberry Love" heart-shaped soap will wake her up in the morning and will leave her smelling fruity fresh all day Available at Fruits & Passion, $5.

Remember how she told you she loved Jane Austen's "Pride and Prejudice" but that it lacked something sexy? Pick her up a copy of 'Pride and Prejudice: Hidden Lusts' -- a perversion of the classic -- and allow her to get lost in the scandalous sex lives of her favourite characters. Available at Come As You Are, $17.95.

No one likes to kiss chapped lips, so make sure your Valentines' are silky smooth with La Roche-Posay Ceralip Lip Repair Cream. You'll never want to stop stealing kisses from your lady once she's done using this. Available at Laroche-posay.ca, $13.50.

Those flowers sitting on her mantle won't last forever. Good thing you gifted her Eau Rose Eau de Toilette -- she'll be able to indulge in the smell of roses even after Valentine's Day is over Available at Holt Renfrew, Roll On, $57, Eau de toilette, $118.

Stylish, reliable and attractive -- no, we're not talking about the qualities that attracted you to her, we're talking about this Feather Ultralight Hard Shell Case in neon matte for the iPhone. Show her you not only care for her, but also for that phone she can't seem to put down. Available at Myincipio.com, $24.99.

David's Tea has five different ways to help you say "I Love You" this Valentine's Day with their signature loose leaf teas: Love Tea #7, Doctor Chocolate, Honeybee, Peppermint Amour and Hot Lips Available at David's Tea, $25.50/25g per bag.

Romantic symbols represent the bond you and your loved one share. And what better way to remind her of that than with this Ties Of Love Violet Pendant? Available at Swarovski, $120.

Valentine's Day just isn't complete without popping open a bottle of bubbly. Try Two Oceans Sauvignon Blanc Brut -- it's inexpensive, but will be a hit with your sweetheart. Available at LCBO, $11.95.

Spice things up in the bedroom and make this Valentine's Day one you won't want to forget with Victoria Secret's Very Sexy Miraculous Push-Up Bra and matching Eyelash Lace Thong. Available at Victoria's Secret stores across Canada. Bra $69.50, Thong $18.50.

Forget about wearing a heart on your sleeve and let her wear these hearts on her ears. They're not only perfect for Valentine's Day, but will add a feminine touch to any outfit. Available at Thomassabo.ca, $219.

According to Greek myth, roses were white until Aphrodite cut herself and bled on one thereby turning it red -- all while trying to save her love. Show your lady how much you love her -- and her skin -- this Valentine's Day with KORRES Wild Rose Serum Available at Shoppers Drug Mart, $49.

Treat the main lady in your life like the queen she is with a Samba Days 'Rejuvenate' gift box. With a variety of 60- to 90-minute long spa treatments -- from some of the best spaces in Canada -- it's the perfect way to help her rest and relax. Available at Samba Days, $109.

Forget the traditional ways to celebrate Valentine's Day -- surprise your sweetheart with a couple of these ideas.