Canada Census 2011: Baby Boomers, Young Professionals Fuel Condo Boom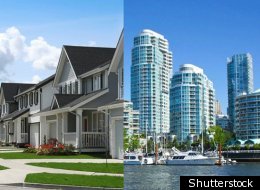 More and more people are ditching detached homes in the suburbs for high-rise life in the big city.
According to figures released this morning from Statistics Canada as part of the 2011 Census, multi-unit dwellings -- a category that includes condominiums -- now make up roughly half of all new housing stock in Canada. Traditionally detached homes led the way in this category.
In 2006, the last time the census was updated, close to 11 per cent of homeowners lived in condos. And though complete census information on home ownership across Canada won't be released until September, statisticians say, because of the population flow from the country to the city, it's clear more and more people are moving on up to a life lived in taller buildings.
All you have to do is look at stats on building permits from across the country to see the trend.
Take some condo info for Toronto from 2011: According to Urbanation, number crunchers for the development industry, some 16,000 new condo units were expected in the city by the end of that year (5,500 of which would be in the downtown core).
The same thing is happening in Vancouver where permits to build multi-unit dwellings, like high-rise condos, are on the rise.
So what's behind this upward trend?
Researchers say it's a mix of economic and demographic factors.
Condos, which can start at 400 sq. feet, are more affordable for young adults, first-time homeowners and new immigrants -- all people who gravitate toward city life. In some major city centres, like Toronto, the average detached home price is now $600,000. In Vancouver, it's $1 million. Condo prices in every city across the country are substantially less than that.
What's more, young couples are putting off marriage and children, meaning there's less need to upsize their homes from a one- or two-bedroom space to a full-on house.
Other factors fuelling this boom in condos include the growing backlash by suburbanites against grueling, overly long commutes; the desire by baby boomers to downsize their homes and lifestyles after the kids move out (aka: empty nest syndrome); and the desire of governments, environmental groups and urbanites to curb urban sprawl.
"It's a big shift that we've seen over the last several decades,'' Adrienne Warren, senior economist and manager with Scotiabank, tells the Canadian Press. And it's a trend she believes will likely hold up over the long-term as the population ages and land grows even more scarce.
What can your money get you in terms of real estate across the country? Take a look at some of Canada's most expensive homes.
The 10 Most Expensive Houses For Sale In Canada
Located in the tony Point Grey neighbourhood on Vancouver's west side, this Pacific Northwest contemporary home overlooks the waters of Spanish Banks and the Vancouver skyline.

The house features geothermal heating and a heated driveway. Twelve-foot ceilings adorn this modernist dining room area.

The 11,000 square feet of living area features six guest rooms, a master bedroom with its own 600-square-foot deck, and plenty of amenities such as an indoor/outdoor pool, hot tub, sauna, steam room, a fitness room and a wine room.

Located in Toronto's swanky inner-suburban neighbourhood of Bridle Path, this 9-bedroom, 13-bathroom palace features a sports centre/guest house connected to the main building by an underground walkway.

Glass atria and plentiful vegetation adorn this house that also features a glass arboretum and a fish pond.

The home theatre is but one of many extras to be found in this home, including an indoor tennis court, a bowling alley and a "great room" serviced by its own kitchenette.

Located on Ile Bizard just west of the island of Montreal, this ostentatious mansion is being sold in conjunction with Sotheby's Real Estate.

The house's main wing -- it's flanked by an "east" and "west" wing -- features an elevator, a "vast den" facing the lake, and a giant staircase leading to the first floor.

Among the home's amenities are a wine cellar and tasting room, an exercise room, a golf room, a painting room and a massage room. The house also features tiled terraces that reach down all the way to the water.

In yet another sign of the potency of Canada's condo markets, the second-most expensive home for sale in Canada is a condo -- a penthouse at the Fairmont Pacific Rim, seen here under construction.

Set on 6,400 square feet across two stories, this condo features numerous terraces and rooftop patios.

Lest you think that condo living may be the way to break into the lifestyles of the obscenely rich, forget about it: The condo fees alone on this unit will run you close to $4,300 a month.

Overlooking the entire Greater Vancouver area from its perch on the slopes of Cypress Bowl, this 21,000-square-foot palace on 5.5 acres is the most expensive house on the market in Canada.

Located hundreds of feet above Vancouver, the property affords views that stretch all the way to Mount Rainier in Washington state.

The property is zoned for three additional buildings, should a future owner choose to expand. Current designs call for a 7,000-square-foot guest house and a 2,400-square-foot home office with servants' quarters, as well as a 16-car garage.