Vic Toews: RCMP Asked To Investigate 'Serious' Threats Against Public Safety Minister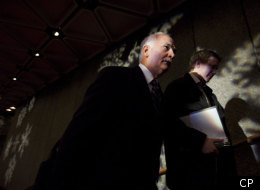 The RCMP has been asked to investigate what Vic Toews' spokesman Mike Patton describes as "serious" threats against the public safety minister and his family, the National Post reports.
Toews received criticism over the past week concerning Bill C-30, a controversial online surveillance bill that would allow police to access personal Internet subscriber information without a warrant. The backlash came in the form of Twitter memes such as #TellVicEverything and #DontToewsMeBro, and Vikileaks, an anonymous Twitter account divulging details of Toews' divorce, which has been shut down. The hacker group Anonymous also posted a video demanding the public safety minister to step down and calling for Bill C-30 to be scrapped.
This weekend, Toews responded to recent events in a letter circulated to his Manitoba constituents:
An Open Letter To My Constituents
Dear Constituents,

Over the last few weeks I have been subjected to an extensive personal attack by my political opponents as a result of certain legislation that I have introduced in the House of Commons on behalf of the federal government.

These attacks, which have included criminal acts and threats of criminal acts against me and my family, have been referred to the police for investigation. Any further criminal activity or threats of criminal activity against me or my family will also be referred to the police.

As my constituents I would like you to know that the personal attacks, criminal acts and threats of future criminal acts against me will not dissuade me from carrying out my responsibilities as an elected Member of the House of Commons and as the Minister of Public Safety for Canada.

The personal attacks against me are based on allegations contained in affidavits filed in the course of my divorce proceedings a number of years ago. The affidavits are on the public record and filed with the Manitoba Court of Queen's Bench. These allegations have been the basis of prior personal attacks against me and I assume they will form the basis of attacks against me for many years to come.

I want you to know that I have never responded publicly to the specific allegations made in these affidavits nor will I ever do so. I will be fully accountable for any responsibility that I bear for the breakdown of my previous marriage but that accountability is not something I owe to the public generally or to my political opponents in particular. It is a personal accountability which I cannot avoid nor do I seek to do so.

However, I do want you to know that I have a spouse and a young son who I love more than life itself.

The other night, while I was reading my favourite poet, William Butler Yeats, I came across these lines:

'Yet they that know all things but know That all this life can give us is A child's laughter, a woman's kiss."

No words could ever describe my love for my young son and my spouse any better. What a fortunate man I am to have them in my life.

Sincerely,

Vic Toews

MP for Provencher