22 Minutes: Panda Visiting From China Really A Pipeline Spy? (VIDEO)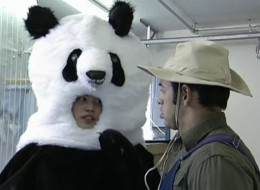 Stephen Harper and his Chinese counterparts mixed pandas, politics and pipelines on the PM's recent trip to the Far East. Why not mix in a person too?
In this web exclusive clip from "This Hour Has 22 Minutes," the Chinese panda that arrives in Canada turns out to be more person than panda and more interested in bitumen than bamboo.
The panda asks Shaun Majumder for a camera and a laptop so he can photograph pipeline construction and send the pictures back home.
Chinese executives have expressed frustration with the regulatory delays in the planning of the Northern Gateway pipeline.
The 1,177-km Enbridge pipeline would run from Alberta's oil sands to the port of Kitimat, B.C. From there, oil would be transported to China by tanker.
That is, if the pipeline ever gets built. It is already facing opposition from towns in the region and from local First Nations councils.
Maybe the panda will change their minds.
This Hour Has 22 Minutes airs Tuesdays at 8:30 pm on CBC TV. Catch more clips of the show on Facebook and Twitter.