Emma Watson, Miley Cyrus: Celebs Embrace Short Hair, Transform Their Look (PHOTOS, POLL)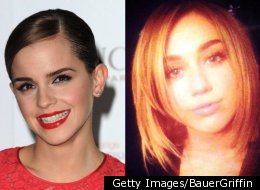 Everyone's doing it: from Emma Watson (who basically embraced the crop-top trend years ago) to Miley Cyrus and Cameron Diaz. Celebs everywhere are chopping their locks in favour of a shorter more manageable shift.
It's been identified as a must, ahem, 'do trend for 2012, and people like Jennifer Aniston have said they lobed off their locks because hair extensions ruined their natural mane.
So imagine our surprise when we read on one of our favourite style sites, Styleite, that Emma Watson was once asked if she was a lesbian because of her famous pixie cut. Yes, that apparently happened.
As the actress, who is also the face of Lancôme, says in her piece via The Independent: "That haircut did make me realise how subjective everyone's opinion is. Some people were crazy for it and some people just thought I'd lost my shit. All I can do is follow my instincts, because I'll never please everyone."
Which has us asking: what's wrong with chopping off your locks to give yourself a whole new look? It's not like Emma's the only one to have done it...
Star's Locks: Then And Now
The 22-year-old blond singer shocked many when she appeared on the February cover of Vogue. Why? Aside from the drastic wardrobe change, Taylor Swift traded in her signature curly locks for a sleeker style. The country pop singer was almost unrecognizable at Billboard's Sixth Annual Women in Music event. The paparazzi might have to do a double-take to make sure it's her!

When Rihanna first stepped onto the music scene in 2005, she was a cookie-cutter image of what a young, up-and-coming singer "should" have looked like (sweet, innocent, clean-cut). The beautiful Barbadian's long brown hair had a starring role in videos for her first hits like "Pon de Replay" and "SOS." But come the release of her third album (fittingly named "Good Girl Gone Bad") she decided it was time for a change. Rihanna chopped off her long hair and dyed it black -- stripping away her good girl image and swapping it for a rebellious one.

Once Rihanna went "bad," there was no going back. The award-winning artist has experimented with her hair just as much as she has with her music. Rihanna showed off her stunning facial structure with a honey-blond faux-hawk at the 52nd Grammy Awards in 2010. Near the end of that year, she donned a bright, fire-engine red 'do in her music video "What's My Name?" She even graced the December 2010 cover of Marie Claire U.K. highlighting her fresh chop. In recent months, she's dropped her show-stopping hairstyles for a more natural look.

Black Swan star Natalie Portman is famously remembered for having her head shaved in the movie V for Vendetta. Choosing to let go of your hair for a movie role takes true dedication, don't you think? Lucky for her, she looks stunning with or without hair.

It looks like Brad Pitt is following in the footsteps of Johnny Depp and Jim Carrey by growing out his hair once again. The father of six seems committed to keeping his manly salt-and-pepper goatee (which he started growing a year ago), too. The Moneyball star was spotted with the new 'do and facial scruff at the 2012 Golden Globes.

As surprising as it may seem, Halle Berry wasn't always known for her sexy signature pixie hairdo. Her hair has evolved through the years in the movies she's starred in and in real life. The Oscar-winning actress was even named one of the "100 Hottest Women of All-Time" by Men's Health. So we guess the old adage of men supposedly not being attracted to women with short hair doesn't apply to this bombshell.

In the late 1990s, Justin Timberlake used his boyish good looks and beautiful voice to win over fans (who now follow his every move) as the frontman of N'Sync. Back then, he sported natural curly hair that was, at times, fluffy, bleached and over-gelled. Once he cut it all off, though, a whole new Timberlake emerged. His buzz-cut gained him even more attention and helped propel him from boy-band singer to movie star. Earlier this month, the award-winning singer turned actor was spotted sporting his scruffy look at the Consumer Electronics Show.

"Best Thing I Never Had" singer Beyonce has experimented with numerous hairstyles over the past 15 years. The new mother stirred up a lot of controversy when she started dyeing her brown locks blond. Some said the move betrayed African-American women, while others stood by the star, saying she should be allowed to swap up her hairstyles and colours.

For 10 years, we watched Rachel Green go through boyfriends and hairstyles on "Friends." Jennifer Aniston gained world-wide attention for her role as Green. Since jumping onto the big screen, Aniston has continued to play around with her hair. No matter what style she chooses, it always looks super shiny, sleek and fabulous.