22 Minutes Mocks Peter MacKay And Canada's Leaky Submarine Fleet (VIDEO)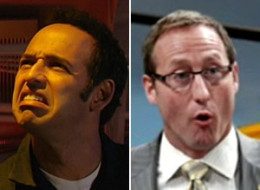 According to"This Hour Has 22 Minutes," Canadian sailors are far from living a life of ease in the land of submarines.
The sketch comedy show skewered Canada's troubled submarines and Defence Minister Peter MacKay on their show Tuesday night.
Photos of the damage to the HMCS Cornerbrook after a crash last summer recently forced MacKay to admit that the fleet purchased from Britain in the late 1990s has a "spotty" history at best.
In a play on the Village People classic "In The Navy," the 22 Minutes cast mock the battered subs, wondering if it would be appropriate to call MacKay's chopper when the boat starts to sink. You can see the full sketch here.
MacKay has faced criticism for using a navy search-and-rescue helicopter for a trip from a remote fishing lodge where he was on vacation to the airport in Gander, Newfoundland.
The life of a cabinet minister. Beats fixing leaky submarines any day.
This Hour Has 22 Minutes airs Tuesdays at 8:30 pm on CBC TV. Catch more clips of the show on Facebook and Twitter.