22 Minutes: Marg Delahunty Gets Arrested By New RCMP Chief Bob Paulson (VIDEO)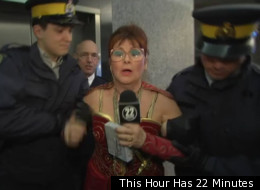 The last time Marg Delahunty (Mary Walsh) had to deal with the police was when she made a visit to Toronto Mayor Rob Ford's home.
Now, following the real life arrest of Xena Warrior Princess Lucy Lawless during a Greenpeace protest on Monday, Princess Warrior Marg Delahunty is getting arrested on "This Hour Has 22 Minutes."
Marg tells new RCMP Commissioner Bob Paulson he looks like Mr. Clean, a good sign for someone tasked with cleaning up alleged sexual harassment on the national force.
Things turn south, however, when Marg starts to criticize the department for talking the talk on accountability but failing to walk the walk. That's when Paulson stops listening and orders his officers to arrest Marg.
With cuts coming, let's hope the CBC will have the cash to get her out of the big house.
This Hour Has 22 Minutes airs Tuesdays at 8:30 pm on CBC TV. Catch more clips of the show on Facebook and Twitter.