22 Minutes: Vikileaks vs. Robocalls (VIDEO)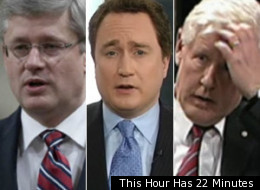 Vikileaks and robocalls: The two biggest stories in Canadian politics today, head to head, on "This Hour Has 22 Minutes."
Last week, interim Liberal leader dropped the bomb that Liberal staffer Adam Carroll was behind the Vikileaks Twitter account that posted personal information about Public Safety Minister Vic Toew's divorce.
The revelation from Rae immediately followed a Question Period feeding frenzy over the robocalls scandal, in which opposition parties accused the Conservatives of being behind misleading and fraudulent phone calls on the day of the 2011 federal election.
While Rae apologized to Toews for Liberal involvement in Vikileaks and accepted Carroll's resignation, he has since accused the Tories of using the scandal to deflect attention from the robocalls scandal.
Toronto Star columnist Thomas Walkom has argued that Vikileaks is nothing compared to robocalls while the National Posts' Matt Gurney has written that Rae' revelations rob the Liberals of "much of their fiery indignation over the allegations of impropriety that have recently slammed the Conservatives."
As usual, "This Hour Has 22 Minutes" gives it's own unique, and hilarious, take on the scandals.
Could it be a better time to be making political satire in Canada?
This Hour Has 22 Minutes airs Tuesdays at 8:30 pm on CBC TV. Catch more clips of the show on Facebook and Twitter.