NDP Leadership: Nathan Cullen Wants Party To Co-Operate With Liberals And Greens (VIDEO)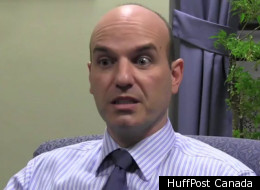 OTTAWA — After having put blood, sweat and tears toward achieving the NDP's best electoral result in history, leadership candidate Nathan Cullen now wants New Democrats to suspend their partisanship and put country ahead of party.

The MP from B.C.'s Skeena-Bulkley Valley is proposing the NDP hold joint nomination meetings with the Greens and Liberals in certain ridings across the country to ensure that only one candidate emerges as the voice of progressive voters, thereby reducing the chances a Conservative candidate can claim electoral victory.

It's a controversial idea that has captured little support from his fellow contenders in the race to replace the NDP's late leader Jack Layton. But Cullen believes that defeating Stephen Harper's Conservatives is the most important task and he is willing to reach out to other political parties to make it happen.

The message, according to Cullen, is to tell "Canadians that we are going to put country ahead of party."

"I didn't get into politics to be the official opposition, I got into politics to be the official government and change those things that we need changed," he told The Huffington Post Canada during an interview at his office on Parliament Hill.

"I want the best shot we've got, and I think this gives us the best shot."

Cullen believes the NDP is at a crossroads, faced with the decision to cling to its roots or push forward with broadening the party.

"There are some, particularly on the left, who would say that it is a choice: you have to choose between your principles and power, but you don't ever get to have both. I dislike that thinking," Cullen said. "I know there is a much larger contingent of people who want both: they want their principles and they want their power too."

Many of his fellow contenders, party president Brian Topp, and MPs Peggy Nash and Paul Dewar, are espousing views that hearken back to the NDP's glory days, Cullen suggested without naming them.

"They all have their constituency, they all have people telling them that they are absolutely right, that we have to go back to 1950, those were the days," the 39-year-old MP said.

"That's fine. I don't want to disrespect people. I don't want to say that being a traditionalist is a bad idea. I just think if the challenge in front of us is how to win government ... then let's be focused and let's pick right," he said.

Picking right for Cullen means choosing a leader who can expand the NDP's appeal by speaking to new constituencies and non-traditional supporters and by embracing new ideas.

"There is a natural tendency when a party gets close to power and starts seeing some success to start to say well everybody who is on board right now is good enough, and all the ideas that we have right now are good enough and all we have to do is stay the course. And I disagree," Cullen said.

It would be "fatal" for the NDP to sit tight and assume Canadians will still vote for the party at the next federal election, he added.

"You have to open the door as an organization and as a movement and not be afraid of new ideas, the generation of new ideas, is what we are, that's my campaign," he said.

The MP who first arrived in Ottawa in 2004 believes his party needs to challenge the way it does things or it won't grow.

"You can't just speak into a narrow cast, a place where you are comfortable, you have to take those chances, and go out to audiences that have never heard from you properly before, into the business community, into the aboriginal community, into groups that have traditionally said, you don't reflect us -- and yet we do."

Living in Smithers, a small town in British Columbia's interior, has taught him to speak with people in language they're comfortable with — including reaching out to traditional Conservative voters.

It's easy to surround yourself with people who think like you in a large urban centre, but it is more difficult in a small town, where people with different political ideas and backgrounds mix constantly, the Toronto native said.

So far, Cullen has attracted a lot of support from young people and from newcomers to the party. Cullen said has also received support from some long-time NDPers, joking that they probably view him as "their grandson."

"There are certain hot button issues like the (Northern Gateway) pipeline that draw a cohort of people, environment is sort of my strong suit I suppose, I spent a lot of time on it, I get it, I've been there, that is natural constituency."
STORY CONTINUES BELOW VIDEO
Cullen hopes party members won't just pick a leader who makes them feel good about themselves or about the party, but someone who has broad appeal to Canadians.

Political parties, he said, often forget that after a leadership race there is another contest — between party leaders.

"(Parties) have picked leaders that they very much liked, made them feel good as an organization, but had zero appeal beyond the organization. And then you go back and say, 'oh yes, no one was going that vote for that person, or not enough,'" he said.

"There isn't a perfect candidate in this race, myself included," he candidly stated. "I think some people would wish that they could make an amalgam of us, a little bit of this and a little bit of this," he said.

NDP members are looking for a leader, but they are also looking for someone who can keep the party united, "so that a team is possible in the end," he noted.

Cullen, who appeared relaxed and reflective, said he may come across as more genuine than other leadership contestants because he's not afraid to lose the race.

"If there was somebody else doing what I'm doing, if there was someone else promoting what I think is the next logical and critical step, then I wouldn't be running. I have twin 18-month old boys in my life, I'd rather be spending time with them," Cullen said of his sons Isaac and Elliot.

"This is no journey into ego-land. This is about something much more significant ... otherwise how can you justify it? How can you say, 'I'm not going to be around much for this time in order to go do this other thing,'" he said.

A vote for him, he said, is a vote for a hopeful future.

"The world is run by people who show up at the meetings and we need better people showing up."