Canada-U.S. Price Gap: Higher Canadian Dollar Hasn't Helped Consumers, Data Shows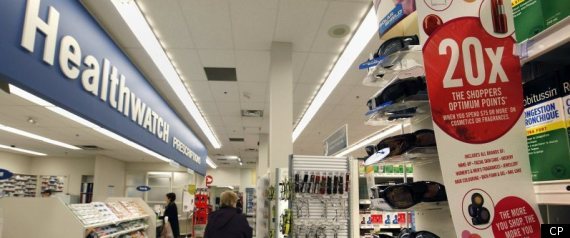 Many economists have argued that a strong Canadian dollar is good for the country, because it makes imports less expensive and therefore lowers costs for consumers and businesses.
But with the Canadian dollar hovering around parity with the U.S. dollar in recent years, many border-hoppers have been complaining that prices are obviously higher in Canada than in the U.S., and the benefits of a strong dollar haven't been passed on to consumers.
Now, the latest data from the OECD offers proof that this is a real phenomenon. According to the organization's updated figures, the purchasing power parity of the Canadian dollar was exactly the same in 2011, when the Canadian dollar was around $1 U.S., as it was when the Canadian dollar was worth 62 cents U.S. a decade ago.
In 2002 when the dollar was weak, it cost $1.23 Canadian to buy what $1 U.S. bought south of the border. Today, it still costs $1.23 Canadian to buy what one U.S. dollar buys in America.
"In other words, the loonie's ascent has delivered no apparent improvement in purchasing power," writes Erin Weir, an economist with the United Steelworkers' Canadian office who first flagged the OECD data.
"The stronger loonie hasn't been able to overcome obstacles that include import tariffs ranging as high as 18 per cent, a number of higher fixed costs and, admittedly, the fact that retailers in Canada can simply get away with charging more," the Canadian Press reported last fall.
The Bank of Canada estimates that Canadians on average pay 11 per cent more for goods than Americans, but the OECD study suggests that number may be closer to 23 per cent.
Growing frustration with high Canadian prices prompted a reaction from Finance Minister Jim Flaherty, who told a Senate committee he will look at reducing tariffs and using "informal persuasive powers" to bring down prices for Canadians.
The loonie's meteoric rise over the past decade has largely been attributed to the rise in the price of energy, particularly oil. The Canadian "petro-dollar" has become a political hot potato recently, with Ontario Premier Dalton McGuinty taking heavy flak from Western Canadian premiers after suggesting the oil-linked dollar was hurting Ontario manufacturers, who are having a harder time exporting to the U.S.
"If I had my preferences as to whether we have a rapidly growing oil and gas sector in the West or a lower dollar benefiting Ontario, I stand with the lower dollar," McGuinty said.
That prompted an angry response from Alberta Premier Alison Redford, who argued there is no such thing as a Canadian "petro-dollar."
"We know how the value of the dollar works. It's in relation to an overall national economy," she said. "The reason the Canadian dollar is high is partly because the United States has been going through some economic difficulties."
And economists point out that, even without lower prices for consumers, there are plenty of benefits to Canada of a higher dollar. For instance, a rising dollar allows for lower interest rates, making housing and consumer loans more affordable. And the resource boom that arguably caused the high dollar has been very good for government revenues, allowing government spending to be higher than it otherwise would have been.

7 NEW TAX RULES THAT COULD SAVE YOU MONEY
Loading Slideshow
The Children's Arts Tax Credit

This new credit was a budget measure that was designed to address criticism that the earlier Children's Fitness Tax Credit (which is still in effect) unfairly left out parents who paid for programs where the kids had to do more thinking than sweating. It provides a 15 per cent non-refundable federal tax credit on the first $500 spent on your kids' artistic, musical, recreational or cultural development in 2011. That means the tax credit is worth a maximum of $75 per child. Parents of disabled children can claim a 15 per cent tax credit on the first $1,000 of eligible spending, or a maximum of $150. To get the credit, children must be under 16 at the start of the year in which the program is taken (under 18 in the case of disabled children). To qualify, a program must be at least eight consecutive weeks in length, or, in the case of children's camps, at least five consecutive days. Receipts are a must.

The Volunteer Firefighter's Tax Credit

If you performed at least 200 hours of service as a volunteer firefighter in 2011, you can see your tax bill reduced by up to $450 - another new non-refundable tax credit introduced in last year's federal budget. That's the net effect of a 15 per cent tax credit on the $3,000 volunteer firefighters' amount. The 200 hours doesn't have to be entirely spent fighting fires. Attending required meetings and training also qualify. Be aware that there's a big wrinkle in this tax credit for those who get an honorarium for their volunteer efforts. Currently, the first $1,000 of that honorarium is exempt from tax. But if you claim that income exemption, you won't be eligible for the volunteer firefighter's tax credit. No documents need to be filed, but the CRA says it may require claimants to provide certified proof that they actually do qualify.

Family Caregiver Tax Credit

This measure doesn't actually take effect until the 2012 tax year, so you won't benefit from it when filing this year. But people who will eventually benefit can file a new TD1 Personal Tax Credits Return with their employers now to reduce their withholding tax for the remainder of 2012. This credit amounts to an increase of $2,000 in the claim when a taxpayer's dependent is physically or mentally infirm. So the spouse, common-law partner or other eligible dependent claim becomes $12,780 instead of $10,780. Similarly, the claim for a disabled child becomes $4,191 rather than $2,191. The caregiver amount claim for looking after an infirm relative also goes up by $2,000.

TFSAs

Tax-free savings accounts were first unveiled in the 2008 federal budget and have continued to grow in popularity - in part because Canadians can put more money into them each year. If you haven't yet contributed to a "Tiff-sa," the available contribution room rose by $5,000 on Jan. 1, 2012 and now stands at $20,000. TFSA contributions can go into GICs, mutual funds, bonds, stocks or savings accounts and earn profit tax-free, but keep in mind they don't work like a bank account with a maximum balance. When you withdraw funds in one year, TFSA rules don't let you redeposit that amount until the next. In 2009, about 70,000 people withdrew money from one of their TFSA accounts and then redeposited it the same year, so the Canada Revenue Agency levied penalties of one per cent per month on redeposits that were classed as excess contributions. The government eventually relented because of the widespread confusion, and rescinded the penalties in 2010 for people who accidentally put too much into their accounts during the TFSA's debut year. The amnesty is over now, however, and savers can't expect that kind of pity from the tax collector anymore. If you want to move your money from one account or institution to another within the same calendar year, you have to use a formal transfer process that requires filling out forms and, with most banks, paying a fee.

Changes That Affect Students

As of the 2011 tax year, examination fees now qualify for the tuition tax credit. That is, as long as the total fees, including exam fees, amount to at least $100 and the exam is required to obtain professional status or to be licensed or certified in a profession or trade. For students enrolled full-time in a university outside Canada, the minimum length of course that qualifies for tuition, education and textbook tax credits has been lowered from 13 weeks to three weeks. The 2011 budget also loosened the restrictions on transferring investments held in one sibling's Registered Education Savings Plans (RESP) to another sibling's RESP. Under the old rules, transferring RESP investments property from one sibling's plan to another's could trigger a repayment of the Canada Education Savings Grant unless the sibling receiving the transferred investment is under the age of 21. But transfers occurring in 2011 and after will not trigger grant repayments as long as the receiving RESP was set up before the beneficiary turned 21.

Medical Expenses And An RDSP Change

As of 2011, the maximum medical expense claim of $10,000 for a dependant relative (other than for a spouse, common-law partner or a minor child) has been eliminated. Now, there's no limit. The last budget also made a change to the rules governing Registered Disability Savings Plans (RDSPs). Under the old rules, all grants and bonds paid into the plans in the previous 10 years had to be returned to Ottawa if a disability assistance payment was made to an RDSP beneficiary. Now, no repayment is necessary if a doctor certifies that a plan recipient isn't likely to survive for five years

Changes To Federal Tax Brackets And Credits

Most tax brackets and credit amounts were raised in 2011 to account for inflation. In the case of federal tax brackets, they have been raised by 1.4 per cent from 2010's levels. Most of the basic personal amount claims have also been boosted by 1.4 per cent. The 2011 TD 1 tax forms and all of the software and online tax programs reflect the new amounts. Similarly, the thresholds at which some benefits begin to get clawed back (like Old Age Security payments) have been raised by 1.4 per cent. Some refundable tax credits, like the Canada Child Tax Benefit, have also been boosted by 1.4 per cent. Many provinces and territories have also boosted their personal tax credits by indexing factors ranging from 0.8 per cent to 2.0 per cent. But two provinces - Nova Scotia and Prince Edward Island - made no changes in their personal tax credit amounts.