International Women's Day On Twitter: Famous Names Tweet Their Support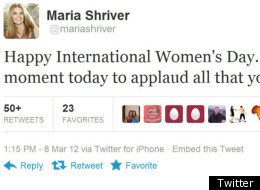 The work behind International Women's Day is no small feat, and represents the lifetimes of effort women have put into building a better present and future. Search the hashtag #IWD2012 on Twitter and you'll see that people are talking about Women's Day -- including many of those well-known faces love to follow.
With IWD participants in 94 countries, women across the globe marched, rallied, celebrated and remembered. No gesture was too small, with some even giving up makeup to honour the fight for women's rights and lives. And while not everyone could take the time to take part in some of the day's 1,600 events, there was enough time to commemorate women in 140 characters or less. Here's what some famous voices in the Twitterverse had to say today:
American journalist Maria Shriver:
@mariashriver

Maria Shriver
Happy International Women's Day. Women, take a moment today to applaud all that you do.
Celebrity Chef Padma Lakshmi:
@PadmaLakshmi

Padma Lakshmi
And singer Keri Hilson:
@KeriHilson

Keri Hilson
International Women's Day!!! Every man in the world should be bowing down to God's greatest creation!! Thas right!
Meanwhile, in Canada, here's what some of the local personalities were talking about:
Leader of The Green Party of Canada:
@ElizabethMay

Elizabeth May MP
Leader of the New Democrat Party:
@nycole_turmel

Nycole Turmel
Canadian author and social activist, Naomi Klein:
@NaomiAKlein

Naomi Klein
It wasn't only women reminding everyone about the significance of March 8th:
UK Prime Minister David Cameron also announced he'd be creating legislation to end sexual harassment
@Number10gov

UK Prime Minister
Musical artist Pitbull:
And on-air personality, Ryan Seacrest:
@RyanSeacrest

Ryan Seacrest
"A woman can say more in a sigh than a man can say in a sermon" - Arnold Haultain...so true. Happy int'l women's day :)

Did we miss anyone? What are you doing for International Women's Day? Send us a tweet @HuffPostCaLiv.